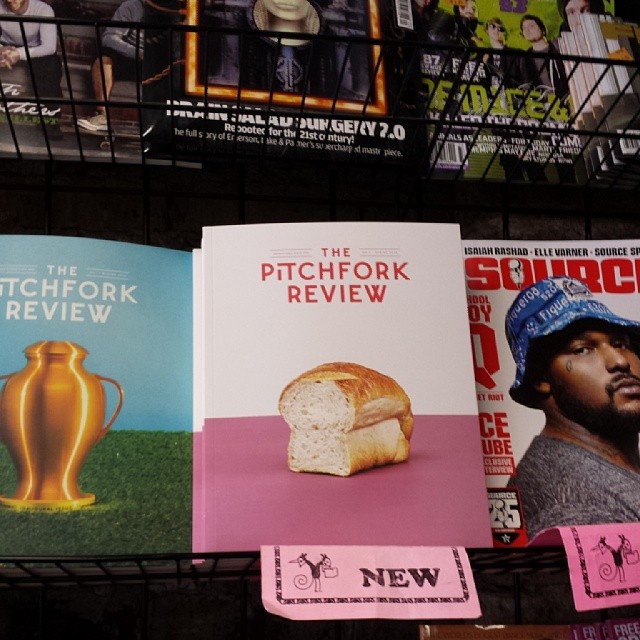 The Pitchfork Review #2 Apr 14 $19.96 – Unprintable Since 1996.
Zines & Zine-Related Books
Dig Deep #6 by Heather $1.00
It's Alright: A Truckface Anthology vol 1 by LB Briggs (Mend My Dress Press) $19.00
It's Alright: A Truckface Anthology vol 2 by LB Briggs (Mend My Dress Press) $23.00
Eat My Shorts by Emily Schulert $5.00
Straight Talk by H Melt $3.00
Knowsgay #3 Portraits by Paul Moreno and Charlie Welch $20.00
Whoops by Michael Conway $10.00
Smells Fingers vol 1 #4 Tubes by Alicia Rose $2.00
Gorgeous Attitude Ramblings Win 14 by Kisston $1.00
Always and Forever: A Zine About Friendship by Heather and friends $2.00
EG Sausage Delivery Man by Matt Davis $4.00
KerBloom #107 Mar Apr 14 by ArtNoose $2.00
Comics & Comix
Tenderness #1  by Matt Crabe $8.00
Cankor #1 by Matthew Allison et al. $5.00
various issue of Tales of the Night Watchman by Dave Kelly and friends.
Invisible Wounds by Jess Ruliffson (So What Press) $4.00
Empty Grave Part 1 Daddys Little Girl by Warwick Johnson & Dan Hale $5.00
Taddle Creek Comics Supplement #32 by Ethan Riley and Joe Ollman $2.00
Teenage Mutant Celebrity Impersonator Rats #1 by Justin Becker $1.00
Guy Gardeners – Sequential Artists Workshop (SAW)by Jon Drawdoer $5.00
Macrogroan #4 by Slautman $8.00
Graphic Novels & Trade Paperbacks
Over Easy by Mimi Pond (D&Q) $24.95
Jim Curious: A Voyage to the Heart of the Sea by Matthias Picard $19.95 – 3D vision!
Bintel Brief Love and Longing in Old New York by Liana Finck $17.99
Operation Margarine TPB by Katie Skelly (Adhouse) $12.95
Daytripper Deluxe by Fabio Moon and Gabriel Ba (Vertigo) $34.99
Dr. Grordbort Presents Triumph, Unnecessarily Violent Tales of Science Adventure for the Simple and Unfortunate by Greg Broadmore $19.99
Goon vol 11 The Deformed of Body and the Devious of Mind by Eric Powell $16.99
Rachel Rising vol 4 Winter Graves by Terry Moore $16.99
On The Grind vol 1 The Worst Day Ever by Geroge Gant $10.00
On The Grind vol 2 Electric Brewgaloo by Geroge Gant $20.00
Public Therapy Buses, Information Specialty Bums, Solar Cook-A-Mats and Other Visions of the 21st Century, Unabidged 2nd Edition by Steven M. Johnson $19.00
Art & Design Books
Extinct Entities Publication $10.00 – The publication created following the Extinct Entities festival at Links Hall documents and gives theoretical treatment to the works presented and tells a collective history of Chicago's alternative spaces and collectives, while making their generative presence visible in the present. Designed by artist Melisa Morgan, the book features essays by Jason Foumberg, Steve Ruiz, Thea Liberty Nichols, and Caroline Picard.
Mayhem
Weird Chicago: Strange Legends and Mysterious Hauntings by Troy Taylor, Adam Selzer and Ken Melvoin-Berg (Whitechapel) $19.95
The Templar Treasure: An Investigation by Tobias Daniel Wabbel (Trine Day) $19.95 – The mystery of the legendary treasure of the Knights Templar.
Cabinet of Curiosities A History of the Supernatural In 20 Objects by Troy Taylor (Whitechapel Press) $18.00
Cabinet of Curiosities II Americas Unexplained In 20 Objects by Troy Taylor (Whitechapel Press) $20.00
Natural Torture, Then Execution Before Your Eyes, The Brutal Story Told In Photographs by Ted Sweeney and Omar Gonzalez $20.00
A Pale Horse Was Death: More American Horrors by Troy Taylor & Rene Kruse (Whitechapel Press) $20.00
The Ghost Hunters Guidebook: The Common Sense Guide to Paranormal Research, Unlock the mystery Search For Spirits Contact the Dead by Troy Taylor (Whitechapel) $17.00
Essays
I Can Barely Take Care of Myself by Jen Kirkman $15.00
Workers Write: More Tales From the Cubicle ed. by David LaBounty (Blue Cubicle Press) $10.00
Food
Forest Feast: Simple Vegetarian Recipes From My Cabin in the Woods by Erin Gleeson $35.00
Music Books
Mad World: An Oral History of New Wave – Artists and Songs That Defined the 1980s by Lori Majewski et al. $19.95
There Goes Gravity: A Life In Rock and Roll by Lisa Robinson $27.95
Sex, Drugs, Ratt and Roll My Life In Rock by Stephen Pearcy $16.00
Fiction
Good Inn by Blanck Francis et al. $23.99
Look Who's Morphing by Tom Cho (Arsenal Pulp) $16.95
Old Neightborhood by Nill Hillmann (Curbside Splendor) $15.95
You Are The Friction (Sing Statistics) $20.00 – Anthology of collaborative short fiction and illustration.
Reverence Library vol 1 Galleons Nikola Tesla Trans Siberian Railway  (Sing Statistics) $10.00
Kids Books
Big Meals For Little Hands by Virginie Aladjidi et al. (Nobrow/Flying Eye) $17.95
Magazines
Juxtapoz #160 May 14 $5.99
Hand #4 Apr 14 $10.00
Bizarre #212 May 14 $10.50
American Atheist 2nd Quarter 14 $4.95
Eye Magazine #87 vol 22 $30.00
Flow #1 Book For Paper Lovers $24.99
Muff #2 $14.50
Good Game #1 $10.00
Lodown #90 $16.99
Raw Vision #81 $14.00
IDN Extra 09 Red Thread $29.90
Colors #89 $16.95
Girls Like Us vol 2 #5 $12.00
IdN vol 20 #6 $19.95
Another Man #18 Spr Sum $14.99
High Times Jun 14 $5.99
Gothic and Lolita Bible #49 Fall 13 $35.00
Filter Good Music Guide Apr May Jun 14 $2.99
Maximumrocknroll #372 May 14 $4.00
Wax Poetics #58 $11.99
AdBusters May Jun 14 $12.95
Harpers Magazine May 14 $6.99
Tattoo Energy #88 $9.99
Poetry & Lit Journals
McSweeneys #46 Thirteen Crime Stories From Latin America $26.00
Midwestern Gothic #13 $12.00
N Plus 1 #19 Spr 14 $13.95
Normal School vol 7 #1 $5.00
Granta #127 Spr 14 Japan $16.99
O Human Microphone by Scott McFarland $13.00
Sex & Sexy
BelleSf #1 $10.00
In My Bed Magazine vol 4 #4 $9.95