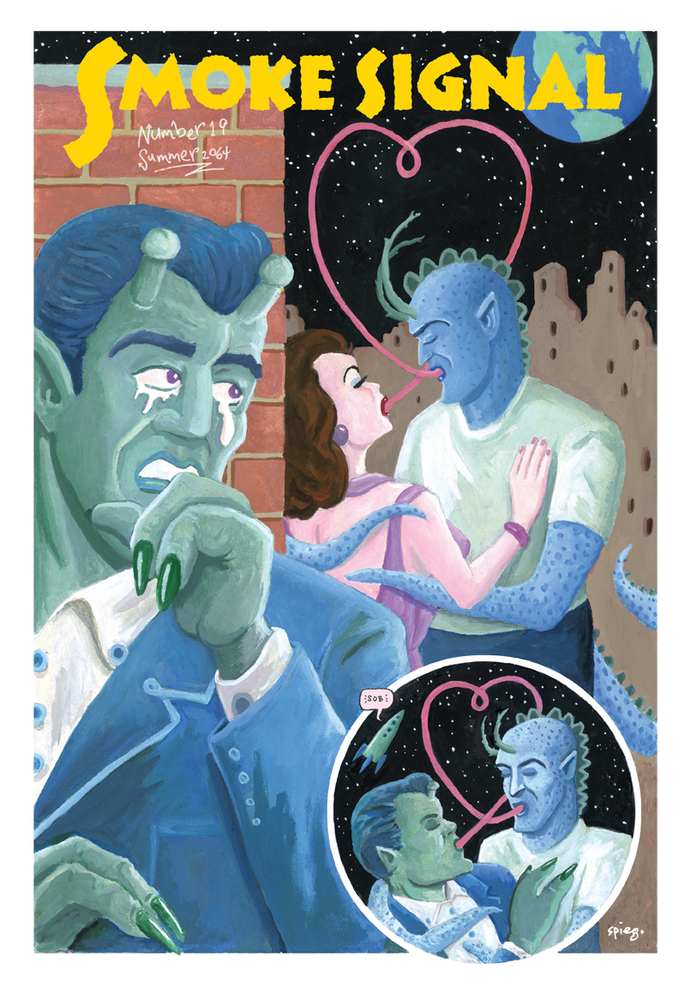 Smoke Signal #19 $5.00 – 28 tabloid-sized pages, color and b+w, Art Spiegelman cover. Featuring work by: Carly Jean Andrews, Josh Bayer, John Broadley, Manuel Gómez Burns, Theo Ellsworth, Kevin Hooyman, Kamagurka and Herr Seele, Keren Katz, Kaz, David Shrigley, Mike Taylor, Mark Todd , Esther Pearl Watson.
Zines
Indigo #19 by Michelle Aiello $3.00
Horse Latitudes: Dispatches From the Lonely World of Semi-Professional Equine Photography by Scott Puckett $2.00
Black Metal of the Americas vol 7 by Ed and Patrick $5.00
Suitable 4 Framin #11 Sum14 $5.00
Imaginary Fronds by Ashley Ronning and Sarah McNeil $8.00
The Snack Bar #1: A Case of the Media Munchies Where Analog and Digital Culture Collide In Delicious Individually Wrapped Pieces by The Snack Bar Collective $2.00
Lovely Little Nutmegs #3 by Orla Foster $3.00
Comics & Comix & Minis
Old Men Thinking Beyonce Thoughts by Tavi Veraldi $2.00
How To Pool and Other Comics by Andrea Tsurumi $3.00
Moon Between the Mountains by Yumi Sakugawa (Sparkplug) $5.00
Harlot's Progress by Gwenaelle $3.00
I Cut My Hair #4 by Lisa Rosalie Eisenberg (Sparkplug) $3.00
Still by Kat Tuesday $6.00
Graphic Novels & Trade Paperbacks
How To Be Happy by Eleanor Davis (Fantagraphics) $24.99
Through the Woods by Emily Carroll $14.99
Special Exits by Joyce Farmer (Fantagraphics) $22.99 -Now in soft cover.
Seconds by Bryan Lee O'Malley $25.00
Pictures That Tick Short Narrative Exhibition Book 2 by Dave McKean (Dark Horse) $29.99
Goodnight Darth Vader by Jeffrey Brown $14.95 – We can't actually sell this to you until the 22nd, but it's here, and we'd be happy to reserve a copy for you.
Fiction
Doomed by Chuck Palahniuk$14.95 – Now in soft cover.
Outer Limits & Mayhem
Breaking Convention: Essays on Psychedelic Consciousness by Cameron Adams et al. (North Atlantic) $19.95
The Invention of Murder: How the Victorians Revelled In Death and Detection and Created Modern Crime by Judith Flanders $16.99 – Now in soft cover.
Magazines
Tom Tom Magazine #18 the Rebel Issue $6.00
Make vol 40 $9.99
Driftless Magazine #1 Sum 14 Midwest Adventuring $23.50
Brownbook # 45 the Music Issue $12.95
Dazed & Confused vol 5 Sum 14 $10.99
Tape Op #102 Jul Aug 14 $4.95
Monocle vol 8 #75 Jul Aug 14 $14.00
Upping The Anti  #15 Journal of Theory and Action $10.00
Lit Journals
The Believer #109 Jul Aug 14 $12.00 – The Music Issue.
Midwestern Gothic #14 Sum 14 $12.00
After Hours #29 Sum 14 Journal of Chicago Writing and Art Afterhours  $10.00
Kids Stuff
Color Me Rad ChiChiCo Coloring Book by the Chicago Childcare Collective $10.00