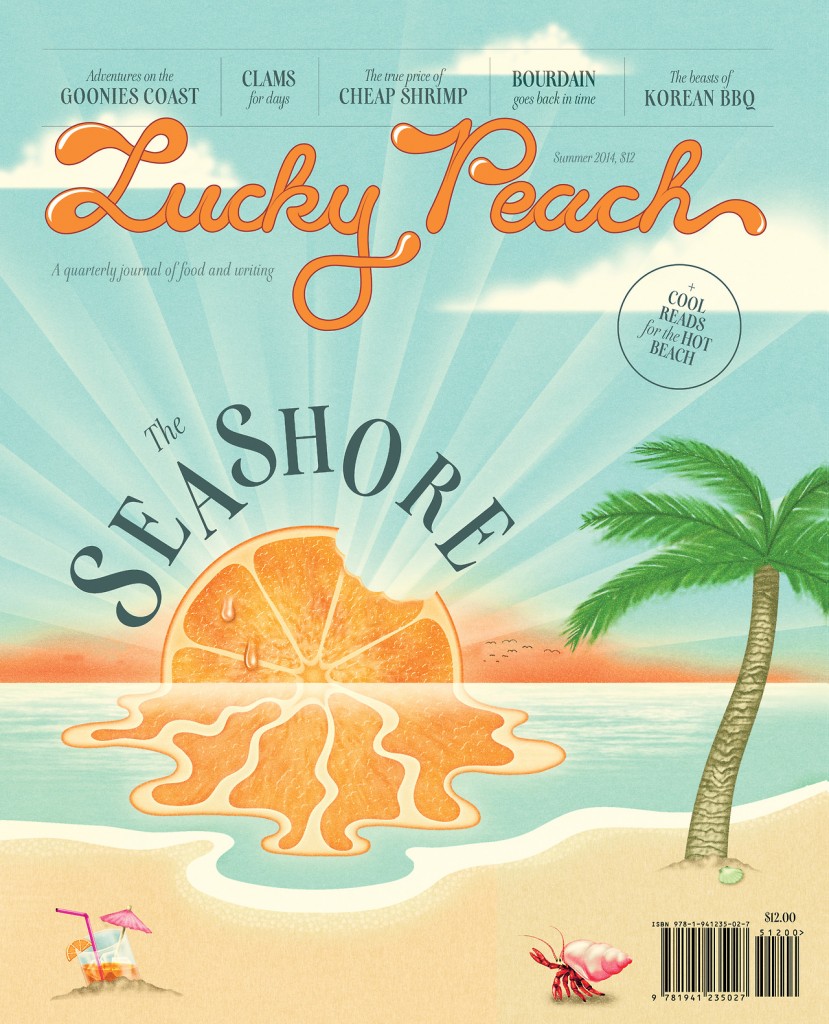 Lucky Peach #12 The Seashore $12.00 – Description as per the mag itself: It is all about food from littoral realms—the spaces where land meets sea. We dive for abalone and gather seaweed off the California coast; we harvest honey in the Bangladeshi Sundarbans; we go behind the scenes at a shrimp farm in Indonesia, and spend a Sunday at the cockle sheds in Leigh-on-Sea. We learn lots about edible sea beasts, from clams to hagfish to sea squirts. Anthony Bourdain takes us on a stroll down a beach town's memory lane; Robert Sietsema samples practically all the clams on Long Island; Stuart Dybek catches himself a perfect breakfast in the Florida keys. We share recipes from Vietnam and Portugal and the Oregon coast—we aren't shellfish. Also in this issue: a special, detachable sixteen-page BEACH READS comic book to take on your seaside jaunts, featuring Jason Jägel, Tony Millionaire, and more. It's summertime and the reading is easy.
Zines
Feelings by Robin Hustle & Daniel Luedtke $15.00
In Your Face by Cacia Zoo $6.00
Super Trooper #9 by Angela Roberts $3.00
Fortresses  by Natalie Walser $6.00
Weegee Halloween (Credit Photo By The Famous) by Rick Majewski $7.00
Northern Renewal #1 $5.00
Blue Velvis #1 A Story with Pictures by Theresa Williams (Easy Street Publications) $12.00
The Match #113 Sum 14 $3.00
Comics & Minis
Study Group Magazine #2 Sum 13 by Zack Soto and Milo George $12.00
Kingdom Order Part 2 by Reid Psaltis $8.00
Hopeless Romantic by Krystal DiFronzo $4.00
31 Cups of Coffee by Waldo $1.40
Summers Love Letter  by Ariel Chan $3.00
Woke Up Lik This by Noel Freibert $1.00
Creeps #4.5 $10.00
Graphic Novel & Trade Paperbacks
Megahex, Complete Seasons One Through Three by Simon Hanselmann (Fantagraphics) $29.99
Tales Designed to Thrizzle vol 1 trade paperback by Michael Kupperman (Fantagraphics) $22.99
Batman Incorporated vol 2 Gotham's Most Wanted trade paperback by Grant Morrison and Chris Burnham $16.99
Art & Design
101 Best Film Noir Posters, From the 1940 s Through the 1950s by Mark Fertig (Fantagraphics) $35.00
Midnight Fantasy by Dabs Myla (Zero+Pubishing) $55.00 – Jeremy Tinder-esque cartoony street art from this art collective.
Blurring Boundaries, Extending the Limits Of Graffiti by Hendrick Beikirch, or ECB (Gingko Press) $39.95
Adventure Painter by Anthony Lister (Gingko) $35.00
Fiction
Colorless Tsukuru Tazaki and His Years of Pilgrimage by Haruki Murakami (Knopf) $25.95
Bleeding Edge by Thomas Pynchon (Penguin) $17.00 – Now in soft cover.
Essays
Command and Control: Nuclear Weapons, the Damascus Accident, and the Illusion of Safety by Eric Schlosser (Penguin) $18.00
Kids & YA Books
Sisters by Raina Telgemeier $10.99
Jack and the Box: A Toon Book by Art Spiegelman (Toon Books) $4.99
Shark King by R. Kikuo Johnson (Toon Books) $4.99
Crow Feels Like a Pillow by 826CHI $5.00
Magazines
Coven Magazine #2 Sum 14 $13.00
Wax Poetics #59 $11.99
Monocle Mediterraneo #9 Special Edition $8.00
Chap Books
Cut Glove by Julia Rothblatt $2.00
Bone Bank by Waldo $1.40
Other Stuff
Chillin' With My Gnomies Mug $12.00
Captain Awesome Mug $12.00
Hipsterpotamus Pen $3.00