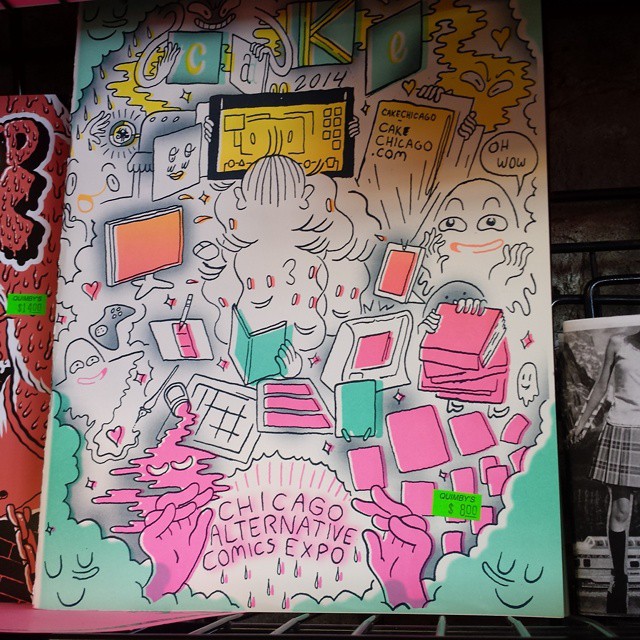 CAKE Digest 2014 $8.00 – Anthology featuring tons of folks from the 2014 (yeah, you read that right) Chicago Alternative Comics Expo, including Ben Bertin, Nate Beaty, Bred Rohloff, Brett Manning, Ian McDuffie, Bernie McGovern, Corinne Mucha, Jeremy Tinder Gina Wynbrandt, Keiler & Scott Roberts, Sara Drake and more!
Zines
Shotgun Seamstress #7 $5.00 – This month's pick for the CHIPRC Zine Reading Club on Wed, Apr 8th at the CHIPRC. More info at http://chiprc.org/calendar/
Fixer Eraser #1 by Jonas $3.00- New thingy from local zine celeb Jonas of Cheer the Eff Up.
De-li-cious #1 by Oorn $15.00 – Cooking zine-book thing.
Everything Is Fine #2 by Nyxia Grey $2.00 – Thoughts on eating disorder issues, mental healing, and other personal meditations. Very intriguing perzine.
New Morality Zine #2 by Nick Acosta $5.00 – Punk music zine.
Comics & Minis
Clorofilia #1 Magazine of Plant Related Comics by Kira Mardikes & frinds $6.00
Lost Property by Andy Poyiadgi (Nobrow) $5.95
Super Dating Blitz #1 by Anthony Meloro $6.00
Draw By Four #2 the Craft by Rachel Ang $6.00
Deep Blue by Ace Wagstaff and Rachel Ang $6.00 – Asks some real big existential questions about reality with some nice line drawings. Is it a comics? Is it a zine? Who cares what it is? It's interesting. -LM
Dumpling King #6 by Alex Kim (Oily Comics) $1.00
Piggy by Bavarsky Niv (Retrofit) $4.00
Drawn Onward by Matt Madden (Retrofit) $5.00
Unmentionables by Jack Teagle (Retrofit) $6.00
Mowgli's Mirror by Olivier Schrauwen (Retrofit) $8.00
Graphc Novels & Trade Paperbacks
Copra Round 2 by Michael Fiffe (Bergen Street Comics) $19.95 – Genocide ain't a pretty thing to see. But there's no time to mourn when your face is at the edge of the gun. Scared, desperate, and alone, Copra's gonna clear their name in a brutal reckoning with the forces that screwed them over and sold them out. Will hate be enough?
Wrinkle In Time by Madeleine L'Engle, illustrated by Hope Larson $14.99 – Now in soft cover.
Adventure Time vol 5 Graybles Schmaybles by Danielle Corsetto and Bridget Underwood $12.99
Lumberjanes vol 1 Beware the Kitten Holy TPB by Noelle Stevenson & friends $14.99
Goon vol 14 Occasion of Revenge by Eric Powell (Dark Horse) $16.99
Room For Love by Ilya (Self Made Hero) $22.95
Fiction
Worst Person Ever by Douglas Coupland $16.00
Can't and Won't by Lydia Davis $16.00
Bend of the World by Jacob Bacharach $14.95
Sundogz by  Mark Von Schlegell (Semiotexte) $17.95
Goldfinch by Donna Tartt $20.00 – Now in soft cover.
Politics & Revolution
La Lucha: The Story of Lucha Castro and Human Rights in Mexico (Front Line Defenders Book Series ) by Jon Sack etc. $16.95
Poetry & Chap Books
Detritus of Tongues and Cheeks by Brett Mayfield $2.00
Major Characters In Minor Films by Kristy Bowen (Dancing Girl Press) $14.00
Humor
Gene Simmons Is a Powerful and Attractive Man (and Other Irrefutable Facts) by Christina Vitagliano $16.00
F In Exams – Pop Quiz All New Awesomely Wrong Test Answers by Richard Benson $9.95
Mayhem
Keeping Ourselves in the Dark by Colin Fetlham (Nine-Banded Books) $19.00
Music Books
I Found My Friends: The Oral History of Nirvana by Nick Soulsby $15.99
Essays
Unabrow: Misadventures Of a Late Bloomer by Una Lamarche $16.00
So Youve Been Publicly Shamed by Jon Ronson $27.95
Magazines
AdBusters May Jun 15 $12.95
Hi Fructose #35 $7.95
True Crime Mar 15 $8.99
Little White Lies #58 Truth and Movies $12.99
Mojo #256 Apr 15 $10.50
Tom Tom Magazine #21 $6.00
International Review #154 International Communist Current Win 15 $3.00
Upping The Anti  #16 Journal of Theory and Action $10.00
Other Stuff
Limited Edition Alice in Wonderland-themed Moleskine notebooks, various sizes. Curiouser and Curiouser! Come in to see themmmmmmmmmm.
Field Notes Two Rivers, Set of Three Notebooks $11.00