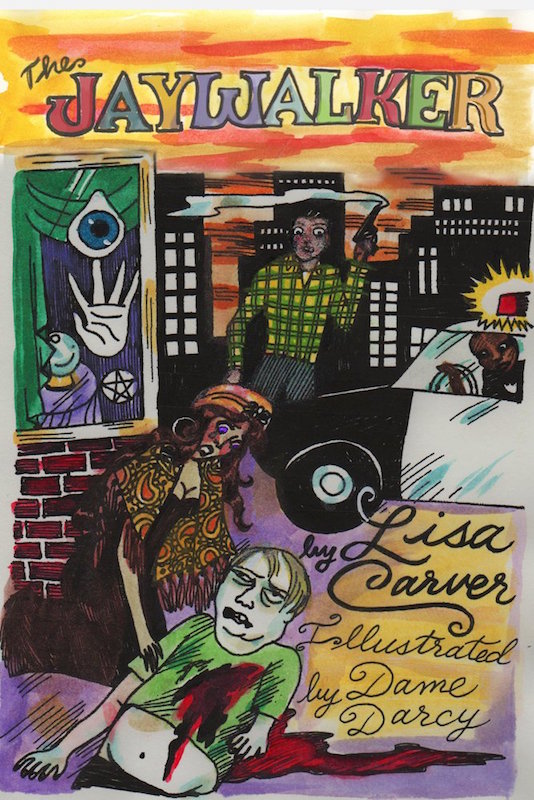 Jaywalker by Lisa Carver, with illustrations by Dame Darcy $15.00 – Flash fiction by famed Rollerderby zinester, with illustrations by exquisite Meatcake artist Dame Darcy.
*ZINES & ZINE-RELATED*
East Village Inky #56 by Ayun Halliday $3.00
Pagan Kennedy's Living a Handbook for Maturing Hipsters by Pagan Kennedy (Santa Fe Writers Project) $15.95 – 90s clasic back in print from the zinester, writer and non-conformist.
Notes on Staying Soft by Rosie Accola $5.00
Living Southerners Feb 16 $2.00
Zines by Billy Roberts $3.00 each:
Last Night at the Casino #11 Feb 16
Good Place to Start #1 – Wanna learn about world music? Well here's a good place to start.
*COMICS & MINIS*
2 new amazing comics from Carrie McNinch:
You Dont Get There From Here #37 $3.00 – Daily diary comics about Carrie's quiet adventure of life in LA and a side trip to Japan. From the thoughtful and compelling mind of someone who loves music, reading and cats, and who can draw the way all zinesters wish they could.
Excerpts From Seven Non-Fiction Books I Read $3.00 – Includes excerpts from books by Marky Ramone, Viv Albertine, Kim Gordon and more! And those drawings!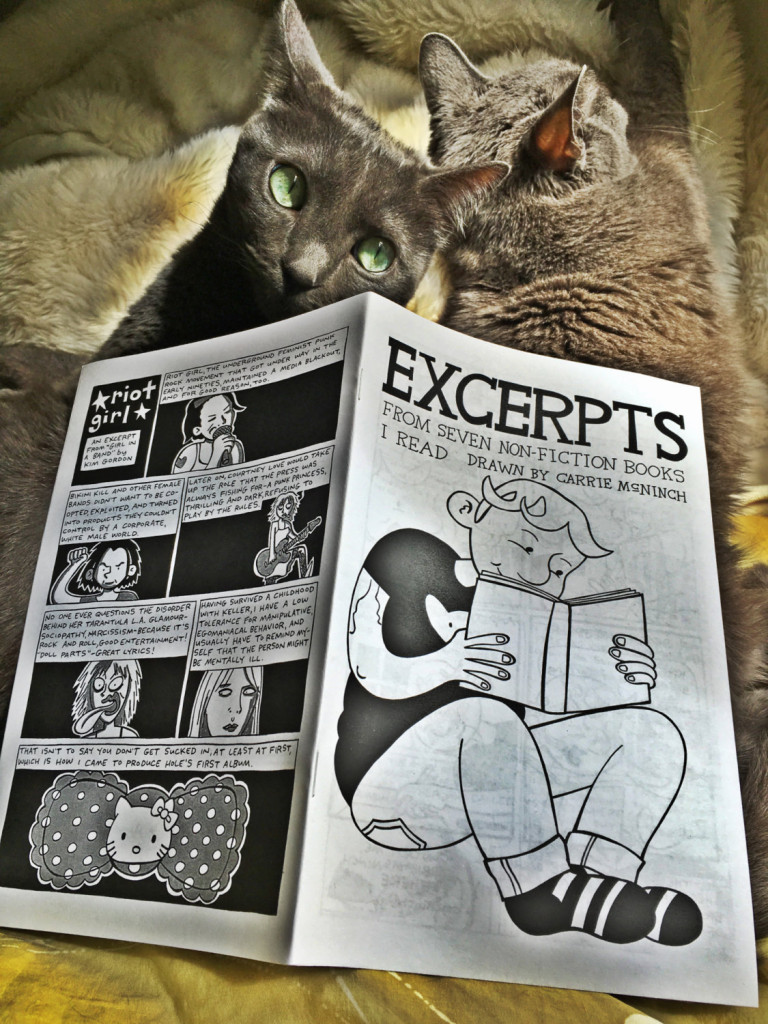 Upgrade by Lily Reeves $5.00
Science Ghost #3 by Carlos Aguilar $5.00
Just Another Caturday #1 by Jennifer Lewis $3.00
various Kelci Crawford comics:
Prologues a Compilation $3.00
Duck for Dinner $1.00
and more!
2 new by Robin Bougie delicacies!:
Cinema Sewer #29 $5.00
Sugar Spread vol 1 #1 A Big Coloring Book $10.00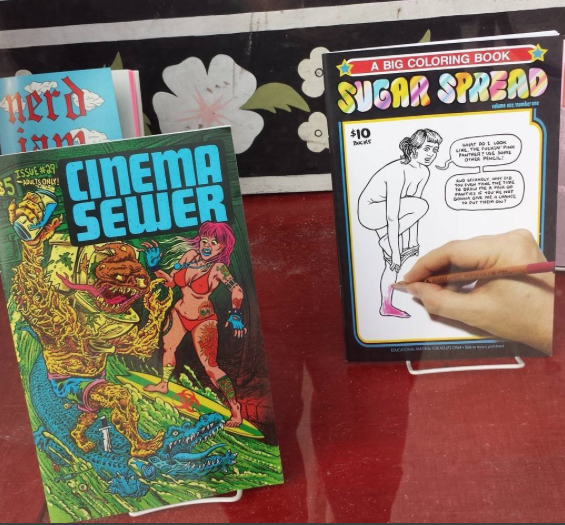 *GRAPHIC NOVELS*
The Complete Crepax: Dracula, Frankenstein, And Other Horror Stories by Guido Crepax (Fantagraphics) $75.00 – Collection of work from this erotic Eurocartoonist, known for his work in the 60s and 70s. This book features lit by Stoker, Mary Shelley, unpublished works of Crepax's famed Valentina stories and more.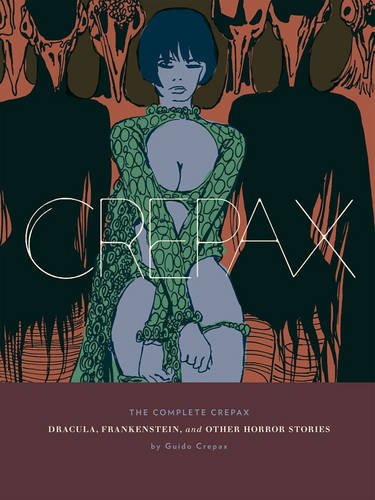 Dirty Hands: Collected Works by David Alvarado $15.00
Complete Chi's Sweet Home Part 2 by Konami Kanata $24.95
Amadeo & Maladeo: A Musical by R. O. Blechman (Fantagraphics) $24.99 – Full-color fable-like graphic novel, the story of two musician Mozart-esque half brothers cycle through rags and riches.
The Beauty vol 1 by Jeremy Haun & Jason A. Hurley $9.99 – What if there was a way to guarantee you could become more and more beautiful every day? What if it was a sexually transmitted disease?
Adventure Time vol 8 $14.99
Goodnight Punpun vol 1 by Inio Asano $24.99
Humans vol 2 Humans Till Death by Tom Neely and Keenan Marshall Keller $15.99
Nameless by Grant Morrison & friends $24.99
The Glorkian Warrior and the Mustache of Destiny by James Kochalka $14.99
*ART & DESIGN BOOKS*
Art of the Mural vol 1 Contemporary International Urban Art by Shane Pomajambo (Schiffer) $34.99 – 400+ examples by 50 full-time muralists from 6 continents. Edited by the creative director of DC-based Art Whino Gallery.
*WEIRDO*
Future Esoteric: Unseen Realms, Second Edition by Brad Olsen (Consortium of Collective Consciousness) $17.95
Confessions of an Illuminati: The Whole Truth about the Illuminati and the New World Order by Leo Lyon Zagami (CCCP Publishing) $17.95
Room 1219: The Life of Fatty Arbuckle, the Mysterious Death of Virginia Rappe, and the Scandal That Changed Hollywood by Greg Merritt $19.99
Aliens Among Us: Exploring Past and Present by Barry Strohm $19.99 – You guys, they're everywhere at every time ever. It's amazing!
Little Gray Bastards: The Incessant Alien Presence by Jordan Hofer & David Barker $16.99 – You guys, they're everywhere at every time ever. It's terrifying!
*MUSIC BOOKS*
Dancing Barefoot: The Patti Smith Story by Dave Thompson $16.99
Cobain on Cobain: Interviews and Encounters ed. by Nick Soulsby $28.95
*ESSAYS*
Notes on My Dunce Cap by Jesse Ball (Pioneer Works Press) $22.00 – A text for teachers who want to reconsider hierarchy in their classrooms and for those curious about education as a context for creativity and collaboration.
*FICTION*
I Am Because You Are, ed. by Pippa Goldschmidt and Tania Hershman (Freight books) $14.95 – "Timely" collection of new fiction (and some non-fiction) from novelists and science writers, all inspired by the theme of Theory of Relativity.
*POLITICS & REVOLUTION BOOKS*
Joe Hill: The IWW & the Making of a Revolutionary Workingclass Counterculture by Franklin Rosemont (PM Press) $29.95 – Reprint of the classic, originally published by Chicago rebels Kerr Publishing.
Death to Bourgeois Society: The Propagandists of the Deed by Mitchell Abidor (PM Press) $14.95
Listen, Liberal: Or, What Ever Happened to the Party of the People? by Thomas Frank $27.00 – Founding editor of The Baffler discusses the form of corporate and cultural elitism that has largely eclipsed the Democrat party's old working-class commitment.
*HUMOR*
F in Exams: Complete Failure Edition $19.95
*FOOD BOOKS*
Deceptive Desserts: A Lady's Guide to Baking Bad! by Christine McConnell $29.95 – Christine McConnell, the Queen of Creepy Cookies, shares recipes and photographs how to take bake with inspiration from the likes of Tim Burton, Wes Craven, Alfred Hitchcock, and Vincent Price, mixed with in a dash of Stepford Wife.
Sweet as Sin: The Unwrapped Story of How Candy Became America's Favorite Pleasure by Susan Benjamin $18.00
*MAGAZINES*
Bust #98 Apr May 16 $5.99
Harpers Apr 16 $6.99
Make vol 50 $9.99
Fields Magazine #5 Spr 16 $12.00
*LIT JOURNALS*
First Line vol 18 #1 Spr 16 $4.00
Black Fox Literary Magazine #13 $14.00
Coming out this week!
The Imitation Game: Alan Turner Decoded by Jim Ottaviani and Leland Purvis (Abrams ComicArts) $24.95