Alamo Igloo by Keith Herzik, issues #24 Manipulative Dig ($5.00) & #25 Herzoc ($7.00)
*ZINES*
Library Excavations #2 The ABC's of the Chicagos Reader Touring Musicians Publicity Photos Collection by Marc Fischer $6.00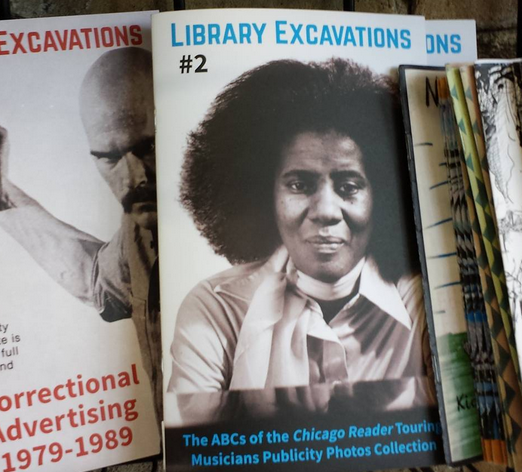 Heaven in the Palm of Your Hand: A Crystal Users Guide by Luke Simon $10.00
Bath Manager #1 by Morgan Vessel $3.00
Judas Goat Quarterly #70 Late Sum 16 by Grant Schreiber $1.50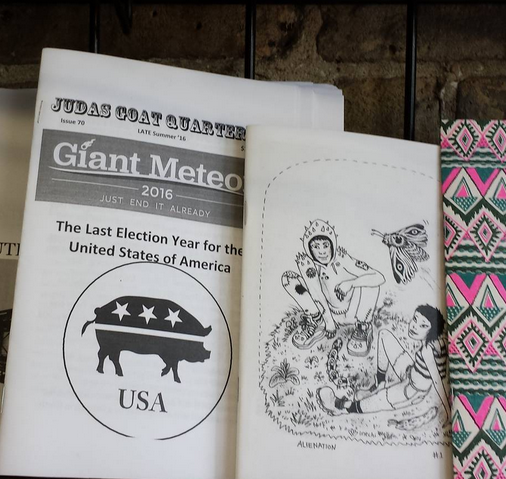 Sixth Mass Extinction by Ines Estrada (Perfectly Acceptable Press) $15.00
Thrill by Leanna Perry $6.00
Zisk #27 Sum 16 $2.00
Grassroots Media Zine #2 $5.00 and #3 $10.00
Critical Theory Cocktails #3 Powerful drinks that will make you think differently by Aggie Toppins $8.00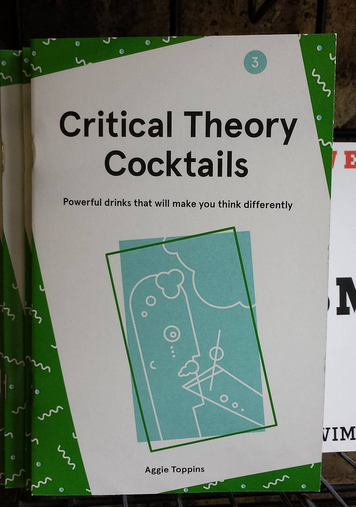 *COMICS & MINIS*
comics by Chloe Perkis, $5.00 each:
Hard Thoughts
Goodbye Corpses
Kitty's Guide to Chicago Coffee by Patrick Cheng $2.00
Line and Hook by Ben Nadler and Alyssa Berg $10.00
Mirror Cave by Erik Ruin and Spires that in the Sunset Rise $10.00
Annihilate by Brandon Daniels and Sam Boven $8.00
Airplane Food #1 by Tyler Callich $5.00
Sec by Sarah Ferrick $5.00
Study Group Magazine #4 ed by Zack Soto & Milo George $15.95 – Adventure calls in this massive tribute to all things fearless and fantastic! Featuring work by Farel Dalrymple, Ed Wheelan, Lark Pien, Noah Van Sciver, Adrea Kalfas, Benjamin Marra, Ian Chachere, Dylan Horrocks, and many more! Includes comics, art, articles, interviews, and a playable board game! Cover art by Levon Jihanian.
Nincompoop #1 by Christoph Mueller $8.00
Laskimooses #30 Helahtaa Kuminen Kannel $7.00
comics by Jesse Hedman:
AFC Special: Legend of Skullfucker Prequel $5.00
High Fantasy $2.00
AFC Special 2016 24-Hour comic $2.00
Circulus by Rupert Bottenberg $7.00
*GRAPHIC NOVELS*
Hellbound Lifestyle by Alabaster Pizzo and Kaeleigh Forsyth (Retrofit) $10.00 – Belly laugh funny. Pizzo and Forsyth met when they realized they'd been dating the same person. For a year. And neither of them knew. Now they're besties. And they make hilarious comics.
Y THE LAST MAN BOOK 5 by Brian K. Vaughan & friends $19.99
Injection TPB vol 2 by Warren Ellis & friends $14.99
CHRONICLES OF HATE vol 2 by Adrian Smith $29.99
HELLBOY AND THE BPRD 1953 by Mike Mignola $19.99
books by Stanley Wany, $15.00 each:
Dreamcave
Agalma
Silent Worlds by Carlos Santos $15.00
*ART & DESIGN*
So You Want to Publish A Magazine by Angharad Lewis $24.95
*FICTION*
Last Days of New Paris by China Mieville $25.00
When Watched: Stories by Leopoldine Core $16.00 – 19 stories in or around NY, populated by sex workers and artists, lovers and friends.
Girls: A Novel by Emma Cline $27.00
Underground Railroad: A Novel by Colson Whitehead $26.95
*MUSIC BOOKS*
Disco Demolition: The Night Disco Died by Dave Hoekstra, Steve Dahl, with a foreward by Bob Odenkirk (Curbside Splendor) $34.95 – To boost attendance at Comiskey Park, the White Sox and Chicago DJ legend Steve Dahl collaborated to host Disco Demolition on July 12, 1979. Admission to the park was ninety-eight cents and a disco record. Records were destroyed on the field between games, declaring absolutely how rock fans felt about disco. Attendance exceeded fifty thousand, far beyond anyone s estimations, and when fans stormed the field for the demolition, chaos ensued.
Reckless: My Life as a Pretender by Chrissie Hynde $16.00 – Now in soft cover.
Morrissey and Marr: The Severed Alliance, The 25th Anniversary Edition by Johnny Rogan (Overlook) $21.95
*POLITICS & REVOLUTION*
The Selected Works Of Voltairine De Cleyre: Poems, Essays, Sketches And Stories, 1885-1911 ed. by Alexander Berkman (AK Press) $16.95 – Writings from a pioneer of women's liberation and American anarchism.
Chicago Is Not Broke: Funding the City We Deserve by Tom Tresser $12.00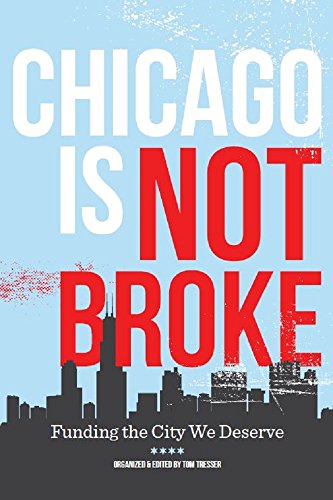 *MAYHEM*
A Brief History of Vice: How Bad Behavior Built Civilization by Robert Evans $16.00
*SCIENCE!*
Venomous: How Earths Deadliest Creatures Mastered Biochemistry by Christie Wilcox $26.00
*MAGAZINES*
Lucky Peach #20 Fall 16 Cooks and Chefs Three Fine Dining $12.00
Skin Art #166 $7.99
*LIT JOURNALS & CHAP BOOKS*
Oyez Review #43 Spr 16 $6.50
Tisty Tosty by Two Tone Jumbo and Freekyboi $2.00
Traveler Livre 1 Le Labyrinthe Cosmique $15.00
*OTHER STUFF*
No Mercy Sticker by Corinne Halbert $3.00