*ZINES*
Hall Pass #1 by Joseph Wilcox $5.00 – The hall pass in Mr. Wilcox's high school is a camera! And you are required to take a picture if you have it. Here's the results!
LDOC $20.00
Soda Killers #12 by Nathan $5.00
Do It Anyway #1 & Do It Anyway #2 Halloween Edition photo zines by Annie Rose Murphy $2.00 each
*COMICS*
Ugly by Chloe Perkis (Bred Press) $10.00 – Saturated with electric colors, eye popping graphic illustrations and a hilariously twisted sentiment about the absurdity of beauty standards, this little comic really packs one hell of a punch. -CH
You Don't Get There From Here #40 by Carrie McNinch $3.00
New Baltic comics!
Mini Kus, $5.00 each: #43 Meat Locker by Michael DeForge, #44 PFE FRAF by Ville Kallio, #45 Music of Changes by Daria Tessler, #46 Everyone Is Hungry by Anna Sailamaa
š! Baltic Comics Magazine #26 Oct 16 dAda $12.00 – 2016 marks the centenary of the Dada movement. To celebrate this fittingly, twenty-one international artists created their very own absurdist comics inspired by Dada. Work from Andy Burkholder (USA), Marc Bell, Roman Muradov, Maija Kurševa and more!
Out In These Woods by Monica Gallagher (Lipstick Press) $5.00
Minor Leagues #2 by Simon Moreton $6.00
*GRAPHIC NOVELS*
Lovers In the Garden by Anya Davidson (Retrofit) $10.00 – An art-dealing dope pusher and his deadly drug mule, two Vietnam veterans turned hit-men, an optimistic undercover cop and a renegade reporter with a nasty drinking problem all collide in the naked city. But who will come out on top after everyone's hit rock bottom?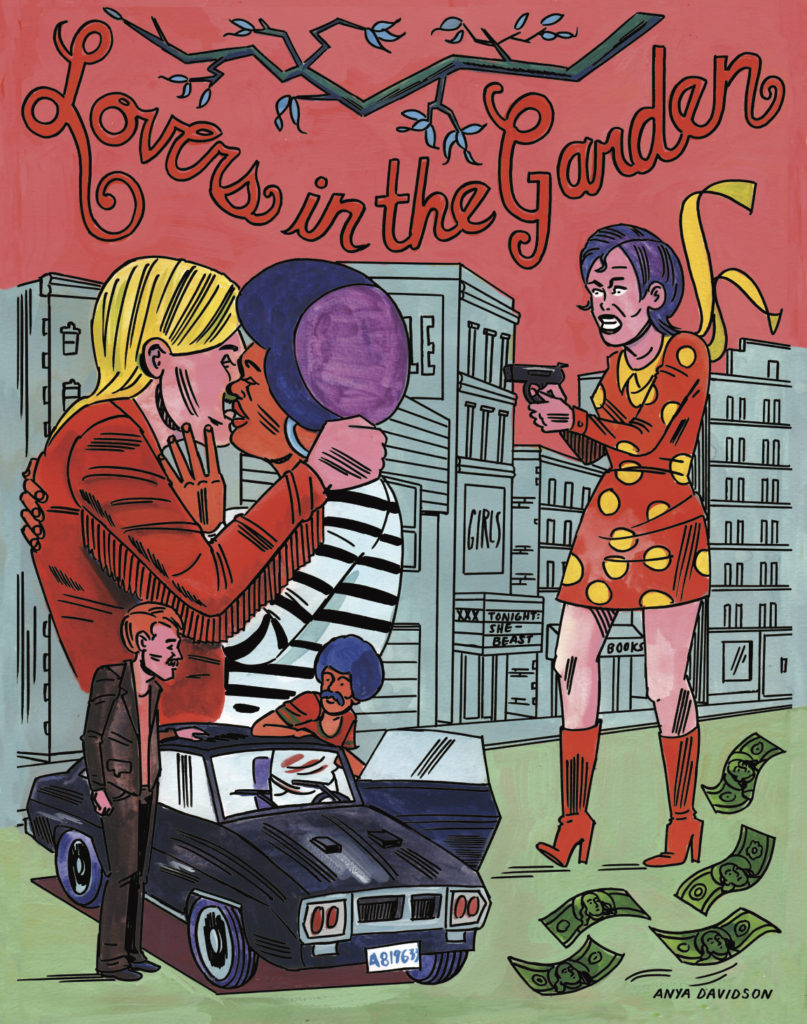 Robert Crumb Sketchbook vol 1 June 1964-Sept 1968 by Dian Hanson and Robert Crumb (Taschen) $39.99 – This book contains hundreds of sketches, including early color drawings from the master of underground comic art, cover roughs for the legendary Zap and Head comics, the original Keep On Truckin' sketches, the first appearance of Mr. Natural, plus his evolution and refinement, Fritz The Cat, the Old Pooperoo, and many, many voluptuous Crumb girls.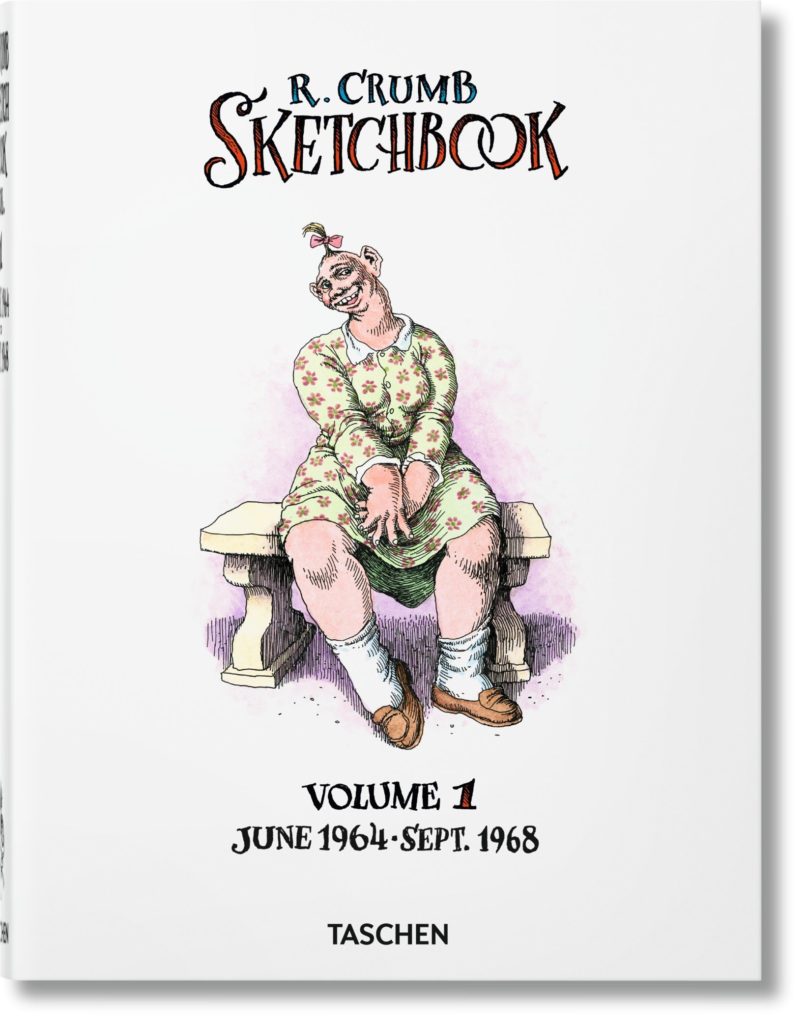 The Realist Cartoons by Paul Krassner and Ethan Persoff (Fantagraphics) $44.99 – The Realist was the legendary satirical magazine published from 1958 to 2001. Founded and edited by the brash provocateur, radical, and prankster Paul Krassner, humor and ridicule were the magazine's weapons of choice. This book collects for the first time the best, the wittiest, and the most provocative drawings that appeared throughout the magazine's history, including work by R. Crumb, Art Spiegelman, S. Clay Wilson, Jay Lynch, Trina Robbins, Mort Gerberg, Jay Kinney, Richard Guindon, Nicole Hollander, Skip Williamson, and many others.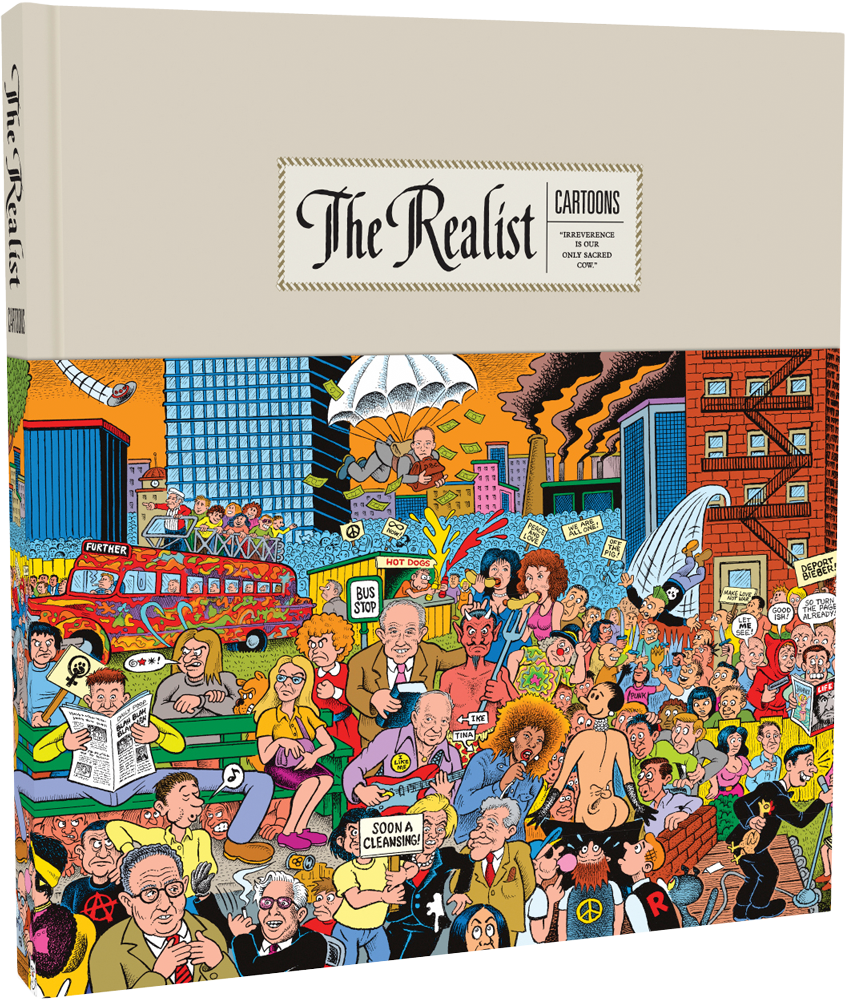 Seth's Dominion by Seth Chamberland & Luc Chamberland (D&Q) $29.95 – An extravagantly designed portrait–in comics, photos, and a DVD documentary–of the world-building artist.
Wuvable Oaf: Blood and Metal by Ed Luce (Fantagraphics) $19.99
Jacob Bladders and the State of the Art by Roman Muradov (Uncivilized) $16.99
After Land by Chris Taylor (Floating World) $19.99
The Life and Legend of Wallace Wood ed. by Bhob Stewart (Fantagraphics) $39.99 – Incisive look back at the life and career of one of the most mythic figures of cartooning, the man behind Daredevil, Mad mag artist, self-publishing pioneer of Witzend? etc.
The Unbeatable Squirrel Girl vol 4 I Kissed a Squirrel and I Liked It by North and Henderson $15.99
The Palace of Champions by Henriette Valium (Conundrum) $25.00 – Collection of work translated into Ennglish from one of the greatest French-Canadian cartoonists of all time, one of underground comic's elder statesmen. His style is like the bastard love child of S. Clay Wilson and Derf Backderf as raised by French avant-garde collective Le Dernier Cri.
The Complete Voodoo Volume 2 by various (IDW/Top Shelf) $29.99 – Pre-Code classics from the Chilling Archives of Horror Comics!
I'm Bored by Jess Rotter (Hat & Beard Press) $25.00
Love in Vain Robert Johnson 1911-1938 by JM Dupont $29.95
*ART BOOKS*
No One Told Me Not to Do This: Selected Screenprints, 2009-2015 by Jay Ryan (Akashic) $22.95 – Newest collection of Ryan's screen-printed work, including posters for bands such as Andrew Bird, Shellac, My Morning Jacket, Sonic Youth, Dinosaur Jr., Hum, St. Vincent, and others, as well as posters featuring Lil BUB, Cards Against Humanity, various bicycle races, film screenings, and pictures of sloths, walruses, and other mammals in states of troubled sleep.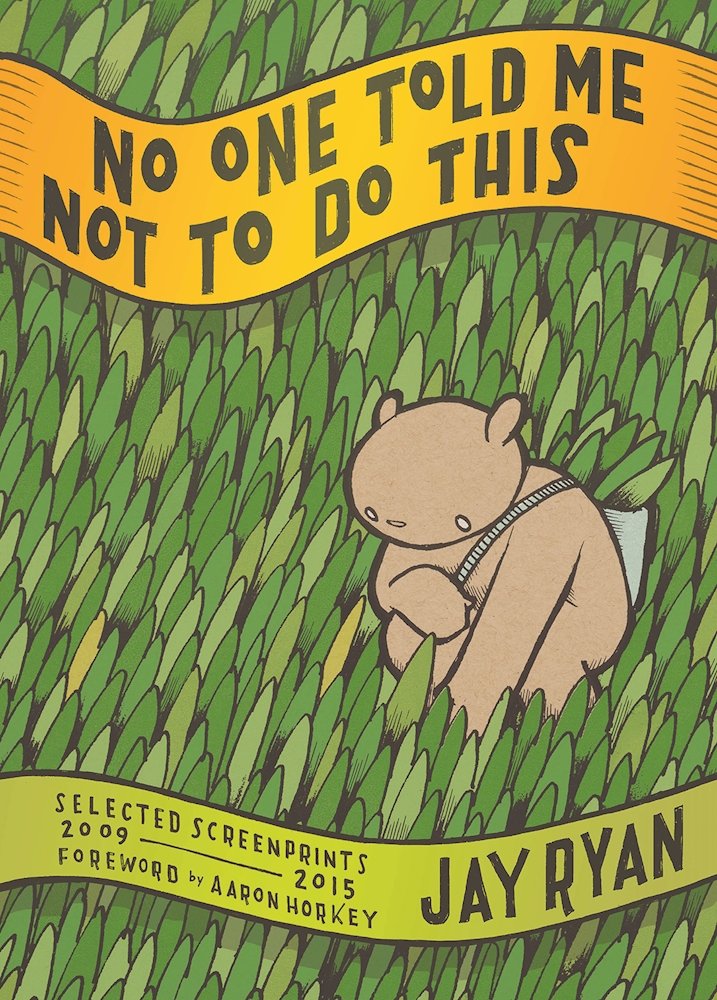 Iggy Pop Life Class by various (Brooklyn Museum) $24.95 – Iggy Pop was the nude model for a life drawing class at the Brooklyn Museum back in February. This book includes drawings by all participating artists, ranging from five-minute sketches to studies to presentation drawings-107 works in all.Also included are candid photos of the process alongside comparative works from the Brooklyn Museum's collections.The book features an introduction by Deller, an interview with Pop about his rationale for participating in this project, and an essay on the practice of life drawing in art history and the studio.
*FILM & TV*
Searching for John Hughes, Or Everything I thought I Needed to Know About Life I learned From Watching 80's Movies by Jason Diamond $15.99
Whographica: An Infographic Guide to Space and Time by Steve O'Brien, Simon Guerrier & Ben Morris $19.99
*HUMOR*
The Bassoon King: My Life in Art Faith and Idiocy by Rainn Wilson $16.00 – Now in soft cover!
The Daily Show (The Book): An Oral History as Told by Jon Stewart, the Correspondents, Staff and Guests $30.00
*POLITICS & REVOLUTION*
The Muhammad Code: How a Desert Prophet Brought You ISIS, Al Qaeda, and Boko Haram by Howard Bloom (Feral House) $23.95
United States of Fear by Tom Engelhardt (Haymarket) $16.95 – by the writer of the TomDispatch website, a project of The Nation Institute.
How Will Capitalism End? by Wolfgang Streeck $26.95
The Complete Works of Malatesta vol. III: A Long and Patient Work: The Anarchist Socialism of L'Agitazione, 1897–1898 ed. by Davide Turcato (AK Press) $24.95 – The work of principal figure of Italian and international anarchism.
Reproductive Rights and Wrongs: The Global Politics of Population Control by Betsy Hartmann (Haymarket) $19.95
Conflict Is Not Abuse: Overstating Harm Community Responsibility and the Duty of Repair by Sarah Schulman (Arsenal Pulp) $19.95
Howard Zinn Speaks: Collected Speeches 1963-2009 ed. by Anthony Arnove (Haymarket) $18.95
*ESSAYS*
Everything We Dont Know: Essays by Aaron Gilbreath (Curbside Splendor) $16.95
The Brothers Vonnegut: Science and Fiction in the House of Magic by Ginger Strand $16.00 – Now in soft cover! Worlds collide in this true story of weather control in the Cold War era and the making of Kurt Vonnegut and reveals how science's ability to influence the natural world also influenced one of our most inventive novelists.
*FICTION*
Moonglow: A Novel by Michael Chabon $28.99
*MAGAZINES*
Bust #102 Dec Jan 16 $6.99
Mojo #277 $10.99
Tape Op #116 Nov Dec 16 $4.95
Make vol 54 Dec 16 Jan 17 $9.99
Wire #393 Nov 16 $9.99
Harpers Magazine Dec 16 $6.99
Kinfolk vol 22 Work Special $18.00
*POETRY*
The Abridged History of Rainfall by Jay Hopler (McSweeney's) $22.00
Waters Of by Billie Chernicoff $12.00
Uncreated Mirror by Tamas Panitz $10.00
*FOR THE KIDDIES*
Professor Astro Cat's Intergalactic Activity Book by Zelda Turner and Ben Newman (Flying Eye) $13.95
101 Changemakers: Rebels and Radicals Who Changed U.S. History by Michele Bollinger and Dao X. Tran $19.95