*ZINES*
Genius Loves Company by Z. Dillon $8.00
Save The Bees Worx #3 $7.00
Table Scraps in the Kitchen With the International Pancake Film Festival vol 1 by C. Kuball $12.00
Occult Digest: A Journal of Esoteric Thought Practice and Expression vol 1 #1 $13.00
Lightness Awareness Hereness Made At Home by Emma Casey $10.00
Tributaries #6 an Interesting Case by JC $3.00
Fuggles A Beer Zine #2 Fall 16 by David Nilsen $3.50
Glyphs by Turner Hilliker $5.00
Bitch, I Know You Heard Me: Stories and Pictures About Cat Calling and Unsolicited Attention $8.00
Ugly Refridgerator: A Non Joke About Art School $1.00
Somnambulist #28 Stuck by Martha Grover $5.00 – (Pictured below.) All about being stuck – stuck physically, emotionally, spiritually.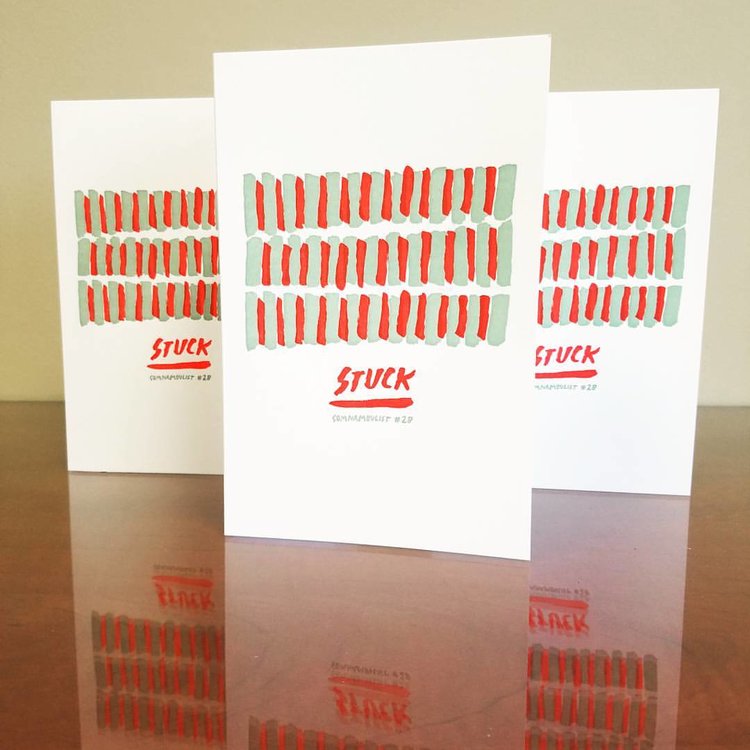 *COMICS & MINIS*
120 Minutes: The Interview, Sketches vol 2 by Derek Marks $5.00
Baba Yaga's House by Krystal Difronzo $5.00
Thinking of You by Andy Burkholder $5.00
Don't Care Where the Past Was by Andy Rench $5.00
American Steel by Danielle Chenette $5.00
Animal Hair Museum #2 You Are Only the Sum of Your Influences by Matt W. Haas $3.00
Days Off #1 by Turner Hilliker $3.00
Space Center #1 by Rod Binnion $20.00
*GRAPHIC NOVELS*
Love is Love: A Comic Book Anthology to Benefit the Survivors of the Orlando Pulse Shooting $9.99 – With work by comics names as Grant Morrison, Ed Luce, Jill Thompson & more!
*ART & DESIGN BOOKS*
Imprisoned: Drawings from Nazi Concentration Camps by Arturo Benvenuti $29.99
*MUSIC & MEDIA BOOKS*
Age of Bowie: How David Bowie Made a World of Difference by Paul Morely $16.00
Spiders From Mars: My Life With Bowie by Woody Woodmansey 27.99
Bomb: The Author Interviews by Betsy Sussler $16.00 – Drawing on 30 years of BOMB Magazine.
Christmas Reference Booklet Movies #1 by J. Brewer $1.00
*FICTION*
Meditation as Way of Seeing: Beyond Mega Machine by Peter Bowman $6.50
*ESSAYS*
Flowers Among the Carrios: Essays on the Gothic In Contemporary Poetry by James Pate $10.00
*MAGAZINES*
Hi Fructose #42 New Contemporary Art Magazine $7.95
Protest 101 How to Do it and Why You Should by Bronwyn Mauldin $7.00
*POETRY & CHAP BOOKS*
Let Them Eat Chaos: A Poem by Kate Tempest $16.00 – New book from British slam poet rapper.
Everything Smells Like Breast Milk: Poems On Love Baseball and Being a Dad by Lee Kitzis $11.95
Treefingers by Alida Miranda-Wolff $6.00