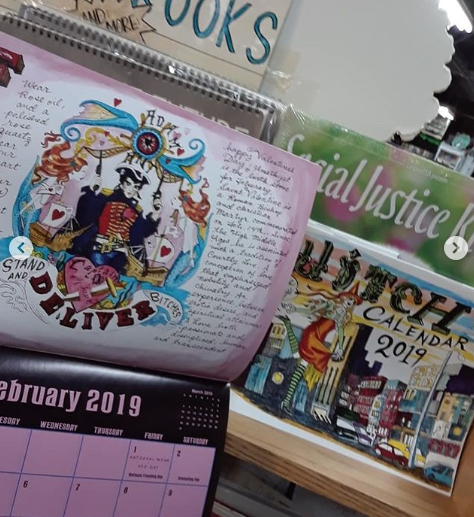 Dame Darcy Witch Calendar 2019 $20
Zines
New zines from Dan Kelly: Daughter, Awesome Tragic! $2 each
Strange Tapes #3 by Scott R. Miller $4
Pound the Pavement #20: Total Control by Josh MacPhee $6
Hard to Love #9 by Sara McHenry $3
Dress Like an Aardvark and Other Animals by Emily Meredith Lewis $10
Radical Softness as a Boundless Form of Resistance by Be Oakley $10
Stonewall Was a Riot by Brett Suemnicht $10
Nighted Life #12 Sum 18 $15
This Goth Bitch #4-#6 by MV Garcia $6 each
Comics & Minis
Thriftin' by Lois Tuman $2
Bad Meat by H. Jones $2
Cut Out by Flex $5
True Love by Chloë Perkis $25
Hell Cop Summer Special – Crazy From the Heat by Tom McHenry $5
Stick by J. Gattis $4
Graphic Novels
Our Wretched Town Hall by Eric Kostiuk Willams (Retrofit) $10
I Am Young by M. Dean (Fantagraphics) $19.99
Oscar Wilde: A Season of Sorrow by Rob Marland $9
Warrior Women 3: Spain by Spain Rodriguez $34.99 – Comics tales from the Zap cartoonist about senior citizen skateboarders, the Leather Nun, and much more!
Hedy Lamarr: An Incredible Life by William Roy & Sylvain Dorange (Humanoids) $19.95
Hellblazer: 30th Anniversary Celebration $39.99
Krazy: George Herriman, a Life in Black and White by Michael Tisserand $19.99 – Softcover reprint.
Politics & Revolution
Can We All Be Feminists?: New Writing from Brit Bennett, Nicole Dennis-benn, and 15 Others on Intersectionality, Identity, and the Way Forward for Feminism, edited by June Eric-udorie $16
Politics Hacks: 100 Clever Ways to Help You Understand and Remember the Most Important Theories by Julian Flanders $16.99
I Hate This About Me by Henry Alberto $20
Music, Film & TV Books
Let's Go (So We Can Get Back): A Memoir of Recording and Discording With Wilco, Etc. by Jeff Tweedy $28
Voluptuous Terrors 2: 120 Horror & Exploitation Film Posters from Italy, edited by G. H. Janus (Deicide) $29.95
Blood, Fire, Death: The Swedish Metal Story by Ika Johannesson & Jon Jefferson Klingberg (Feral House) $27.95
Meet Me in the Bathroom: Rebirth and Rock and Roll in New York City 2001-2011 by Lizzy Goodman $19.99 – Now in soft cover.
Stranger Things Field Guide by Nadia Bailey $19.95
Art & Design
Rock Graphic Originals: Revolutions in Sonic Art from Plate to Print '55 -'88 by Peter Golding $40
Tennis Manifesto vol 2 by Warren Harris & friends $20
Mayhem & Outer Limits

The Illustrated Secret History of the World by Mark Booth $45
The Book of Extraordinary Deaths: True Accounts of Ill-Fated Lives by Cecilia Ruiz $17
A Witch's Bestiary: Visions of Supernatural Creatures by Maja D'aoust (Process) $22.95
Plight of the Living Dead: What the Animal Kingdom's Real-Life Zombies Reveal About Our World and Ourselves by Matt Simon $16
The Conspiracy against the Human Race: A Contrivance of Horror by Thomas Ligotti $17 – Life sucks! Take joy in your negativity.
Strange Frequencies: The Extraordinary Story of the Technological Quest for the Supernatural by Peter Bebergal $28
Fiction
The Embalmer by Anne-Reneé Caillé $14.95
Fox 8: A Story by George Saunders $17
The Future Is Female!: 25 Classic Science Fiction Stories by Women, from Pulp Pioneers to Ursula K. Le Guin, edited Lisa Yaszek $27.95
Sexxxy
Phile #3 The International Journal of Desire and Curiosity $20
Local Interest
Vintage Chicago: The Best of @vintagetribune on Instagram by the Chicago Tribune $25
Magazines
The Baffler #42 $14
Wire #417 $10.99
Shindig #84 $13.99
New Noise Magazine #43 $4.99
Film Comment Nov/Dec 2018 $6.95
Frankie #85 $16.99
Slanted #32 $28
Highsnobiety #16
Fortean Times #372 $12.40
Lit Journals & Chap Books
Granta #145 $16.99
Long Day Press 2018 Chapbook Sampler $5
For the Kiddies
What Can a Citizen Do? by Dave Eggers & Shawn Harris $17.99