With C2E2 last week we were too busy to post new stuff, as the gentleman below would agree. Ah, the  lonely life  of a super hero.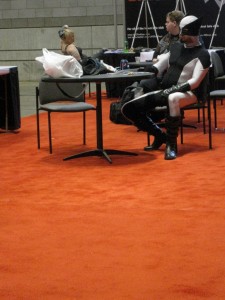 So here's the new stuff post this week but a day early, because we won't have time to post it tomorrow. Lucky you! The weekly Top 10 posts will resume as usual on Tuesday.
But first, here's some news:
Chicago Zine Fest started today! How exciting! Be here at Quimby's tonight, Fri 3/25 9pm, 1854 W. North Ave for ZINESTER KARAOKE…And the winner of the Long Arm Stapler Award will be announced!
Don't miss the rest of Chicago Zine Fest tomorrow at 1104 S. Wabash.
See chicagozinefest.org for more details!
New Stuff This Week
ZINES & ZINE-RELATED BOOKS!
Doris #28 mini horses by Cindy C. $2.00
Burn Collector #15 by Al Burian (Microcosm) $3.00 – With contributions from Anne Elizabeth Moore and Liam Warfield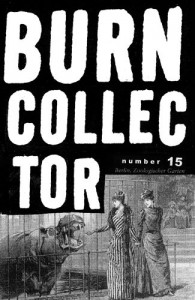 Archiving the Underground #1 by Jenna Brager and Jami Sailor $2.00
Sixteen 16 Poems Written By a 16-Year-Old Full of Angst Bad Decisions Arrogance by Mia Beatrice $2.00
Do You Love a Veteran #1 A Compilation By For and About the People Who Love Vete $7.00
Secret Beach #3 Use our Drive Thru by Liam Warfield $2.00
Junk Drawer #5 On The Go Pockets Wallets Backpacks and Odds and Ends That Go by Eric Bartholomew $2.25
Conspiracy Corner #1 (SKU) Serial Killers Unite $2.00
Remedy Quarterly #4 Celebration – Stories of Food Recipes For Feeling Good $7.50
Amazing Women #1 Madame Dangereuse and Amazing Women #2 Dark Moon, both by Devan Bennett, both $2.00 each
God Save the Zine #4 My First Signing by Harrison Rosenberg $1.00
Night Visions by MA and ML $8.00
Thid Land Is Our Land by Alex Lengyel and Mario Martinez $8.00
Halfsteps and Cloudfang by Daniela Olszewska $4.00
In What Sequence Will My Parts Exit by Cynthia Spencer $3.00
Qlix #3 $5.00
The Match #109 spr 11 $3.00
Junk Drawer #4 by Eric Bartholomew $2.25
Running With Pitchforks #1 Spr 11 $4.00
Wild Tigers I Use To Know Feb 11 by Rae $1.50
Suburban Gothic #7 Six Years In Limbo Part 1 Jan 11 by Rae Logios $2.00
Holding On #1 by Kayla Anderson $3.00
Grandpa and Grandma Two Plays by Eric F Johnson $1.00
Go For Broke #2 Klimbing Kilimanjaro $2.50
COMICS & MINI COMIX!
Kim Gee Comics #2 By Kim Gee $5.00 – Kim Gee gets sticky and sweet in her diary comic about tangling it up with a bevy of boys off the internet, worked out with straightforward Carrie McNinch-style linework and not-so-straightforward Ariel Schrag-style relationship drama. -EF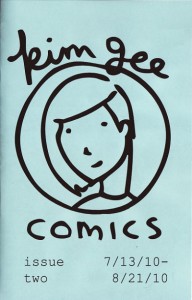 Papercutter #15 (Tugboat Press) $4.00 – Latest issue in Tugboat Press's long running anthology series dedicated to showcasing the best young, underexposed and emerging comic book artists. This issue contains work by Jonas Madden-Connor, Melinda Boyce, MK Reed, Drew Weing, and Nate Beaty.
Sofa Kingdom #1 the Big Shabang by var. $5.00
Neonomicon #4 by Alan Moore (Avatar) $3.99
Jesus Needs Help by David Germain $9.15
Big Poof Theory by Molly McCandless $2.00
Magical Quest #1 Dec 08 ($3.00) and Magikal Quest #2 ($3.00), both by Caitlin Drake McKay $3.00 – Caitlin also designs tattoos and is rad.
That Time I Turned 30 in Greece #1 by J. Tana Ford $5.00
Veggie Dog Saturn #5 by Jason Young $3.00
Complex #1 by Chris Kuzma $5.00
Crass Sophisticate #26 $2.00
Comics by Edward Juan, all $6.00 each: Werefox, Shepherds Wife, Delivery Man, Black Goose
Comics by Joseph Lambert: Everyday ($3.00), Tantrum ($3.00), Food Fall ($6.00), Too Far ($6.00)
Famous Hairdos of Popular Music #6 Jimmy Page $3.00 – I gotta whole lotta love for this drawing zine. Using famous hair as the template for some physical graffiti, 30-odd artists complete pages and pages of Pages. -EF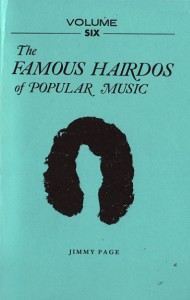 H Core Beastiary by Peter Hillstrom $4.00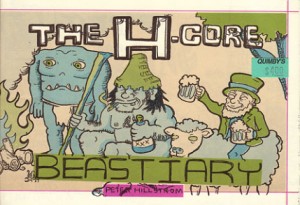 ART & DESIGN BOOKS!
Pop Surrealism What a Wonderfool World (Drago) $34.95
Letterpress Select Designs From San Francisco and New York by Miki Usui (Pie) $25.00
To Kick a Wind To by Chris Hipkiss (Picturebox) $30.00
Subway Sketch Book New York London Berlin Paris Moscow Toronto Rome Stockholm (Dokument) $7.95
Graffiti Alphabets Street Fonts From Around the World by C. Wade (Arcade) $40.00
Against the Wall: The Art of Resistance in Palestine by William Parry (Lawrence) $24.95
GRAPHIC NOVELS & TRADE PAPERBACKS!
Cartooning Philosophy and Practice by Ivan Brunetti (Yale) $13.00
RIP HC Best of 1985 2004 by Thomas Ott (Fantagraphics) $28.99
Stumptown vol 1 HC by Rucka & Southworth (Oni) $29.99
21 the Story of Roberto Clemente by Wilfred Santiago (Fantagraphics) $22.99
Comics: The Complete Collection by Brian Walker (Abrams) $40.00
Do Androids Drean of Electric Sheep Dust to Dust vol 2 by PKD, Roberson and Adler (Boom) $12.99
Cardboard Valise by Ben Katchor (Pantheon) $25.95
Dungeon Quest Book 2 by Joe Daly (Fantagraphics) $12.99
The Arctic Marauder by Jacques Tardi (Fantagraphics) $16.99
Demo vol 2 TPB by Wood and Cloonan (Vertigo) $17.99
Sky Doll Spaceship Collection TPB by Barbucci and Canepa (Marvel) $19.99
Chimo Colliers Canadian Forces Artists Program Story by David Collier (Continuum) $17.00
Astonishing XMen TPB Xenogenesis by Warren Ellis etc. (Marvel) $24.99
DIY
World of Geekcraft: Step By Step Instructions for 25 Super Cool Craft Projects by var. (Chronicle) $19.95
Official High Times Field Guide to Marijuana Strains Over 125 Pot Varieties by Danny Darko (HT) $14.95
Dank 2.0 the Quest for the Very Best Marijuana Continues a Breeders Tale by Subcool (Quick) $24.95
FICTION!
Domestic Crusaders by Wajahat Ali (McSweeneys) $9.00
Arena 2 Anarchists in Fiction by Stuart Christie (PM Press) $14.00
Dreadfully Ever After Pride and Prejudice and Zombies by Steve Hockensmith (Quirk) $12.95
CHAP BOOKS & LIT JOURNALS
Curbside Splendor #1 Spr 11 $8.00
Bomb #115 Spr 11 $7.95
Knew Revolution vol 1 #1 $3.95
Tales of Blood and Roses #1 Love Gone Wrong $4.75
First Line vol 13 #1 $3.00
Cows Quarternote Chapbook #9 by Lydia Davis (Sarabande) $9.95
Love and Other Troubles by Ingrid B. Olson $20.00
Overtime Hour 18 Waiting by B F McCune $2.00
MAGAZINES!
Cinema Sewer #24 $4.00
Maximumrocknroll #335 Apr 11 $4.00
Bust Apr May 11 $4.99
Ready Made #52 Apr May 11 $4.99
IdN vol 18 #1 $17.50
Frieze #137 Mar 11 $10.00
Shots #111 Spr 11 $6.50
Open Minds Apr May 11 $6.50
Neural #38 $8.00
Urban Garden #14 Feb Mar $5.95
World Explorer vol 5 #9 $8.95
Brutarian #55 $4.95
True Detective Mar 11 $4.99
Survivalist #2 $3.95
True Crime Mar 11 $8.99
Taps paraMagazine vol 7 #2 Mar Apr $5.95
Bizarre #173 Mar 11 $10.50
Art of Mary Jane Apr 11 $6.99
Skateboarder vol 21 #2 $5.99
Fangoria #302 $8.99
Laphams Quarterly vol 4 #2 Spr 11 $15.00
Signal to Noise #61 Spr 11 $4.95
Razorcake #61 $4.00
Tape Op #82 Mar Apr 11 $4.95
Harpers Magazine Apr 11 $6.99
Inked Apr 11 $6.99
CHILDRENS BOOKS!
Owly and Wormy Friends All Aflutter by Andy Runton (Top Shelf/Simon) $15.99
I Looooove You Whale by var. (WriteFuzzy) $20.00
You Never Forget How to Ride a Bike Lessons Learned by Students (826) $15.00
MUCKRACKING, MEMOIRS, MAYHEM, MISCREANTS & MISCELLENOUSNESSESESNESS!
If You Knew Then What I Know Now by Ryan Van Meter (Sarabande) $15.95
DVD Delirium vol 4 by N. Thompson (Fab) $24.95
Beat Atlas: A State by State Guide to the Beat Generation in America by Bill Morgan (Citylights) $15.95
Machine of Death: A Collection of Stories About People Who Know How They Will Die by var. (Bearstache) $17.95
Swedish Sensationsfilms: A Clandestine History of Sex Thrillers and Kicker Cinema by D. Ekeroth (Bazillion Points) $19.95
Temple and the Lodge by var. (Arcade) $14.95
Life and Death on Mars: The New Mars Synthesis by John Brandenburg PhD (Adventures Unlimited) $19.95
Blood Ink The Art of Tattoo by Russ Thorne (Running Press) $18.00
Tattoed By the Family Business by var. (Pavillion) $39.95
Handbook of Paranormal Powers – Discover the Secrets of Mind Readers Mediums and More by B. Haughton (New Press) $18.95
Economics For the Rest of Us: Debunking the Science That Makes Life Dismal by M. Adler (New Press) $17.95
Neither Sun Nor Death by Peter Sloterdijk (Semiotext[e]) $17.95
MUSIC BOOKS OR BOOKS WRITTEN BY MUSIC PEOPLE!
When That Rough God Goes Riding: Listening to Van Morrison by Greil Marcus (Running Press) $13.99
Diary of a Punk by Mike Hudson (Tuscarora) $19.95 – From the Pagans.
University of Strangers by Bob Pfeifer (Power City ) $19.95 – Work by Bob Pfeifer (Human Switchboard, Tabby Chinos, former Senior Vice President A&R/Epic/Sony Records and President of Hollywood Records).
Don't miss the Cleveland Confidential Book Tour stop with at Quimby's on April 2nd, featuring the above 2 authors (Mike Hudson and Bob Pfeifer) with Cheetah Chrome (Rocket From The Tombs, Dead Boys, Batusis).
Wont Get Fooled Again the Who From Lifehouse to Quadrophenia by Richie Unterberger (Jawbone) $19.95
The Exile of Britney Spears: A Tale of 21st Century Consumption by Christopher S. Smit (Intellect) $30.00 – We chew up our pop culture and vomit it back out when we're done with it. Britney Spears is case and point, a realized representation of our commodification of populr culture. Poor Britney, indeed. Don't miss author Chris Smit here at Quimby's in April. Stay tuned for more info about this event.
Iggy & the Stooges Raw Power by Mick Rock and Iggy Pop (Palazzo) $19.95
My Dead Dad Was In ZZ Top 100 Percent Real Never Before Seen Documents by Jon Glaser (Harper) $14.99
SEX & SEXY & SEX CULTURE!
OP Original Plumbing #6 Schooled Trans Male Quarterly $8.00 – The theme this round is "Schooled", highlighting a twin commitment to both the "It Gets Better" and the "Make It Better" campaigns targeted at queer youth. Editors Rocco and Amos both come clean about what a difficult experience high school was and then the issue opens up to an awesome spectrum of interviews with trans-masculine educators, students and activists. This issue goes a little bit light on the sexy smut, but really delves into some super-inspiring stories and there's still a lovely 10-page spread of mischievious school boys to whet yr whistle. -EF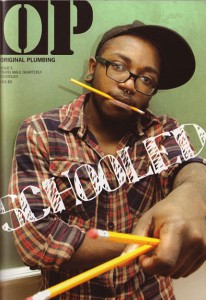 Carnal Machines Steampunk Erotica ed. by King DL (Cleis) $14.95 – Gives new meaning to "grind those gears." -LM
Gotta Have It 69 Stories of Sudden Sex by Rachel Kramer Bussel (Cleis) $15.95
Sweet Danger Erotic Stories of Forbidden Desire For Couples ed. by Violet Blue (Cleis) $14.95
Nice Girls Naughty Sex Twenty Erotic Tales When it comes to pleasure good girls by var. (Seal) $16.95
Slave to Sex Erotic Stories of Bonage and Desire by A. Tyler (Cleis) $14.95
Tom of Finland by Dian Hanson (Taschen) $14.99
Lesbian Cops Erotic Investigations by Sacchi Green (Cleis) $14.95
Surrender Erotic Tales of Female Pleasure and Submission by Rachel Kramer Bussel (Cleis ) $14.95
Sexy Super Girls by Mike James (Goliath) $29.95
Glamshots Hot and Naked – Extra Spicy 3D Bonus Image by Tom Veller (Goliath) $39.95
Big Sex Little Death by Susie Bright (Seal) $24.95
Oh My Comix #2 A Motley Crew of Perverts True $4.00
POLITICS & REVOLUTION!
Unfamiliar Fishes by Sarah Vowell (Riverhead) $25.95
Queer America A Peoples GLBT History of the United States by var. (New Press) $17.95
Capital and Its Discontents – Conversations With Radical Thinkers in a Time of Tumult by Sasha Lilley (PM Press) $20.00
Moments of Excess Movements Protest and Everyday Life by The Free Association (PM Press) $14.95
Orange Is the New Black My Year In a Womens Prison, A Memoir by Piper Kerman (Spiegel) $15.00