Human Nature by Daikichi Amano (Bongout) $50.00 – This book makes me feel sort of throw-uppy but I can't take my eyes off it, and I kind of want to own it. Marilyn Manson said it best: "Daikichi Amano's art is a combination of Jean Cocteau and Jacques Cousteau." -LM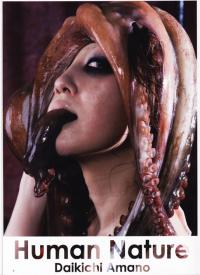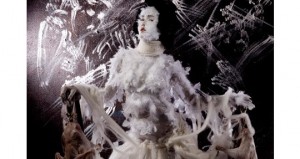 ZINES & ZINE BOOKS!
Xerography Debt #29 $3.00
My Aim is True #2 by Carrie $1.00
Whore Eyes #4 by Jesse Lowe, Lachlann Rattray and Adam Shaw. Comes with comes with Whore Eyes Comp Govmnt Acid compilation CD (Drippy Bone Books) $11.00
Minimum Rage: A Series of Bad Events Overflowing With Fuck-Ups Know-It-Alls and Pansies – The Life Story of That Guy Who's Name You Can't Remember (Drippy Bone Books) $4.00 – Can I just say that this is on the cover?: "Fuck You Buy It It's Cheap"? Is that reason enough? No? Maybe this will sell you on it if you know this next fact: One page has a picture of Emo Philips with a trombone around his neck and it says "I still believe Emo Philips is a genius." What else do you need to know? -LM
Death Trip by Shalo P. and Peter Gray Hurley (Drippy Bone) $7.00
Human Storage by John Henry Kelly (Drippy Bone) $4.00
COMICS & MINI COMIX!
In The Wake of Heroes #1 by Lee Kolinsky and Sham Arifin #3.50
Product of Society Aug 11 $3.99
Comics by Leda Zawacki: Fauna $3.00 and Puddles of Cute: A Comics Collection by $6.00 – Puddles reprints "Monster in the Mansion" from Goat Girl #1 plus 3 other stories:  "Fireflies",  "Ladybird" and  "Killer Whale People" drawn with a Nicole J. George-ish eye  for  the  strangely  cute. -EF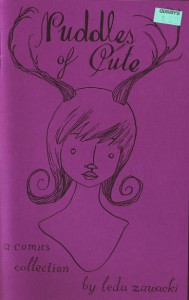 One Time Only by Cassie J. Sneider $1.50 – How do you sneak out from a shameful one night stand while the other person is asleep? What if they have really bad wall tapestries? Is hitting rock bottom both depressing and somewhat exciting because that makes you one step closer to resembling Vince Neil? Written by the hilarious Cassie J. Fine Fine Music Sneider and drawn by Nick Rhode. Um no, not Nick Rhodes from Duran Duran. Just Nick Rhode. FYI. -LM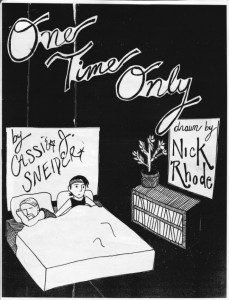 Cebolla Con Chocolate by Ines Estrada and Rodrigo Simancas (Cafe Con Leche) $8.00 – Absurd burds, wurds, turds and nurds! Inés' drawings are brillbrilliant and Rodrigo's writing is smartgood and it also features a lovely contraption from the future. In español.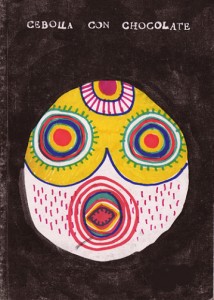 Viisitoista Paivaa Meksikossa by Ines and Muura $8.00
Kim Gee Comics #4 by Kim Gee $5.00
Brendan Wells Presents: Mickey Comics #1 – Featuring the story Mouse Secrets by Walt Disney Jr. $2.00
Ring Wraiths at Home Xenia James O'Keefe $4.00 – New comic from the artist of Spider Who Had Arachnophopia of Patton Oswalt-Tweeting-about fame!
GRAPHIC NOVELS & TRADE PAPERBACKS!
Yiddishkeit: Jewish Vernacular and the New Land by Harvey Pekar and Paul Buhle (Abrams) $29.95
PS Magazine Best of the Preventive Maintenance Monthly by Will and Ann Eisner and Eddie Campbell (Abrams) $21.95
Blackjacked and Pistol Whipped Crime Does Not Pay Primer by Dennis Kitchen etc. (Dark Horse) $19.99
Bouncer the One Armed Gunslinger by Alexandro Jodorowsky and Francois Boucq (Humanoids) $29.95
Okie Dokie Donuts Open For Business by Chris Eliopoulos (Top Shelf) $9.95
Male Call: Complete Newspaper Strips 1942-1946 Starring Miss Lane by Milton Caniff (Hermes) $39.99
How to Understand Israel in 60 Days or Less by Sarah Glidden (Vertigo) $19.99
Nogoodniks by Adrian Norvid (D&Q) $24.95
Malinky Robot Collected Stories and Other Bits by Sonny Liew (Image) $16.99
Infinite Kung Fu by Kagan McLeod (Top Shelf) $24.95
ART & DESIGN BOOKS!
Whole Car Poetry by Frank Veleno and Hepo (Whole Train) $29.95
Subway Player Blackbook Cult Series vol 2 by MSER (Whole Train) $29.95
Twinkles by Miss Van (Drago) $50.00
Stencil Graffiti Capital Melbourne by Jake Smallman  and Carl Nyman (MBP) $21.95
Art of Big City by Ragnar (Baby Tattoo) $40.00
Book of Skulls by Faye Dowling (Laurence) $14.95
LITERARY JOURNALS, CHAP BOOKS & POETRY!
Criminal Class Review vol 4 #2 $15.00 – CCR searches for gritty, hard luck tales from all walks of life. This issue, guest editors identical twins Kent and Keith Zimmerman (who teach literary endeavors at prisons like San Quentin) curate this "Prison Issue." And the cover is a beauty, designed by Chicago print artist Tony Fitzpatrick.
Monday Night #10 vol 1: Journal of New Literature $5.00
Paper Darts vol 3: A Magazine of Lit and Art $14.00
Inhuman by Hillary Basile $1.00
DIY!
Teeny Tiny Mochimochi by Anna Hrachovec (Potter Craft) $19.99 –  More than 40 itty bitty minis to knit wear and give.
MUCKRACKING, MEMOIRS, MAYHEM, MISCREANTS & MISCELLENOUSNESSESESNESS!
Workin' Mime to Five by Dick Richards (WriteBloody) $17.00 – Thoroughly silly!
Smoking Ears and Screaming Teeth: A Celebration of Scientific Eccentricity and Self-Experimentation by Trevor Norton (Pegasus) $24.95
Gris Grimlys Atrium Secretum: 13 Years of Hidden Truths (Baby Tattoo) $44.00
Secret Societies: Inside the Freemasons Yakuza Skull and Bones Worlds Most Notorious Organizations by John Lawrence Reynolds (Arcade) $14.95 – A smart and surprising behind-the-scenes exploration of the tales confirmed and fabricated that surround the best known and often least understood secret societies.
Who Am I?: And If So, How Many? by Richard David Precht (Spiegel & Grau) $16.00 – This book has been talked about as being a philosophical view on topics like morality, happiness, and the soul with insights gleamed from biology and the neurosciences. Sounds like an episode of Radiolab to me. -LM
CHILDRENS BOOKS!
Pirate Penguin Vs Ninja Chicken Troublems With Frenemies by Ray Friesen (Top Shelf) $9.95
POLITICS & REVOLUTION!
The Obama Syndrome: Surrender at Home, War Abroad Tariq Ali (Verso) $12.95
True Confessions: Feminist Professors Tell Stories Out of School by Susan Gubar (Norton) $29.95
Zapatista Spring: Anatomy of a Rebel Water Project and the Lessons of Internation by Ramor Ryan (AK) $16.00
MAGAZINES!
Bizarre #179 Sep 11 $10.50
Flaunt #116 $10.95
Clutter #15 Like Toys Love Clutter $9.99
Paper Sep 11 vol 28 #1 $4.00
Tattoo Revolution Aug 11 $11.75
Tattoo Society #29 $7.99
SEX & SEXY!
Inamorata: The Erotic Art of Michael Manning (Last Gasp) $24.95 – Finally back in print and available in soft cover.
OTHER STUFF!
Inherit 2012 Nikki McClure Calendar $16.00 – Since we started getting Nikki McClure's calendars in 2004 it's been a bestseller. And when you see it, you'll understand why.