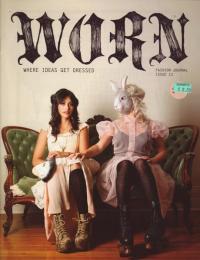 Worn #13 Fashion Journal
Zines
Curioddity #1 Nov 11 by Curioser Jane $2.00
With an E #1 by Lynne $1.50
Johnny America #9 $4.00
Fashion Illustrations by Jame D et al. (Public Collectors) $2.50
Tag #1 by Mateo and friends $8.50
Fashion Statement by Bella Dehm (Drippy Bone Books) $4.00
Letters In Color Are Better and Life In Color Is Better $15.00 each – From niceomestreetart.com
Good Fine Okay #2 by Marissa F $2.00
Hip Mama #50 $5.95
Thoughts and Other Stuff: What Am I Thinking – A Series of Random Thoughts $2.00 – Best title for a zine EVER.
Comics & Comix
Occupy Chicago Investigative Portraits: I Cant Make a Change By Myself But If People Have One Mind We Can Change the World by Sharon Rosenweig $7.00
Occupy Wall Street: Investigative Portraits, Never Take Off Your Button by Sharon Rosenweig $7.00
Ballad of Little Monster vol 1 by Herve Largeaud $3.99
Vacuum Horror #1 by Max Morris $8.00 – With work from Leslie Weibeler, Andy Burkholde, David Alvarado, Edie Fake, Anya Davidson, Nick Drnaso, April Camlin, Brett Koontz, Onsmith, Paul Nudd, Joe Tallarico and Dane Martin.
Ballad of Little Monster vol 1 by Herve Largeaud $3.99
Cartoonshow #1 You Will All Die In Pain by Derek M. Ballard (Drippy Bone Books) $4.00
Go Forth  – A Series of Doodles in Book Form by Bort $2.00
Shitty Titties #2 by Bort $1.00
Talamaroo issues #1-3 Hungry by Alabaster $6.00 each
The Iliad By Homer As Interpreted By Keith Schnell $3.00
Complex #2 by Chris Kuzma $5.00
Lizz Hickey comics: Leave Jeremy Alone – Finally Invisible, Carol Verse Carol, Danny Deathbed $2.00 each – Hilarious of course.
Systems of Metric Matter by Keith Jones $2.00
Lyra Hill comics: Compiled #1, Dock Ellis, Are You Lonesome Tonight – various prices
Anchovie #1 by James Turek $6.00
(ku)š Baltic Comics Magazine, various issues, various prices
Strawberry Creeps By Joe Schorgl $3.00
Mad Butcher Kingsbury Run  by Joe Schorgl $3.00
Purpose of A Million Stars by Alexis Vert $1.00
Food Stamp Foodie #2 by Virginia Paine $2.00
various issues of Milkyboots by Virginia $2.00-$3.00
Art & Design Books
Beautiful Chickens by Aschwanden & Perris (Thomas Dunne) $19.99 – That's right. Chickens. They're SOOOOOOO hot.
Childrens Books
Moomin and the Birthday Button by Tove Jansson (FSG) $12.99
Graphic Novels and Trade Paperbacks
Sigh by Marjane Satrapi (Archaia) $10.95
Mush Sled Dogs With Issues by Glenn Eichler & Joe Infurnari (First Sec) $17.99
Criminal vol 6 Last of the Innocent by Ed Brubaker & Sean Phillips (Icon) $14.99
Bad Doings and Big Ideas Deluxe Edition by Bill Willingham et. al (Vertigo) $49.99
Most Dangerous Game: A Saturday Morning Breakfast Cereal Collection by Zach Weiner (Breadpig) $18.00
Fuff #0 Come to my Show Flyer Minicomix 1998 – 2001 by Jeff Lewis $5.00
Projections: Comics and the History of the Twenty First Century Storytelling by Jared Gardner (Stanford) $24.95
DIY
From the Couch to the Kitchen: A Book to Indulge In Food Writing… by The Dorsey High School Students (826) $15.00
Mayhem, Miscreants, Memoir, Misc
Orange Sunshine: The Brotherhood of Eternal Love and Its Quest to Spread Peace Love and Acid to the World by Nicholas Schou (Thomas Dunne) $15.99 – Just days after California became the first state in the union to ban LSD, the Brotherhood formed a legally registered church in its headquarters at Mystic Arts World on Pacific Coast Highway in Laguna Beach, where they sold blankets and other countercultural paraphernalia retrieved through surfing safaris and road trips to exotic locales in Asia and South America. Before long, they also began to sell Afghan hashish, Hawaiian pot (the storied "Maui Wowie"), and eventually Colombian cocaine, much of which the Brotherhood smuggled to California in secret compartments inside surfboards and Volkswagen minibuses driven across the border. This book explores how America moved from the era of peace and free love into a darker time of hard drugs and paranoia.
100 Neo-Futurist Plays From Too Much Light Makes the Baby Go Blind $12.00 – Hilarity, drama, surrealism — the Neo-Futurists are always compelling.
Learning to Live Finally Last Interview by Jacques Derrida et al. (Melville) $15.95
Gonzo Republic: Hunter S. Thompson's America by William Stephenson (Continuum) $27.95
Lit Journals & Chap Books
McSweeneys #39 $24.00
Paris Review #199 $12.00
Sinister Wisdom #84 Fall 11 $6.00
New York Tyrant vol 3 #3 $15.00
Boat Magazine #2 Fall Win 11 $12.00
Errata by Ingrid Olson $10.00
Magazines
Juxtapoz #132 Jan 12 $5.99
Design Bureau Jan Feb 12 $8.00
ID Magazine Win 11 $12.00
High Times Feb 12 $5.99
Color Skateboards vol 9 #5 $7.99
Skateboarders Journal vol 1 #1 Win 12 $8.95
BlackBook #89 Dec 11 $4.95
Paper Win 11 12 vol 28 #4 $4.00
Little White Lies #38 $9.99
Classic Rock #165 Dec 11 $11.99
Mojo #218 Jan 12 $9.99
Uncut Jan 12 #176 $9.99
Wire #334 Dec 11 $10.99
Fader #77 Dec 11 Jan 12 $5.99
Monocle vol 5 #49 Dec 11
GLQ vol 18 #1 Journal of Lesbian and Gay Studies $12.00
In These Times Dec 11 $3.50
Progressive Dec 11 Jan 12 $4.95
National Green Pages 2012 $9.95
Travel Naturally #81 $9.95
Rebel Ink Magazine Jan 12 $5.99
Tattoo 1 Tribal #31 $8.50
Sex & Sexy
The Sexual History of London: From Roman Londinium to the Swinging City—Lust, Vice, and Desire Across the Ages by Catharine Arnold (SMP) $25.99
Sad People Sex #10 Drowning In My Own Tears by Heather Benjamin $3.00
Hatebreed #1: Sexual Menu Fantasy Phone Katebreed by HKB $4.00
Decathexis #1 by Conor Edmunds $2.00
Chameleon #1 2011 by Jonny Negron et al. $10.00
Other Stuff
Apocalypse Calendar 2012 Wall Calendar $20.00 – Get your Mayan on, with work by a variety of artists, including Jay Ryan.