Check out this old Quimby's business card! From the last century! How cool is that?
NEW STUFF THIS WEEK:

ZINES & ZINE-RELATED BOOKS!
FAQNP #2 Computer Camp Fall 10 Queer Nerd Publication $7.00
JD Samson From the Life and Times of Butch Dykes vol 1 #2 2009 (B & D Press) $6.00
Agggresssive School Book – Trash Garbage Rubbish Zine by Mark Pawson $8.00
Comunicacion Contaminacion by Mark Pawson $7.50
Birkensnake #3 $4.00
And Who Shall I Say Is Calling? by Jasper Sebastian Sturup $8.00
When the Crash Meets Something Solid #2 Hewers of Water by Gabrielle Congrave $2.00
' Za the Pizza Zine by Nicki Yowell $4.00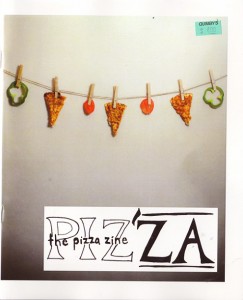 Schematic Quarterly #3 $2.00
Dance Your Troubles Away by M. Miller $6.00
35th and Kind Drive – Bad Ass and Rides of Als Chicago South Side $6.00
Megaton Medias Modern Man Manual #1 $3.00
Dumb Magazine #1 Random Music Issue Hot Sum 10 (First Edition) by Noah Lyon $5.00 – From the artist of Retard Riot and the buttons that said, "Retardo Monteblon." Like a David Shrigley for the mini-comics set.
Assuming Size #1 Poems $3.00
No More Coffee #3 by Ben Spies $2.00
Reality Mom vol 7 #4 Fall 10 by Corbin Lewars $3.00
Map #3 Manual of Architectural Possibilities – Archive $6.50
COMICS & MINICOMICS!
I Swallowed the Key to My Heart #2 by Liz Prince $6.00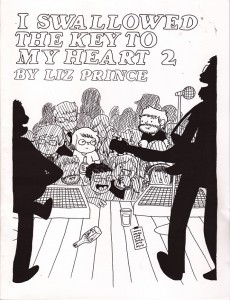 Four Squares #2 More Squares by Liz Prince etc. $5.00
Ferocious Quarterly #1 $12.00
Acmeat 2 Fuckin Symphonies Bongout Colors by Sylvain Gerand $18.00
Retard Riot #35 by Noah Lyon $2.00
Love Under the Big Top by Dakota Bardy $4.00
This Tactile Earth by Patrick Kyle $3.00
Wowee Zonk #3 (Koyama Press) $8.00 – With Michael Deforge, Jan Avendano, Selena Wong, Patrick Kyle and more.
You Don't Get There From Here #17 by Carrie McNinch $2.00
M. Sauters Guide to Douchebaggery vol 2 $3.00

GRAPHIC NOVELS & TRADE PAPERBACKS!
Sophie Crumb: Evolution of a Crazy Artist by Sophie Crumb (Norton) $27.95 – Don't need any introduction here!
Powr Mastrs #3 by CF (Picturebox) $18.00 – The third volume in C.F.'s Dune-like science fiction/fantasy epic.
What I Did by Jason (Fantagraphics) $24.99
Castle Waiting vol 2 HC by Linda Medley (Fantagraphics) $29.99
Native Trees of Canada by Leanne Shapton (D+Q) $19.95
Extraordinary Adventures of Adele Blanc Sec 1: Pterror Over Paris and the Eiffel by Jacques Tardi (Fantagraphics) $24.99 – Beautiful. In English. And in color.
Tonoharu Part Two by Lars Martinson $19.95 – Part 2 of a semiautobiographical look at an American English teacher adjusting to life in rural Japan.
Will Eisner a Dreamer's Life in Comics by Michael Schumacher (Bloomsbury) $28.00
Six Novels In Woodcuts the Collected Works of Americas First Great Graphic Novel by Lynd Ward, ed. by Art Spiegelman (Library of America) $70.00 – Some people argue that this is perhaps the first American graphic novel.

ART & DESIGN BOOKS!
Dream Spectres: Extreme Ukiyo E Sex Blood and the Supernatural by Jack Hunter (Shinbaku) $29.95
God Damn the Sun: A 100 Drawings From Napoleon at the Party by Jasper Sebastian Sturup $30.00
Dot Dot Dot #20 $16.95
Noggins by Mark Pawson $16.00
Dr. Lakra by Dr. Lakra (Kurimanzu) $35.00
It's a Boy – It's a Girl by Kirsten Dietz (Taschen) $29.99 – Pictures of signs that are either female names or male names. Like Alice's or Bob's or whomever's diner. You kind of have to see it. Well, guess you'll have to come to Quimby's then.
Scary Girl HC by Nathan Jurevicius (Last Gasp) $25.00 – A book of the vinyl toy character. Perhaps you bought one of the figures when it was here. Now get the book.
Kaws by Monica Ramirez-Montagut (Skira) $45.00 – A vibrant look at the celebrated New York-based artist and designer KAWS.
Hi Fructose Collected Edition vol 2: Under-the-Counter Culture (Last Gasp) $39.95 – This hardcover collect issues 5-8 of the magazine and feature emerging and established artists such as Camille Rose Garcia, Femke Hiemstra, Jordan Crane, Marion Peck, Paul Pope, KRK Ryden and more. Or get the Deluxe Box Set version for $60.00, which comes with prints, stickers and a poster! Scrumptious! This would make a great gift for someone you want to educate on lowbrow art. Or tell your people you want it.
Typefontbat 134 Fontbats equals 6000 Graphics (BNN) $39.95 – Weirdo fonts. Comes with disc to install 'em on your computer.
Hand Made Graphics Design and Art (BNN) $55.00
Playful Type 2: Ephemeral Lettering and Illustrative Fonts (DGV) $60.00 – You know you want it. That's right.

DIY & CONSUMPTION
High Society: The Central Role of Mind-Altering Drugs In History Science and Culture by Mike Jay (Park Street) $19.95
Religion of Ayahuasca The Teachngs of the Church of Santo Daime by Alex Polari De Alverga (Park Street) $16.95
The Vegan Girl's Guide to Life: Cruelty Free Crafts, Recipes, Beauty Secrets and More by Melisser Elliott (Skyhorse) $16.95
Self-Sufficiency: A Complete Guide to Baking, Carpentry, Crafts, Organic Gardening, Preserving Your Harvest, Raising Animals, and More! by Abigail Gehring (Skyhorse) $24.95
Punch: The Delights and Dangers of the Flowing Bowl by David Wondrich (Perigree) $23.95 – An anecdotal history of the original monarch of mixed drinks with more than forty historic recipes. Fully annotated and a complete course in the lost art of compounding punch. By the James Beard Award Winning author of Imbibe.
FICTION!
Sunset Park by Paul Auster (Holt) $25.00
Semina #7 Blood Rites of the Bourgeoisie by Stewart Home (Book Works) $19.95
Pushcart Prize XXXV: Best of the Small Presses ed. by Bill Henderson (Pushcart) $18.95
Complete Stories of JG Ballard SC (Norton)
The Petting Zoo by Jim Carroll (Viking) $24.95
SteampunkD by var. (Daw) $7.99 – An anthology of all-original works of the genre.
Demon Lover by Dion Fortune (Weiser) $16.95

MAGAZINES!
UFO Magazine #154 vol 24 #1 $5.99
Skunk vol 6 #5 $5.99
Treating Yourself #25 $7.99
High Times Jan 11 $5.99
Gopher Illustrated #1 $16.00
Make: The Tool Guide Special Issue $9.99
Wire #321 Nov 10 $10.99
Ghetto Blaster #26 $3.95
Against the Current #149 $5.00
Radical Philosophy #164 $13.00
LITERARY JOURNALS & CHAP BOOKS!
Slake Los Angeles Sum 10 Still Life A City and Its Stories $18.00
Coming Envelope #2 Win 10 $10.00
Concisely #4 Stories Under 500 Words $3.00
The Believer #76 Nov Dec 10 Art Issue $10.00
Sous Les Paves vol 1 #1 Oct 10 by Micah Robbins $2.00
Used To Be annaelresiak $4.00
CHILDRENS!
Who Will Comfort Toffle: A Tale of Moomin Valley by Tove Jansson (DQ) $16.95 – Moomin is not a hippo.
MUSIC BOOKS!
Sun Ra: Interviews and Essays ed. by John Sinclair (Headpress) $19.95
Left Handed Blows Writing on Sound 1993 to 2009 by Bruce Russell (Clouds) $25.00
Tao of Wu by RZA (Riverhead) $15.00
True Hip Hop by Mike Schreiber (MBP) $14.95 – Some classy photos.
POLITICS & REVOLUTION!
Constitution for the New Socialist Republic in North America Draft Proposal by Revolutionary Communist Party USA $8.00
The Idea of Communism (Verso) $26.95 – An all-star cast of radical intellectuals discuss the continued importance of communism, including Slavoj Zizek, Judith Balso, Bruno Bosteels and more.
MAYHEM & MISCELLANY!
Cult People: Tales from Hollywoods Exploitation A List by Nicanor Loreti (Headpress) $16.95
Cannibal Killers: Monsters with an Appetitie For Murder and a Taste for Human Flesh by Chloe Castleden (Skyhorse) $12.95 – Who are you having over for dinner?
Sexual Outlaw, Erotic Mystic: The Essential Ida Craddock by Vere Chappell (Weiser) $21.95
The Mystery of U33: Hitler's Secret Envoy -The Incredible Story of the Mystery Uboats by Nigel Graddon (AdvUnlmtd) $19.95 – From the author of Otto Rahn and the Quest for the Holy Grail.
Armageddon Survival Handbook: How to Prepare Yourself for Any Possible Scenario by Rainer Stahlberg (Skyhorse) $12.95
ESSAYS & CULTURE!
Discombobulated Dispatches From the Wrong Side by Simon A Morrison (Headpress) $16.95 – During the course of the many adventures that make up this discordant operetta, Simon Morrison has a gun held to his head by a celebrity gangster, goes raving in Ibiza with a holiday grandmother, is trapped in a gay bar in Leipzig, sings happy birthday to Kylie Minogue, disco dances in a San Franciscan titty bar, is deported from Russia, travels the white heights of the Alps through to the gutters of Brazil, and still picks himself up in time for tea with boy band Take That.
Poseidons Steed: The Story of Seahorses from Myth to Reality by Helen Scales PhD (Gotham) $15.00
Don't Follow Me I'm Lost: A Memoir of Hampshire College in the Twilight of the 80s by Richard Rushfield (Gotham) $16.00
The Instant Physicist: An Illustrated Guide by Richard A. Muller, illustrated by Joey Manfre (Norton) $16.95
English Opium-Eater: A Biography of Thomas De Quincey by Robert Morrison (Norton) $35.00
SEX & SEXY!
Best Erotic Fantasy and Science Fiction ed. by Cecilia Tan and Bethany Zaiatz (Circlet) $19.95
Quaintance: The Art of George Quaintance by Reed Massengill (Taschen) $99.99
SPS #7 Sad People Sex by Heather Benjamin $3.00
Naked In the Gallery 2010 by Christian Gfeller $28.00
OTHER STUFF!
Hipster Mustache $4.00 – Put it with your trucker hat and blend right in.
Heart Gelatin Mold Just Like Moms $6.00 – No really. Like a real heart. Say it with love this holidays.
Calendario Bestiaro Bestiary Calendar 2011 by Dave Buchen $25.00 – Wood block animal screen prints, with a different adorable beast for every month.