Signal 05 a Journal of International Political Graphics and Culture ed. by Josh MacPhee (PM Press) $14.95 – Dedicated to documenting and sharing compelling graphics, art projects, and cultural movements of international resistance and liberation struggles.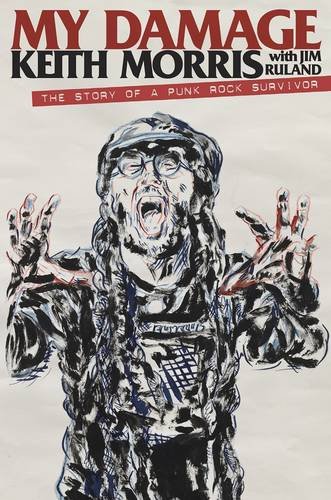 My Damage: The Story of A Punk Rock Survivor by Keith Morris with Jim Ruland (Da Capo Press) $24.99 – Over the course of his forty-year career with Black Flag, the Circle Jerks, and OFF!, vocalist Keith Morris battled diabetes, drug and alcohol addiction, and the record industry…and he's still going strong.
*ZINES*
Library Excavations #3 Periodical Business by Marc Fischer (Half Letter Press) $6.00 – From the publisher's website, written by Marc Fischer: "The Chicago Public Library's Harold Washington Library Center is home to a vast collection of bound business periodicals. The many shelves are filled with titles­ that will be foreign to industry outsiders. Some date back to the late 1800s. These are primarily publications sent directly to business executives and their company offices, or to institutional libraries, rather than newsstands. The beauty of a public library is that visitors with zero credentials can enjoy decades' worth of these insider publications, without ever improving our work wardrobes or falsifying our credentials. This booklet is also an appreciation of the binderies that collate and sew these magazines into indestructible bound volumes. The foil stamped titles on the hard covers have a leveling effect, allowing us to consider Modern Power Systems alongside Quick Frozen Foods, as though power plants and pizza are equally important. These photos were taken in July and August 2016. I hope that they will entice others to explore these periodicals, and interrogate the value systems, ideologies, and visual pleasures they contain."
2 Atomic Elbow thingies:
Atomic Elbow #18 by Robert Newsome $5.00
Atomic Elbow Professional Wrestling Fanzine, The Second Four Issues $10.00 – Collects issues #5-#8!
Kimchi #1 by Seth Ginsburg $2.00
Pill Bottles Make Terrible Roller Skates photo zine by Clarisse Casalino $8.00
This Cook Book is Made for Jesus by Susan Cianciolo $10.00
Power Profiles vol #1 by Klon J. Waldrip $5.00
I Don't Give A Shit About Your Star Sign by Franky Mariachi $8.00
Nightcore by Matthew Moen $6.00
Arty zines from Draw Down Books!
Lady Parts by Kristen Liu-Wong $14.00 – A zine of fierce females and sci-fi warrior women by American artist Kristen Liu-Wong.
Face Only A Mother Could Love by Will Bryant $10.00
Working It Out by Justyna Szczepankiewicz $14.00
Dead Ringer by Daniel Zender $14.00
Who Claims by Tim Lahan $14.00
2 zines by Nichole:
A Visitor In Myself #5 Win 16 $2.00
Pieces #13 On Being A Romantic Asexual $3.00 – Goes into Nichole's experience of living as a romantic asexual. A little asexuality 101, mostly focuses on growing up as a gray-a in a sexual world, navigating relationships, dating site ignorance, desexualizing touch, common phrases of invalidation, and using self-transformative psychodrama to process it all. Recommended.
*COMICS & MINIS*
Donald Trump is the Antichrist by CJ & Troy Davis $3.50 – Jack Chick style! Perhaps the best way to describe this is the review of it on the publisher's website from um, cultural critic spectral_ev who comments: "I have read many a Chick Tract but none so great as this." You don't need to know much more than that, that it's awesome. -LM
New Flyer by Tim Brown $9.00
Island #10 $7.99
*GRAPHIC NOVELS*
Koyama Press graphic novels!:
Hot or Not: 20th-Century Male Artists by Jessica Campbell $10.00 – The history of twentieth-century art is filled with men, but one key component has always been missing: which of these men are boneable, and which are not. Local comics artist Jessica Campbell has created the definitive resource on the subject in this hilarious rundown of male artist hotness and notness. With scratchy-off stuff on the cover!
The Collected Cat Rackham by Steve Wolfhard $19.95
Exits by Daryl Seitchik $15.00
March (Trilogy Slipcase Set) by John Lewis, Andrew Aydin & Nate Powell (Top Shelf) $49.99 – By and about congressman John Lewis, a leader in the American Civil Rights Movement.
Sprawling Heart by Sab Meynert (2D Cloud) $9.95
*ART & DESIGN BOOKS*
Cleon Peterson by Christopher Sleboda and Kathleen Sleboda (Draw Down Books) $24.95 – Compellingly gory beheading and riots in this first monograph from this artist.
Avies Dream: An Afro Femenist Coloring Book by Makeda Lewis (Feminist Press) $13.95
*MUSIC BOOKS*
Don't Suck Don't Die: Giving Up Vic Chesnutt by Kristin Hersh (U of Texas Press) $14.95 – A quadriplegic who could play only simple chords on his guitar, Chesnutt recorded seventeen critically acclaimed albums before his death in 2009. Everybody from Madonna to Fugazi have covered his songs. Kristin Hersh from Throwing Muses writes about being friends with him. Now in soft cover.
David Bowie and Philosophy: Rebel, Rebel by Theodore Ammon (Open Court) $19.95 – Among the topics explored in David Bowie and Philosophy are the nature of Bowie as an institution and a cult; Bowie's work in many platforms, including movies and TV; Bowie's spanning of low and high art; his relation to Andy Warhol; the influence of Buddhism and Kabuki theater; the recurring theme of Bowie as a space alien; the dystopian element in Bowie's thinking; the role of fashion in Bowie's creativity; the aesthetics of theatrical rock and glam rock; and Bowie's public identification with bisexuality and his influence within the LGBTQ community.
*FICTION BOOKS*
Black Wave by Michelle Tea (Feminist Press) $18.95 – It's the end of the world! In a bookstore!
Jason Stevans and the Mayan Apocalypse by Matt Goralka $10.99
*OUTER LIMITS*
Dreaming Wide Awake: Lucid Dreaming, Shamanic Healing, and Psychedelics by David Jay Brown $19.95
*MAGAZINES*
Boneshaker #43-500 A Bicycling Almanac $8.00 – Not based in Chicago, but there are Chicago-specific things in here! All old-timey and penny-farthingy. Tally ho!
School #3 Women and Japanese Culture $10.00
*LIT MAGS*
The Point #12 Sum 16 $12.00 – This issue: What is poetry for?
Black Fox Literary Magazine #14 Five Year Anniversary Issue $14.00
Parody vol 5 #1 $5.00 – The Weird Al of lit journals!
*FOR THE KIDDIES*
Burts Way Home by John Martz (Koyama Press) $17.95
Ape and Armadillo Take Over the World by James Sturm (Toon Books) $12.95