1. Lucky Peach #1 Sum 11 $10.00 – McSweeney's food periodical. Issue #1.
2. Hi Fructose #20 $6.95
3. 8-Track Mind #101 Zines vs Blogs ed. by F.R. Russ Forster $3.00 – WELCOME BACK 8-TRACK MIND!!!! Holy Moly! After a 10-year hiatus 8-Track Mind heeds the call of the Revenge of Print and pulls a fresh new issue out of the oven! Man, this was the zine that I remember reading way-back-when that REALLY made me think, "Woah, you really can make a great zine about ANYTHING." Truly. This issue goes light on the 8-trackology but stays true to its analog-obsessed roots with a well-rounded symposium all about "Zines Versus Blogs". -EF — Contributors: Chris Barrows, Peter Bergman, Joe Carducci, Kim Cooper, Brendan DeVallance, Tony DuShane, Sam Green, Lance Laurie, Alison Levy, Tom Lynch, Danny Plotnick, Dan Sutherland, V Vale and Lucien Williams.
4. Monocle vol 5 #45 Jul Aug 11 $10.00
5. Just Kids by Patti Smith (Ecco) $16.00
6. Fine Fine Music by Cassie J. Sneider (Raw Art) $15.00 – "FINE FINE MUSIC is a collection of stories about the other side of rock and roll and coming of age in the land that time forgot. Lake Ronkonkoma is stuck in 1981, an alcoholic blackout of unnatually tan people waxing their Camaros to Foreigner on cassette and knowing the words to every Billy Joel song whether you want to or not. From an internship making Seamonkey costumes, a childhood fear of My Buddy dolls, and a heartbreaking crush on Aerosmith, funny lady Cassie J. Sneider delivers her tales of growing up in a land of fist-pumping Snookies with the antagonistic wit of a record store clerk."
7. The First Line vol 13 #2 $3.00
8. Dazed & Confused #99 Jul 11 $9.99
9. East Village Inky #47 by Ayun Halliday $3.00 – Ayun gives us a Mermaid Parade 101 and plenty of scrapper parent scene reportage. Topped with tales of a sourdough starter (you know how New Yorkers like to brag about how cultured they are). -EF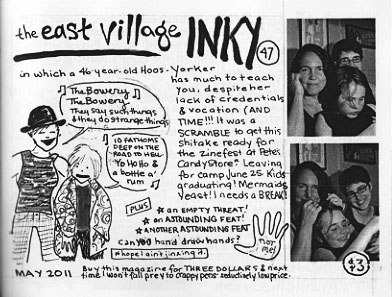 10. Handbook vol 5 #3 2011 ed. by Darren Ankenbauer $6.00 – Lots of intriguing mesh garments in this issue, a back-by-popular demand culling of the creme-de-la-creme of online ads, East Village Boys interview, queer politics, long hard reader dick, and let's not forget the meat of the issue: Derek, Joey and coverman Caedon.