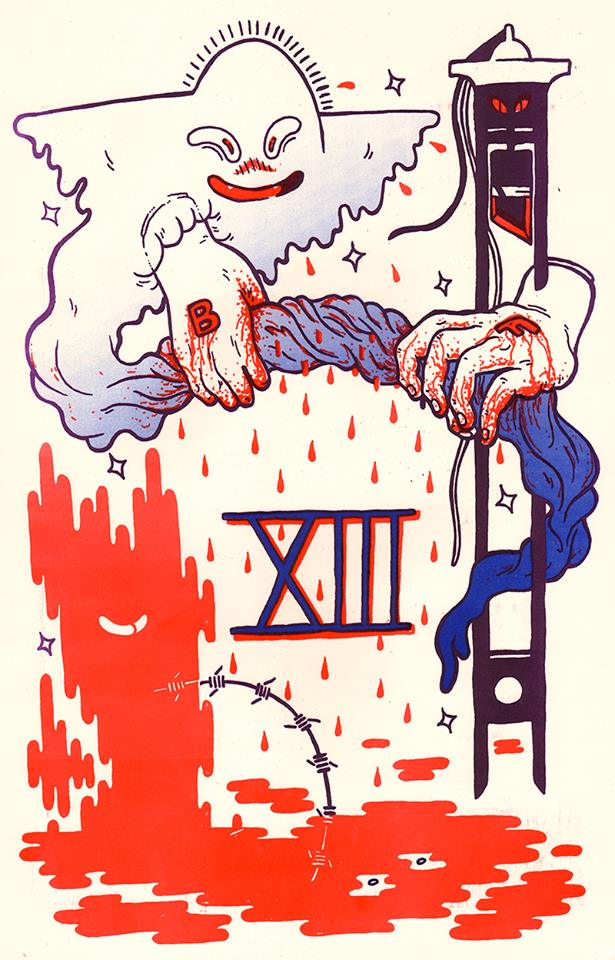 BRAIN FRAME is a series of performative comix readings. Every other month for two years, BRAIN FRAME has showcased an eclectic mix of sequential artists interpreting their work via projections, puppetry, music, costumes, props, lectures, and performance. In honor of its 2nd anniversary, BRAIN FRAME 13 will include a raffle, art exhibit, market, and four of the most ambitious performances yet.
Brain Frame 13 includes gallery show, mini-market, and four extraordinary performances.
"It's made me cry tears of joy and laugh food into my nose and I look forward to it every month as if it were Halloween or something." -The Comics Journal
On Sunday, July 28th, 5p, at the Co-Prosperity Sphere (3221 S Morgan St) ($8), Lyra Hill's BRAIN FRAME celebrates its second birthday.
BRAIN FRAME 13 will feature the comics art collective Trubble Club; Jeremy Tinder; Sara Drake; and a collaboration by BRAIN FRAME accompanist Night Terror (Tyson Torstensen) and Lyra Hill. A limited edition poster co-designed by Hill and Ignatz-Award winning NYC cartoonist Lale Westvind will also be unveiled at the show. Previously, the show has featured high-profile artists like Anne Elizabeth Moore, Edie Fake, and Jim Trainor, as well as up-and-comers like Andy Burkholder, Halle Butler, and Kevin Budnik.
Hill, a comics artist and experimental filmmaker recently featured on Community Cinema's Wonderwomen panel at the Cultural Center, doesn't just curate BRAIN FRAME — she hosts, does tech and promo, and co-designs each poster. At BRAIN FRAME 13, she'll be performing on stilts in full costume, with a smoke machine and three analog projectors. "I encourage the readers to be as weird and ambitious as possible," she says, "I try to lead by good example."
Trubble Club will debut a similarly zealous performance at BRAIN FRAME 13. The jam-comics collective will begin the show with an interactive presentation of The Infinite Corpse, a revolutionary open-submission online comic with no beginning and no end. Following the adventures of everyman skeleton Corpsey, the path of The Infinite Corpse will be dictated by the audience as Trubble Club members try to keep up.
Guests at BRAIN FRAME 13 can look forward to a mini-market with comics, zines, and t-shirts from BRAIN FRAME artists; a gallery show; and raffle with prizes like a set of BRAIN FRAME posters, a deer pelt, a certificate to Bang Bang Pie Co., a portrait by Trubble Club, and more.
BRAIN FRAME has grown steadily since the first show, in scope as well as audience. Saturday, July 27th at 11:30am, a day prior to BRAIN FRAME 13, the MCA will host BRAIN FRAME LIT, a writing-focused comix reading, as part of its Comics Day activities. BRAIN FRAME is "the world's most exciting comic book reading series," Edie Fake told The Comics Journal. This coming year, Chicago will export a native gem as Hill tours around the country, hosting one-off shows with local cartoonists.
Contact: brainframecomix(at)gmail(dot)com