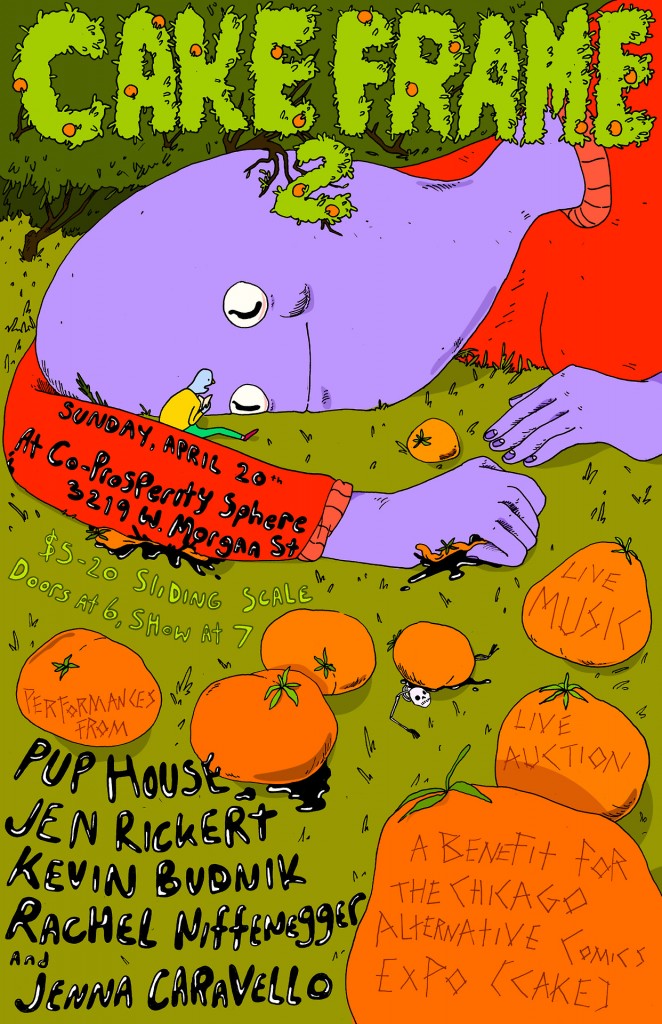 Sun, April 20 at the Co-Prosperity Sphere, 3219 S Morgan Street, Chicago IL 60608 (NOT at Quimby's)
Doors at 6pm, show at 7pm
$5 – $20 sliding scale entry
For the second year running, the performative comics reading series Brain Frame is teaming up with the Chicago Alternative Comics Expo (CAKE) to host the CAKE Frame fundraiser, an evening of comics readings and a live art auction. Cake Frame 2 is All proceeds go to benefit CAKE, the weekend-long celebration of independent comics featuring comics for sale, workshops, exhibitions, panel discussions and more. CAKE is dedicated to fostering community and dialogue amongst independent artists, small presses, publishers and readers.
Brain Frame founder Lyra Hill will host the evening as master of ceremonies and auctioneer. Attendees can bid on original art from 30 talented Chicagoans including Chris Ware, Nicole Hollander, Ivan Brunetti, and Edie Fake. All bids for artworks will start at $30. The evening will also include a wide variety of comics performances by Brain Frame alums Kevin Budnik, Rachel Niffenegger, Pup House and Jen Rickert. There will be live drawing by Jenna Caravello and live music by El Is A Sound Of Joy. Doors open at 6pm and the event starts at 7pm, but we recommend attendees arrive early if they want to review the auction items before bidding.
With only two months until CAKE on May 31/June 1 at the Center on Halstead, the CAKE organizers are kicked into full gear. Organizers Ben Bertin, Neil Brideau, Marnie Galloway, Max Morris, Grace Tran and Jeff Zwirek are committed to making this year's show one that goes down in history, and the CAKE Frame 2 fundraiser will help them towards that goal.
For more information on CAKE, please visit cakechicago.com
For more information on Brain Frame, please visit brainframe.tumblr.com
Contact: Max Morris, cakexpo(at)gmail(dot)com