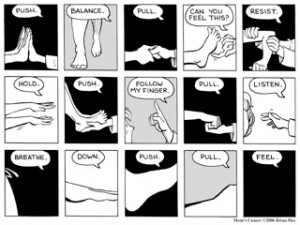 Registration is open for "Comics & Medicine: The Sequential Art of Illness," an international interdisciplinary conference to be held June 9–11, 2011 at Northwestern University Feinberg School of Medicine in Chicago. Scheduled keynote speakers are Scott McCloud, Phoebe Gloeckner, and David Small. A full schedule of panels and workshops is planned for Friday and Saturday, along with opportunities for informal networking. To learn more and to register, go to www.graphicmedicine.org and click on Conference 2011.
Over 30 panelists from several countries—including cartoonists, comics scholars, literary theorists, healthcare professionals, journalists and academics— will met to discuss the potential value of reading and creating comics for patients, caregivers, and healthcare professionals. Sessions will include the use of comics in medical and patient education, the use of comics to bear witness to illness, and health care reform through comics, to name just a few. This year's conference also includes creative workshops by Eisner Award winner Brian Fies, (Mom's Cancer) Canadian cartoonist Sarah Leavitt, (Tangles) and Australian psychiatrist and comics artist Neil Phillips (Shrink-Rap Press.) The 2011 event in Chicago will be the second annual Graphic Medicine conference, following a successful inaugural conference held in London in June 2010.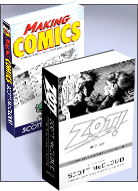 Scott McCloud is a cartoonist, teacher, lecturer, and the author of Understanding Comics (1993), Reinventing Comics (2000) and Making Comics (2006), which analyze the unique storytelling techniques of the comics medium and ponder its potential, particularly in the digital age. His lecture will be free and open to the public. Click here for more info about this event.
Phoebe Gloeckner is the author of The Diary of a Teenage Girl: An Account in Words and Pictures (2002) and A Child's Life and Other Stories (1998). She began her career as a medical illustrator and underground cartoonist, and is an associate professor at the University of Michigan School of Art and Design.
David Small is an author and illustrator whose graphic memoir Stitches (2009), based on the family and medical traumas he faced as a teen, was a highly acclaimed bestseller. It was named one of the ten best books of 2009 by Publishers Weekly and was a finalist for the National Book Award for Young People's Literature.
Comics & Medicine: The Sequential Art of Illness
June 9-11, Northwestern University, Feinberg School of Medicine, Chicago, IL
Info and registration at http://bit.ly/ComicsMedicine