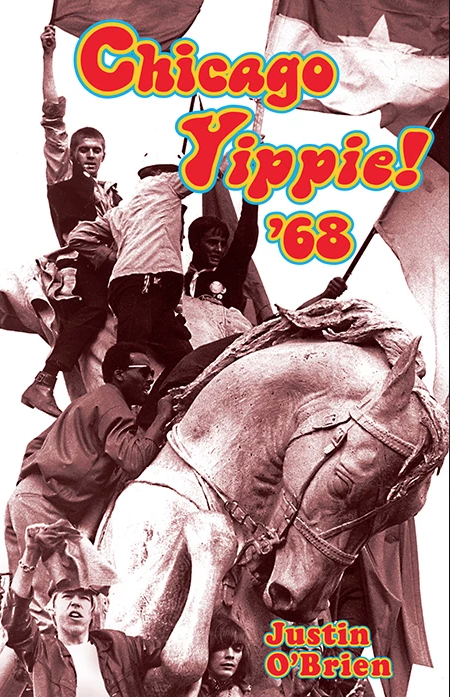 Justin O'Brien's new book Chicago Yippie! '68 (Garret Room Books) is a true chronicle of his experiences during the week of the 1968 Chicago Democratic Convention. What promised to be a music festival and protest against the war in Vietnam turned into a "police riot," as deemed by the official investigation report, Rights in Conflict. This historic event, which celebrates its 50th anniversary this year, has relevant echoes in the protests of today. Even other participants have been amazed by this detailed description of events. O'Brien's gripping narrative is interwoven with additional eyewitness accounts and includes more than 150 color and black and white photos—most of them never before published, and three original maps help the reader pinpoint the action. Handbills, posters, newspapers, political buttons, and other paraphernalia—all from the author's collection—provide fascinating visual references and offer graphic evidence of this historic Chicago moment.
"Justin O'Brien seemingly was ever-present during 1968's Chicago Convention Week. His lively recollections from the streets and the parks resurrect a polarized time of counterculture protest and potential."
—Abe Peck, Professor Emeritus in Service, Northwestern University;
Author, Uncovering the Sixties: The Life and Times of the Underground Press
"There is no book more loyal to the events that occurred over four August days in Chicago in 1968 than Justin O'Brien's riveting Chicago Yippie! '68. With his lucid, engaging prose, O'Brien effortlessly unwinds the various discordant threads that were so tightly woven into the fabric of the anti-war movements that defined the 1960s. Chicago Yippie! '68 will take you back to a place that time may have muted, but that Mr. O'Brien has never forgotten."
—Pat Owens
With more than 400 by-lines on a variety of subjects, Justin O'Brien has written extensively about blues music over a forty-year period, and for several decades has been associated with Living Blues magazine of the University of Mississippi. His work has also appeared in Juke Blues, Sing Out!, UIC Alumni News, Chicago Parent, Digital Chicago, Southern Graphics, and other publications. He has contributed to the Encyclopedia of the Blues (Routledge Press, 2005), Armitage Avenue Transcendentalists (Charles Kerr, 2009), and Base Paths: The Best of the Minneapolis Review of Baseball (Wm. Brown, 1991), to which, coincidentally, former Senator Eugene McCarthy, the "peace candidate" of 1968, wrote a foreword.
Friday, March 23, 7 p.m. – Free Event
For more info: garretroom.com
Facebook invite for this event here!