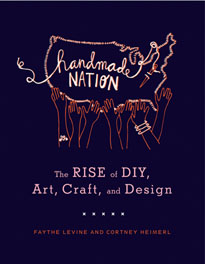 Join Faythe Levine and Cortney Heimerl as they discuss their book and forthcoming documentary of the same name: HANDMADE NATION: The Rise of DIY, Art, Craft, and Design
Today's crafters are no longer interested in simply cross-stitching samplers or painting floral scrolls on china. Instead, the contemporary craft movement embraces emerging artists, crafters, and designers working in traditional and nontraditional media. Jenny Hart's Sublime Stitching has revolutionized the embroidery industry. Each year Nikki McClure sells thousands of her cut-paper wall calendars. Emily Kircher recycles vintage materials into purses. Stephanie Syjuco manufactures clothing under the tag line "Because Sweatshops Suck." These are just some of the fascinating makers united in the new wave of craft capturing the attention of the nation, the Handmade Nation.
Faythe Levine traveled 19,000 miles to document what has emerged as a marriage between historical technique, punk culture, and the D.I.Y. ethos. For Handmade Nation (along with the documentary film of the same name, coming in 2009) she and Cortney Heimerl have selected 24 makers and 5 essayists who work within different media and have different methodologies to provide a microcosm of the crafting community. Participants in this community share ideas and encouragement through websites, blogs, boutiques, galleries, and craft fairs. Together they have forged a new economy and lifestyle based on creativity, determination, and networking. Twenty-four artists from Olympia, Washington, to Providence, Rhode Island, and everywhere in between show their work and discuss their lives. Texts by Andrew Wagner of American Craft Magazine, Garth Johnson of Extremecraft.com, Callie Janoff of the Church of Craft, Betsy Greer of Craftivism.com, and Susan Beal, author of Super Crafty, supply a critical view of the tight-knit community where ethics can overlap with creativity and art with community. Handmade Nation features photographs of the makers, their work environment, their process, their work, and discussions of how they got their start and what motivates them. Handmade Nation is a fascinating book for those who are a part of the emerging movement or just interested in sampling its wares.
website:
http://www.indiecraftdocumentary.blogspot.com