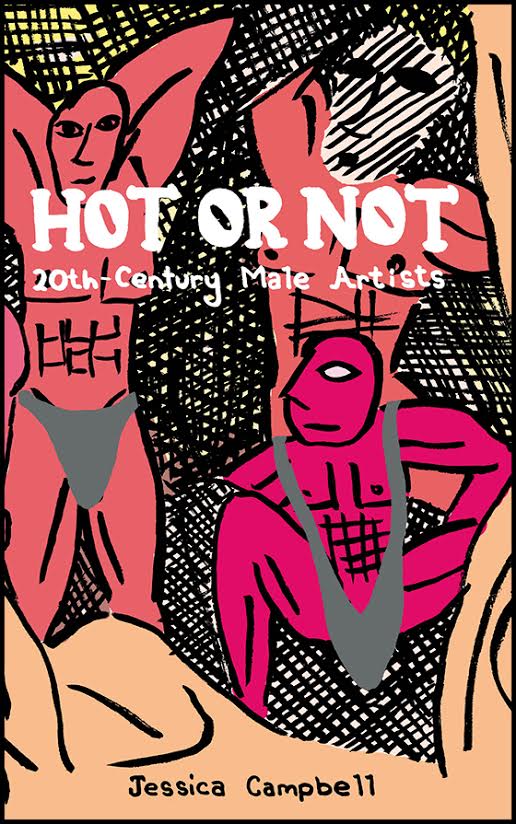 The history of twentieth-century art is filled with men, but one key component has always been missing: which of these men are boneable, and which are not. Jessica Campbell has created the definitive resource on the subject in this hilarious rundown of male artist hotness and notness with her book Hot Or Not: 20th Century Male Artists, published by Koyama Press.
"Hot Or Not: 20th-Century Male Artists […] is a hilarious, slyly subversive exploration of subjectivity, and the criticisms ultimate- ly reveal more about the critic than they do the artists." — Oliver Sava, The A.V. Club
"With the way Campbell reduces Borduas's or Mondrian's ab- stractions even further, or captures what's cute about Calder's mien, she poo-poos macho ideas of artistic greatness, at the same time she showcases her own slyly unassuming skill." — Sean Rogers, The Globe and Mail
Jessica Campbell is from Victoria, British Columbia, Canada and is an enthusiast of jokes, painting and comics. She completed her MFA at the School of the Art Institute of Chicago, where she was the recipient of the Edward L. Ryerson Fellowship, and also a comics instructor. She has exhibited work in Canada, the United States, Australia, and Greece, and was selected as one of NewCity's 2015 breakout artists. She is a member of the Chicago-based comics collective Trubble Club and has published comics with micro press Oily Comics, and contributed to Drawn & Quarterly: Twenty-Five Years of Contemporary Cartooning, Comics, and Graphic Novels.
For more info:
Facebook event post to invite your friends
jessicacampbellpainting.tumblr.com
Koyama Press, Ed Kanerva at ed(at)koyamapress(dot)com
Friday, November 4th, 7pm – Free Event