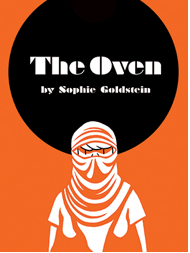 In Sophie Goldstein's new book The Oven (AdHouse Books), she talks about a hopeful and dystopian future. Ozone depletion and dwindling resources have driven the human race into domed cities where population controls are strictly enforced. When a young couple goes looking for an anti-government paradise in the desert they may have found more than they bargained for.
"Sophie Goldstein's artwork looks very simple, but it's the kind of simplicity that's complexity boiled down to a potent concentrate." –Douglas Wolk, NYTimes.com
Sophie Goldstein is a 2013 graduate of the Center for Cartoon Studies.  In 2014 she won an Ignatz Award for her mini-comic, House of Women, Part I. Her first book Darwin Carmichael is Going to Hell, co-written with Jenn Jordan, was self-published in 2013 with funding from Kickstarter. Her second book, The Oven, was released by AdHouse Books in April, 2015. Sophie has also illustrated a children's book, Poopy Claws, written by Gene Ambaum. Her work has appeared in various publications including Best American Comics 2013, The Pitchfork Review, Maple Key Comics, Sleep of Reason, Symbolia, Trip 8 and Irene 3. She currently lives in Pittsburgh, PA.
For more info: redinkradio.com
Friday, July 10th, 7pm – Free Event