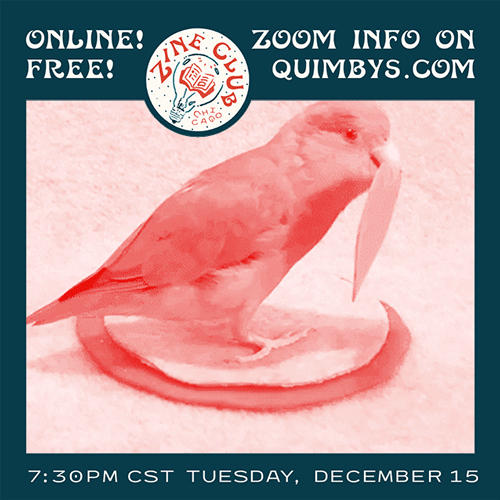 Zine Club Chicago ONLINE: Our Faves of 2020 Edition
7:30 p.m. Central Time Tuesday, December 15 on Zoom
Free!
What are the best zines you read this year? This month, we'll be discussing our favorites of 2020 — the zines that delighted us, surprised us, educated us, inspired us, and made us glad that folks all over the globe devote their time and creativity to self-publishing.
Grab the titles you enjoyed most this year, BYOS(nacks), and join us on Zoom for Zine Club Chicago: Our Faves of 2020 Edition!
** Zoom info ** We want to make sure that our online Zine Club events are a safe space, so we won't be releasing the Zoom link and password publicly. If you'd like to attend, please email zineclubchicago@gmail.com to RSVP by 5:30pm CT on Tuesday, Dec. 15th. We'll email you the Zoom link and password one hour before the event begins.
Zine newbies and longtime enthusiasts alike are always welcome at Zine Club Chicago, the city's only book club-style event for people who read zines. This free monthly series is produced by Chicago Zine Fest/Midwest Perzine Fest organizer Cynthia E. Hanifin and sponsored by Quimby's Bookstore. Anna Jo Beck designs our monthly flyers, created our logo, and made our Zine Club Chicago Shout-Outs site, where folks can peruse and recommend zines we've discussed at our events: https://zineclubchicagoshoutouts.spread.name/
More info at on Instagram, Twitter, and Facebook: @zineclubchicago
Facebook event: https://www.facebook.com/events/1330802300590736
Wanna spread the word about this meeting of ZCC but need flyers in additional formats? Check out these birdies!