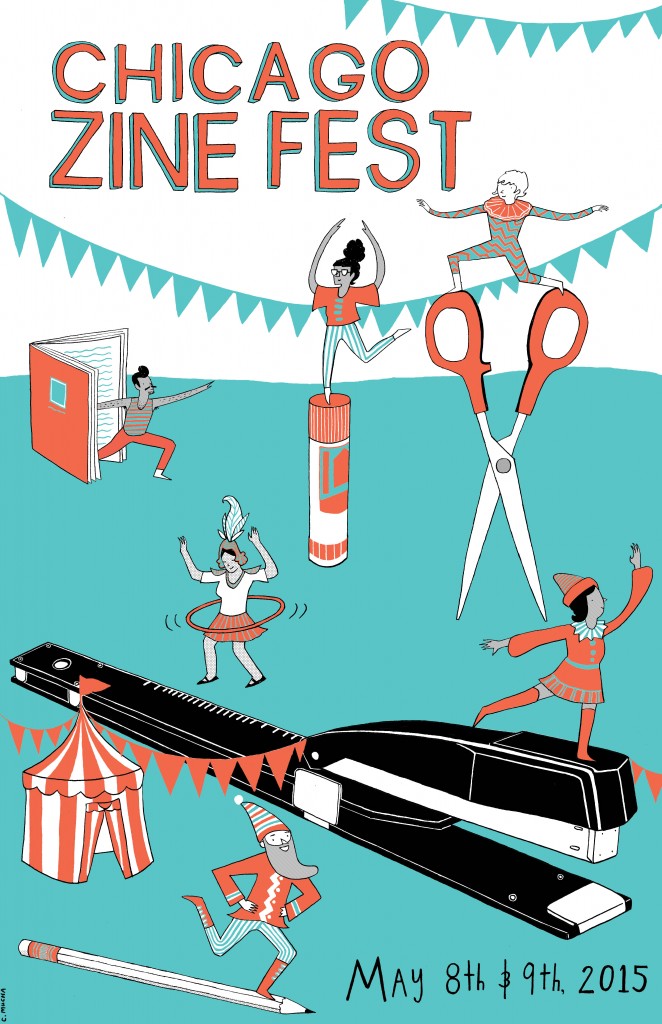 Quimby's is proud to help co-sponsor Chicago Zine Fest, an annual celebration of self-publishing efforts, is now marking its sixth year. For the 2015 festival, there will be a new date as the festival moves to the month of May, held during the weekend of Friday May 8th and Saturday May 9th. The festival also brings its exhibition to a new location, Plumbers' Union Hall in the West Loop. Come visit Quimby's at table S07 at the zine exhibition tabling on Saturday, May 9th 11am-6pm there at Plumbers' Union Hall!
"We're excited for these changes. It'll be great to welcome our audience to such a historic Chicago venue," said festival promotion committee chair John Wawrzaszek.
The festival weekend kicks off Friday May 8th at 5 pm with a panel titled Zines: A Future Craft which will be a discussion with zine creators Jonas, Julia Eff, and Ocean Capewell, moderated by Jenna Freedman. This event is sponsored by The University of Chicago Library. The night continues with a pair of readings. At 7pm join our annual youth reading, Zines: The Next Generation followed by an 8 pm reading by festival exhibitors. CART services for the deaf and hard of hearing will be provided at each of Friday's events. All events will be held at Access Living, 115 W. Chicago Ave.
The weekend's main attraction will be a zine exhibition taking place on Saturday May 9th, 11 am- 6 pm. Over 250 zinesters will exhibit their publications, host workshops, and lead panel discussions in the spirit of self-publishing. The exhibition will be held at Plumbers' Union Hall, 1340 W. Washington Blvd.
Organizing goals for the 2015 fest included increasing the number of festival exhibitors and forming new community partnerships. In choosing a new location for the festival exhibition, there has been room for more tables allowing more exhibitors to showcase their work. The festival registration filled up in record time this year with all tables selling out in under an hour. Nearly half of registered exhibitors will be taking part of CZF for their first time this year. New community partnerships have allowed the festival to schedule programming topics that meet the festival's mission and support the work of its partner organizations.
"CZF strives to offer diverse programming every year in order to continue to engage our communities in conversations," says festival programming coordinator Julie Koslowsky.
The zine exhibition will be supported with programming throughout the day including an activity making area, button making presented by Busy Beaver Buttons, and a photo booth provided by Glitter Guts. Workshop topics include radical poetry, interactive performances, resisting assimilation, and hands-on drawing techniques.
"There's a different experience that we offer at an event like the Chicago Zine Fest where consumers can chat with the zinesters and artists who created the work," says Koslowsky.
The Chicago Zine Fest is a volunteer-operated event creating an outlet for small press and independent publishers to showcase their work aiming to make DIY zine making accessible, highlight the talents of self-published artists, and give independent artists a chance to interact and swap skills. The Chicago Zine Fest 2015 is sponsored by 826CHI, Chicago Publishers Resource Center, CHIRP Radio, InoPrints, The International School of Comics, Perfectly Acceptable Press, The University of Chicago Library, and Quimby's Bookstore.
CZF 2015 artwork was created by Chicago artist and illustrator Corinne Mucha.
All event spaces are wheelchair accessible. All events are free and open to the public.
Click here for the CZF Exhibitor List.
Click here to see the Facebook invite about a CZF volunteer meeting on April 19th!
For more info:
Visit chicagozinefest.org for more information.
Press inquiries: chicagozinefest(at)gmail(dot)com