Joe Meno with Arthur Nersesian at Quimby's!
Join authors Joe Meno and Arthur Nersesian as the read signs copies of their newest books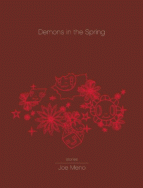 Demons in the Spring is a collection of twenty short stories by Joe Meno with illustrations by twenty artists from the fine art, graphic art, and comic book worlds–including Charles Burns, Archer Prewitt, Ivan Brunetti, Jay Ryan, Paul Hornschemeier, Anders Nilsen, Geoff McFedtridge, Kelsey Brookes, Kim Hiorthoy, Caroline Hwang, Rachell Sumpter, KOZYNDAN, Evan Hecox, and Cody Hudson.
Oddly modern moments which occur in the most familiar of public places, from offices to airports to schools to zoos to emergency rooms: a young girl who refuses to go anywhere unless she's dressed as a ghost; a bank robbery in Stockholm gone terribly wrong; a teacher who's become enamored with the students in his school's Model United Nations club; a couple affected by a strange malady–a miniature city which has begun to develop in the young woman's chest, these inventive stories are hilarious, heartbreaking, and unusual. While many of them have never been previously published, others have been featured in the likes of LIT, Other Voices, Swink, TriQuarterly, and McSweeney's.
Joe Meno is the best-selling author of the novels Hairstyles of the Damned, The Boy Detective Fails, How the Hula Girl Sings, and Tender As Hellfire. He was the winner of the 2003 Nelson Algren Award for short fiction and is a professor of creative writing at Columbia College Chicago


Arthur Nersesian will also be on hand to read from his newest book The Sacrificial Circumcision of the Bronx, the highly anticipated follow-up to The Swing Voter of Staten Island–the first two installments in Nersesian's series of novels offering an alternate history of New York: The Five Books of Moses.
Robert Moses was responsible for creating contemporary New York's infrastructure, but he did so at the cost of destroying neighborhoods. In this novel, Robert has looted his brother Paul's share of the Moses family fortune, repeatedly blocked his attempts at gaining public office, thwarted his career in the private sector, and set in motion events that will decimate Paul's home life. Paul Moses's deep-seated rage metamorphoses into an act of terrorism committed against his brother and against a city that he once cherished.
Although it can be read as a stand-alone novel about Robert and Paul Moses, The Sacrificial Circumcision of the Bronx is also a memory play that follows Uli Sarkisian–the hero of The Swing Voter of Staten Island–en route to solving a massive historical crime, while desperately struggling to escape from becoming another one of its victims.
Arthur Nersesian is the author of eight novels, including the smash hit The Fuck-Up (more than 100,00 copies sold), Chinese Takeout (HarperCollins), Manhattan Loverboy (Akashic), Suicide Casanova (Akashic), dogrun (MTV Books/Simon & Schuster), and Unlubricated (HarperCollins), and, most recently, The Swing Voter of Staten Island, the first volume in The Five Books of Moses series. He lives in New York City.