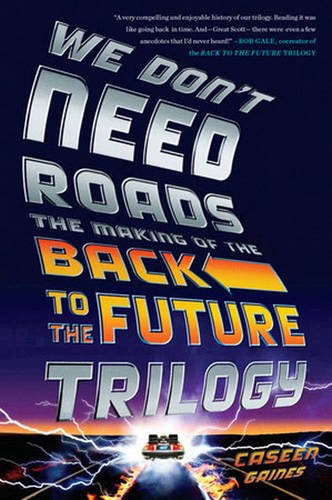 Great Scott! Come celebrate the 30th anniversary of Back to the Future along with award-winning author Caseen Gaines. He is returning to   Quimby's Bookstore to discuss and sign copies of his brand-new book, We Don't Need Roads: The Making of the Back to the Future Trilogy, which has been featured in Vanity Fair, The Hollywood Reporter, People Magazine, Vulture, and positively reviewed by NPR and Library Journal.
We Don't Need Roads includes original interviews with Zemeckis, Gale, Christopher Lloyd, Lea Thompson, Huey Lewis, and over fifty others who contributed to one of the most popular and profitable film trilogies of all time. It's the ultimate read for anyone who has ever wanted to ride a hoverboard, hang from the top of a clock tower, travel through the space-time continuum, or find out what really happened to Eric Stoltz after the first six weeks of filming.
Complete with rare and previously unreleased photographs, fans of the timeless can learn all they didn't know about Back to the Future – by those who caught lightning 30 years ago.
"Caseen Gaines has written a very compelling and enjoyable history of our trilogy. Reading it was like going back in time. And – Great Scott – there were even a few anecdotes that I'd never heard!" – Bob Gale, co-creator, co-producer, and co-writer of the Back to the Future trilogy
"The most enlightening and informative book I've read since Grays Sports Almanac. Every true fan of the Holy Trilogy should own a copy. It's your density." – Ernest Cline, bestselling author of Ready Player One
Invite your friends with the Facebook post for this event!
For press inquiries, contact Mary Pomponio, mpomponio(at)penguinrandomhouse(dot)com
Saturday, August 1, 2015 at 7:00pm