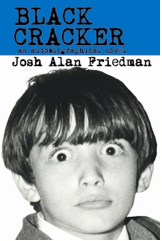 Celebrate "Black Tuesday" with Josh Alan Friedman and his autobiographical novel Black Cracker, about his childhood at New York's last segregated school in the early 1960s. In first grade, your friends are your friends and all that really matters is who can come up with the best doo-doo jokes. But as the lone white boy at the local "colored school," young Josh is in for some hard — and often hilarious — lessons in readin', writin', 'rithmetic and race.
With its child's-eye view of controversial subjects, turbulent times and all-too-human frailties, Black Cracker is hard-hitting, heartbreakingly honest and hysterically funny — often all at once.
Writer-musician Josh Alan Friedman's eight books include Tales of Times Square and Tell the Truth Until They Bleed; his recordings include Blacks 'n' Jews and Famous & Poor. Quimby's welcomes Josh Alan to Chicago for Black Tuesday, an unforgettable evening featuring readings from Black Cracker and a live set of Friedman's music on atomic acoustic guitar.
"Friedman splits sides, breaks hearts and always remains ruthlessly honest about the real world, a place that doesn't conform to the politically correct wishes of liberals or conservatives."
— Michael Simmons, L.A. Weekly
For more info: BlackCrackerOnline.com
Tuesday, March 29th, 7 pm