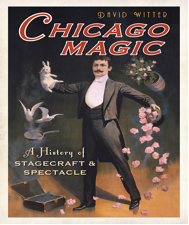 In David Witter's new book Chicago Magic: A History of Stagecraft & Spectacle (The History Press), he keeps track of the shell game of Chicago's fascinating magic history from its vaudeville circuit to its contemporary resurgence. By the end of America's "Golden Age of Magic," Chicago had taken center stage in front of an American audience drawn to the craft by the likes of Harry Houdini and Howard Thurston. Cashing in on a craze that rivaled big-band mania, magic shops and clubs sprang up everywhere across the Windy City, packed in customers and put down roots. Over the last century, for example, Magic, Inc. has outfitted magicians from Harry Blackstone Sr. to Penn and Teller to David Copperfield. Magic was an integral part of Chicago's culture, from its earliest venture into live television to the card sharps and hucksters lurking in its amusement parks and pool halls.
David Witter is a Chicago historian and author of the book Oldest Chicago. A native Chicagoan, he attended Louisa May Alcott School (the same grammar school as Marshall Brodien), Lane Technical High School, Columbia College (BA in writing) and Northeastern Illinois University (BA in secondary education). Also a freelance writer and photographer, he is a regular contributor to New City and Fra Noi. His work has appeared in the Washington Post, the Chicago Tribune, the Chicago Reader, Living Blues, The Best of the Chicago Blues Annual, the Bay Area Music Magazine, the Copley News Syndicate and Lerner Newspapers.
For more info: danielle.raub(at)historypress(dot)net

Click here for Facebook event posting for this event.
Saturday, February 15th, 7pm – Free Event at Quimby's Bookstore