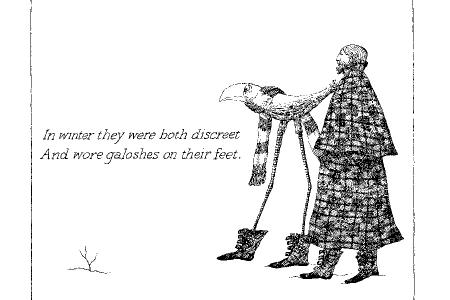 Columbia College Chicago's Department of Creative Writing is launching a new online literary journal, Goreyesque (www.goreyesque.com), now open for submissions. (And no, you don't have to be a student at Columbia to submit your work).
Both an homage and showcase of contemporary artists and storytellers inspired by Edward Gorey's lasting influence across genres, Goreyesque seeks works that are darkly humorous, surreal, playful, and anything in between. Short stories, essays, poems, illustrations, video/animation and other forms of art all welcome. Original work preferred but reprints that fit the project's scope also appreciated (see submission guidelines). Work can be sent to: goreysubmissions(at)gmail(dot)com.
The launch of Goreyesque coincides with the Chicago debut of Elegant Enigmas: The Art of Edward Gorey and G is for Gorey—C is for Chicago: The Collection of Thomas Michalak, at the Loyola University Museum of Art (LUMA), Feb. 15 – Jun. 15. While Elegant Enigmas has traveled the country since 2009, the companion exhibition G is for Gorey provides an even closer in-depth look at Gorey's legacy, including his illustrations for book jackets and magazine articles, and his life and work on Cape Cod.
Gorey's artwork returns to his home town for the first time with this special exhibition and reading/performance showcase, so writers and artists should be sure to send Gorey-inspired work soon! All works submitted before Apr. 14 will be considered for a public reading and showcase at LUMA's gallery space in Chicago on Apr. 29. Top 5 submissions will also receive the exhibition catalogue Elegant Enigmas: The Art of Edward Gorey.
Special guest judges for the reading: Sam Weller, author of The Bradbury Chronicles, and Mort Castle, author of Bram Stoker award-winning New Moon on the Water. Both served as co-editors of Stoker award-winning Shadow Show: All New Stories in Celebration of Ray Bradbury.
For more info, contact Todd Summar at goreysubmissions@gmail.com