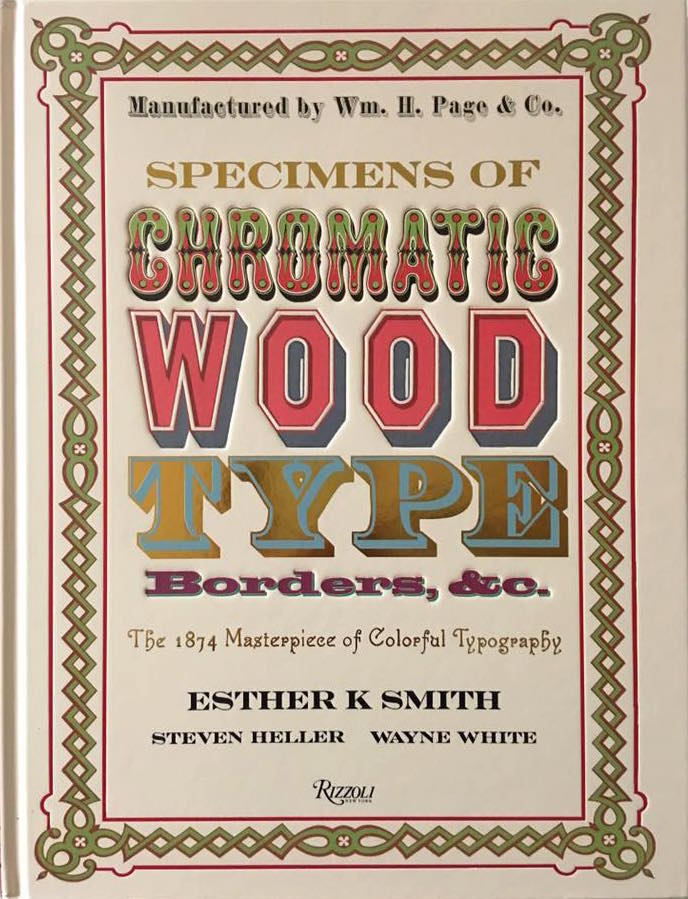 Rustic Bride Mun! The Most Beautiful Book in the World! Esther K Smith & Dikko Faust of Purgatory Pie Press will show and tell William H. Page's classic book Specimens of Chromatic Wood Type, Borders, &c.: The 1874 Masterpiece of Colorful Typography.
Esther K Smith first saw The Most Beautiful Book in the World at Chicago's Newberry Library. As she turned the pages, she knew she needed to work with a big publisher to reprint the book so that she could own a copy. Specimens of Chromatic Wood Type Borders &c (Rizzoli) is a reprint of WH Page's 1874 catalog of typography and ink from the exuberant early decades of manufactured color–available to the public for the first time. Page produced the largest and most detailed wood type which he distributed his type all over the world– throughout the US, Europe, and Asia–even Burma. One librarian said that though clothing faded and architecture was repainted, the brilliant inks inside the book retained the vivid intensity of the Victorian era. The text is found poetry which one viewer likened to Gertrude Stein. Smith and Faust will show pages from the book and talk about producing the reprint, working with six original copies in three rare book libraries. And they will discuss their own experience at Purgatory Pie Press, one of the longest running artist presses, printing and designing with wood type. Chromatic Wood Type is an opera of a  book–and the opera it inspired (Soundscapes of Color) premiers April 22 at 6018 North. The composer, Michal Dzitko, will be present and they will show a short clip of the opera-in-progress.
"Take a wild ride through the polychrome world of nineteenth-century poster type. These letters are slathered with more ink and ornament than a tattooed sailor." –Ellen Lupton, Senior Curator, Cooper Hewitt, Smithsonian Design Museum
"WOW. What a treasure to be saved and savored. And what an insane genius craftsman William H. Page was. this book is as fun to read as it is to look at, with its accidental (or perhaps totally intentional) bits of poetry, decades ahead of its time." —Chip Kidd,  
Esther K Smith is the author of the best-selling How to Make Books and Making Books with Kids, which Bank St. Education included in their Best Children's Books of the Year. Smith collaborates with Dikko Faust making limited editions and artist books at Purgatory Pie Press. Their work is in many collections including the Newberry Library, The Metropolitan Museum, Museum of Modern Art, and London's V&A.
For more info:
Images from the book!
Specimens-cover
detail 
wood type
page
another page
esther(at)purgatorypiepress(dot)com
Facebook Event Invite for this event.
Thurs April 19, 7pm – Free Event