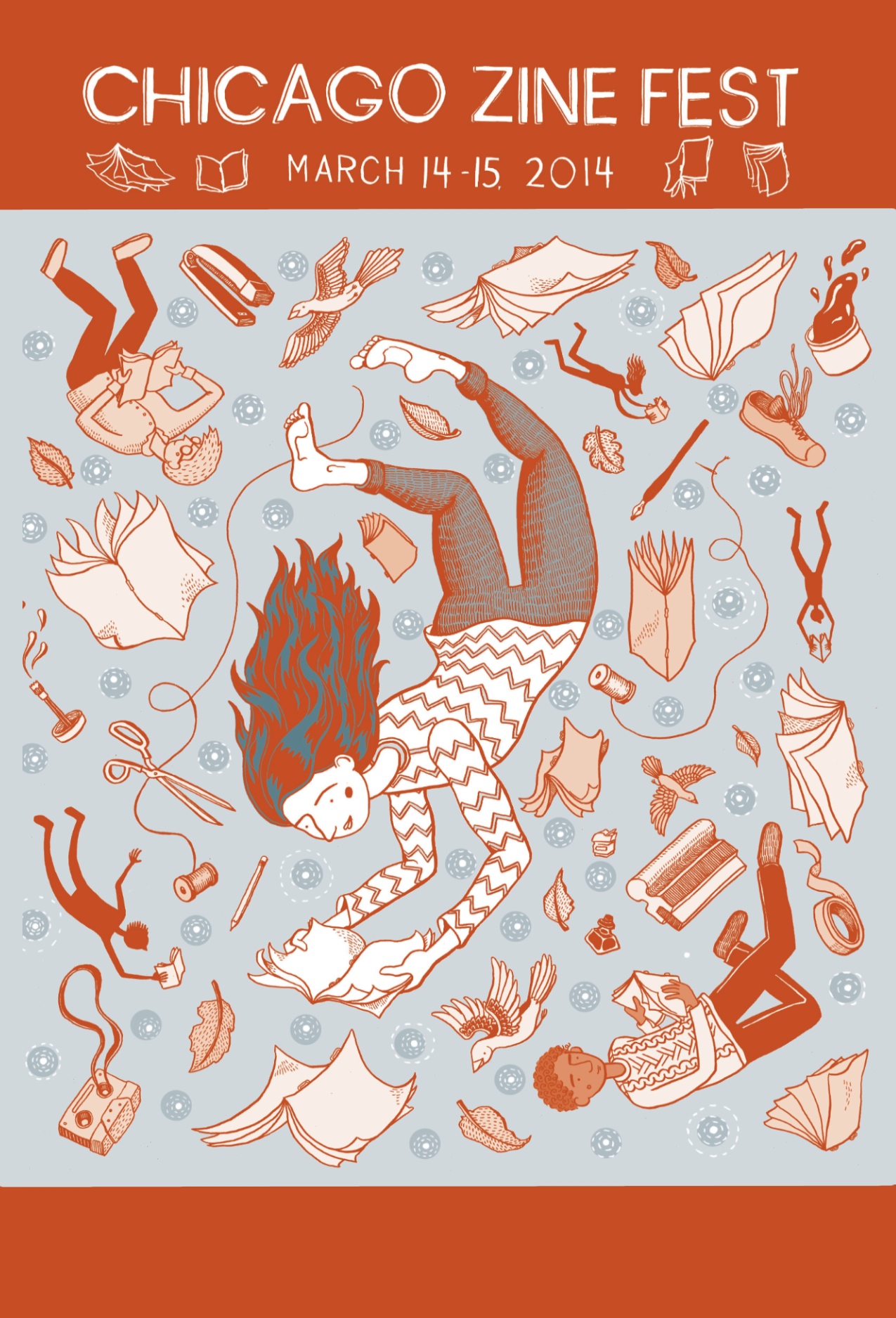 Chicago Zine Fest, an annual celebration of self-publishing efforts, celebrates its 5th anniversary! It's an independent event creating an outlet for small press and independent publishers to showcase their work with the aim to make DIY zine-making accessible, highlight the talents of self-published artists, and give independent artists a chance to interact and swap skills. Quimby's is happy to be one of the sponsors!
Friday, March 14th
Zine Panel, Columbia College's Conaway Center (1104 S. Wabash), 1-3pm
In it for the Long Haul: A Discussion on Longevity in Zines with Cindy Crabb, Tomas Moniz, and Alex Wrekk, moderated by Quimby's Bookstore manager Liz Mason.
Youth Zine Reading and an Exhibitor Zine Reading, Hairpin Arts Center (2800 N. Milwaukee), 6-9pm
Kickoff Celebration Dance Party, Hairpin Arts Center (2800 N. Milwaukee) 9-11:30pm
Music provided by CHIRP Radio.
Saturday, March 15th
Tabling Exhibition, Columbia College's Conaway Center (1104 S. Wabash), 11am-6pm
Over 200 zinesters will exhibit their publications, host workshops, and lead panel discussions in the spirit of self-publishing. Saturday's exhibition will be supported with programming throughout the day. There are workshops on various self-publishing topics, hands-on kid's zine-making area, button making presented by Busy Beaver Buttons, photo booth by Glitter Guts, an exclusive Brain Frame comics reading, plus demonstrations presented by staff and students from Columbia's Center for Book and Paper Arts. Come to the Quimby's table and say hi!
"We are so excited that enthusiasm has grown for the fest in these first 5 years, and hope it continues to grow!" says Leslie Perrine, an original festival organizer. She adds, "I'm honored to be the only 5th year organizer still involved with the zine fest. I've seen it from our very first fundraiser to now an event people tell me they love…It's really exciting to see the evolution of the fest. Remembering where we have come from has always been important to us as well."
An organizing goal for the 2014 fest was to welcome new exhibitors. Over 1/3 of all registered tables are first time festival exhibitors. Registration for the fest sold out in a record two hours, trumping 2013 which took 15 hours to close. "The support that CZF has gotten from zine writers and comic artists throughout the country has been astounding," said Jaclyn Miller, in her second year as organizer.
The Chicago Zine Fest is sponsored by the Book and Paper Center at Columbia College Chicago, Quimby's Bookstore, Chicago Publishers Resource Center, the Hairpin Arts Center, CHIRP Radio and 826CHI. All 2014 artwork is by Chicago artist and illustrator Marnie Galloway.
For more info and specifics, see chicagozinefest.org.