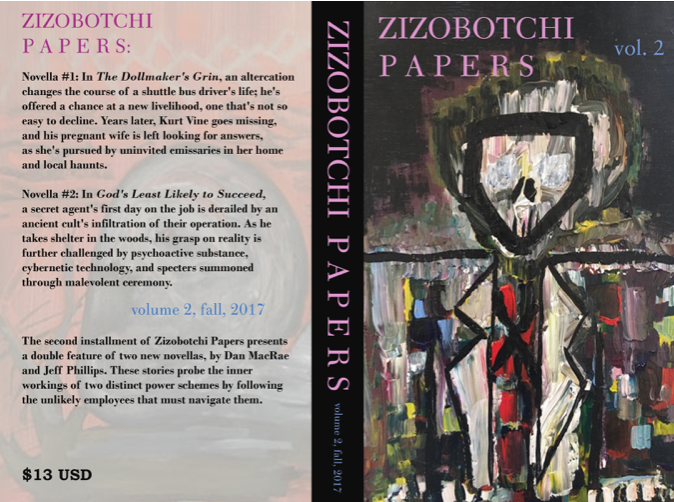 Join us for a night of selected readings from Zizobotchi Papers: volume 2, fall, 2017.
Zizobotchi Papers is a literary journal dedicated to the novella. Think double feature, with a paperback spine instead of a marquee.
Jeff Phillips will read from his latest novella, God's Least Likely to Succeed, about the derailing of a secret agent's first day on the job by an ancient cult's infiltration of their operation.
Erin Makowski will read from Dan MacRae's latest novella, The Dollmaker's Grin, where an altercation changes a shuttle bus driver's life, for better, and for much much worse.
Copies of the book will be for sale for $13.
Find out more about Zizobotchi Papers on the web at Zizobotchi.com
Jeff Phillips is a washed up varsity cross country skier and storefront theatre method actor. For two years he was co-host of The Liquid Burning, an apocalypse themed reading series, and for just shy of three years, he co-hosted the Chicago reading series Pungent Parlour. His short fiction has appeared in Seeding Meat, This Zine Will Change Your Life, Metazen, Chicago Literati, and Literary Orphans. He is the co-founder of Zizobotchi Papers, a literary journal dedicated to the novella and a regular contributor of short stories and essays at the site Drinkers With Writing Problems. You can find him on Twitter as @TheIglooOven or at theotherauthorjeffphillips.com
Erin Makowski has been acting and singing since her childhood. Her first production was as Gretel in 'The Sound of Music'. Most of her younger years were spent in the Gilbert and Sullivan Company of El Paso going from the high seas in 'The Pirates of Penzance' to a little maid in school in Mikado. After her early schooling in the theater Erin received a Bachelor of Arts from Columbia College right here in Chicago. Erin has worked with many companies in town, played extras on TV and sung her heart out for Cabaret audiences.
Fri, March 2nd, 7pm – Free Event