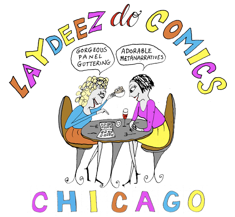 Laydeez Do Comics, London's monthly comics salon founded by Nicola Streeten (Billy, Me, and You) and Sarah Lightman (The Book of Sarah, Graphic Details) has added to branches in Leeds and San Francisco by starting a branch in Chicago.
The first meeting was a smashing success and this one hopes to be as amazing!
Come hear comics creators speak about their work, their process, their plans, and whatever else they want to share with us.
February speakers will be:
Laura Szumowski (zoo-mouse-key.com)
David Mitchell (realityenginecomic.com)
and MK Czerwiec (comicnurse.com)
For more info: laydeezdocomics.blogspot.com
and/or
comicnurse (at) mac (dot) com
As always, this event at Quimby's is free.