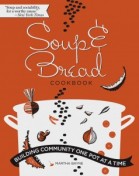 Everybody loves soup. But why?
Sure, it's nutritious, affordable, and infinitely variable. Soup can be a rustic meal in a bowl or a dainty palate cleanser. It can showcase the pure flavors of fresh spring peas or provide a last-ditch use for tired celery and the stalest bread. From borscht to pozole to udon, it's the hallmark of home cooking across cultures. It soothes the sick, it nourishes the poor–and it can trick children into eating their veggies. And, alone among foods, a pot of soup can be a powerful tool to both draw people together and help them to reach out to others.
The Soup & Bread Cookbook, inspired by author Martha Bayne's Soup & Bread series at Chicago's Hideout, aims to explore this social role of soup, in the midst of a collection of terrific, affordable recipes from food activists, chefs, and others, providing a quirky exploration of the cultural history of soup–and its natural ally, bread–as a tool for both building community and fostering social justice.
The social functions of soup don't stop at the soup kitchen door. Everyone's familiar with the "stone soup" fable — the tale of a hungry town that feeds itself when every citizen contributes something to the pot. But have you heard about Re-Thinking Soup, a weekly free soup lunch started in Chicago by Sam Kass, the Obamas' personal chef? Or about Empty Bowl, a nationwide grassroots effort to raise money for hunger relief by partnering with local arts groups?
Soup has a powerful effect on how people gather, eat, and share. A few years ago in Seattle, Knox Gardner had a brainstorm. Eating your way through a pot of soup day after day can get boring–why not get together and swap some with friends? The idea took off like chicken and noodles, and now neighbors across the country are getting together regularly for home-based "soup swaps," with a date at the end of January annually designated (by soupswap.com) as National Soup Swap Day.
In Chicago, the arts collective InCUBATE uses soup as a microfunding tool. Each month since the Sunday Soup project launched in 2007, the group hosts a casual soup dinner for members and likeminded friends; the proceeds to go fund a different art project each month. And of course, soup can be a political statement: The radical volunteers of Food Not Bombs have been providing free vegetarian soup to the hungry as a protest against war and social injustice since 1980.
These are just a few examples of the stories Bayne wraps around a collection of delicious, accessible and tested soup recipes, the diversity of which epitomizes the wide-ranging potential of soup as a community building tool. "Celebrity" chef contributors share the pages with food activists, farmers, writers, soup geeks, and regular folks involved in grassroots food projects around the country.
For more info: soupandbread.net
One of the top ten essential cookbooks for fall 2011.
-Time Out Chicago
Beautifully written, generous and honest, the book looks at community building through lenses as various and diverse as the country has to offer. Bayne finds people of many kinds – immigrants, nuns, urban farmers, artists and activists – each using soup to bring people together and knit up what has become unraveled.
-Eiren Caffall, Tikkun Daily