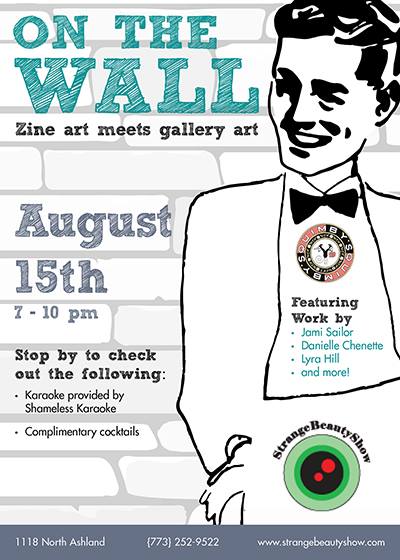 Come to Strange Beauty Show on Thursday, August 15th for this very special event co-sponsored by Quimby's Bookstore!
On The Wall: Zine Art Meets Gallery Art
at Strange Beauty Show
1118 N. Ashland Ave.
7-10pm
This very special event is the first collaboration between Quimby's Bookstore and the salon/art space Strange Beauty Show. Curated by staff from both businesses, this group show features zine and comics artists, who will be showcasing pieces from their publications on the wall for display, and they will also have their periodicals avaiable for perusal and purchase.
Featuring work by Jami Sailor, Danielle Chenette, Lyra Hill and more!
Karaoke provided by Shameless Karaoke! (Click here for the song list.) Cocktails and nibbles!
Click here to find the event on Facebook.
*Please note this event is NOT at Quimby's. It is at at Strange Beauty Show at 1118 N. Ashland Ave.
Strange Beauty Show is a place to experience artistic beauty in an upbeat yet laid-back environment. Come in and get a new creative haircut or color, view the work of local visual artists, and listen to a favorite song on vinyl; these elements all converge in one creative space at SBS. Also, see their Facebook page for updates of creative hair endeavors at SBS.