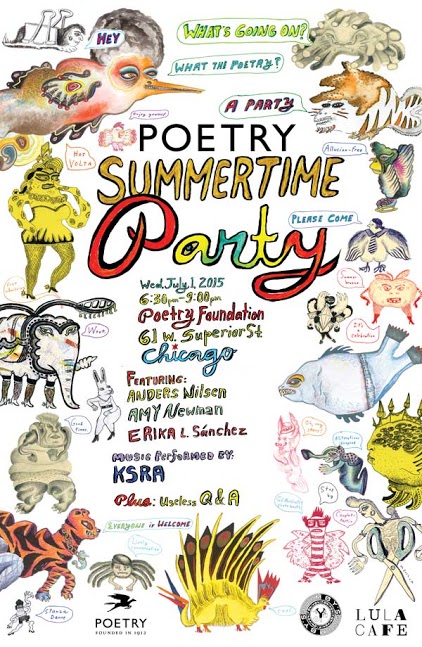 Don't miss Quimby's at the launch party celebrating the newest issues of Poetry magazine, its contributors, readers, and the poetry curious. The POETRY Summertime PARTY, celebrating Poetry magazine's June and July/August 2015 issues, features readings and visual presentations from contributors Erika L. Sánchez, Amy Newman, and Anders Nilsen—followed by a "useless" Q & A with Poetry editors Fred Sasaki and Lindsay Garbutt and a performance by musical guest KSRA. Quimby's will be there selling issues of Poetry Mag as well as Anders Nilsen's new book Poetry Is Useless!
This free, all-ages bash features snacks from Lula Café, book sales courtesy of Quimby's, and a GlitterGuts photobooth. Grab the newest issues of Poetry and take advantage of special subscription offers, plus a book signing with Anders Nilsen for his forthcoming title Poetry Is Useless. Performances begin at 7:00PM.

Amy Newman's most recent books include On This Day in Poetry History (forthcoming) and Dear Editor (Persea Books, 2011). She teaches at Northern Illinois University in DeKalb. Her poem "Howl" appears in the July/August issue.
Anders Nilsen is the artist and author of, most recently, Poetry Is Useless (2015) and Rage of Poseidon (2013), both published by Drawn & Quarterly, and The End (Fantagraphics Books, 2013). His comics appear in the July/August's "The View from Here" portfolio.
Erika L. Sánchez is a Fulbright Scholar, CantoMundo Fellow, and winner of a 2013 "Discovery"/Boston Review Poetry Prize. Her poem "Narco" appears in the June  issue.
With special musical guest KSRA. Producer, singer, and songwriter KSRA (pronounced que sera) is known for her performances featuring sampling and killer operatic soul vocals. Her single "Bad Habit," featuring Talib Kweli, is available through her website, ksramusic.com.
Please note! This event is NOT at Quimby's! It is at:

More information at http://poet.ly/OoRVM