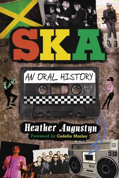 Ska: An Oral History, with a foreword by Cedella Marley, is the story of ska music, told through the words and narratives of those who invented it. In Jamaica, and later in England, this music defined the culture and social conditions of the people. Through the words of their songs, the uplifting rhythm of their vivacious tunes, and the character and skill of each musician, ska music was the foundation for musical forms and the musicians that evolved. Hearing first-hand the stories of these tumultuous times, these creative times, the story of ska music is finally told by those who were there.
Heather Augustyn spent over a decade interviewing ska artists and musicians and researching the music and culture of Jamaica and England. Included in her book are never-before heard words from such greats as The Skatalites' Doreen Schaeffer, Roland Alphonso, Lloyd Brevett, Lloyd Knibb, and Lester Sterling; Derrick Morgan and Patsy (Millicent Todd); Lyn Taitt; Laurel Aitken; Toots Hibbert; Millie Small; Alex Hughes (Judge Dread); The Specials' Roddy Byers (Roddy Radiation); The Beat's Dave Wakeling and Ranking Roger; The Selecter's Pauline Black; Lee "Kix" Thompson of Madness; Buster Bloodvessel of Bad Manners; Fishbone's Dr. Madd Vibe (Angelo Moore); The Mighty Mighty Bosstones' Dicky Barrett; Bucket of The Toasters; Tony Kanal of No Doubt; as well as many others.
Augustyn has been a correspondent for The Times of Northwest Indiana, the state's second largest newspaper, since 2004. She is also contributing editor for Shore Magazine. She has written for a variety of national publications, such as The Village Voice, In These Times, The Humanist, and World Watch Magazine. She was the last person to interview legendary novelist Kurt Vonnegut before his death in 2007. She lives in Chesterton, Ind. with her husband, Ron, and their two boys.
For more info about Heather Augustyn see skabook.com
Sat, July 9th, 7pm