The American Express propaganda machine tells us it's Small Business Saturday. Why not spend it on Gym Boys: Gay Erotic Stories?
*COMICS & MINIS*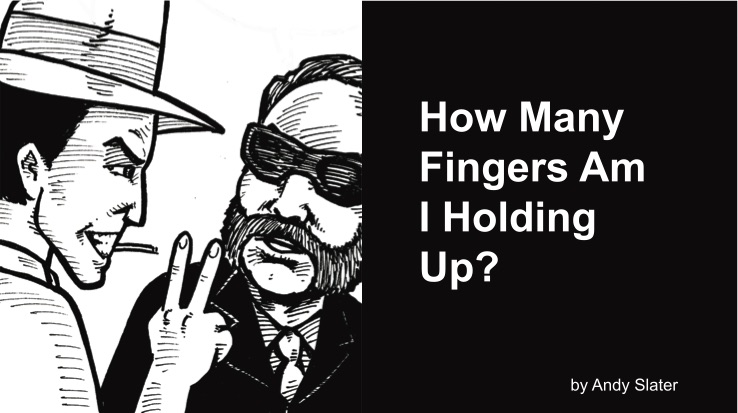 How Many Fingers Am I Holding Up by Andy Slater $3.00 – Thanks to everybody that came out for this event last week! Andy Slater (below) told it like it is! Slater's Chick Tract-inspired comic chronicles his experiences as a blind pedestrian enduring harassment from aggressive ableists and the unwanted "help" from busy-body gawkers. The book doubles as a DOs & DON'Ts guide on assisting blind folks.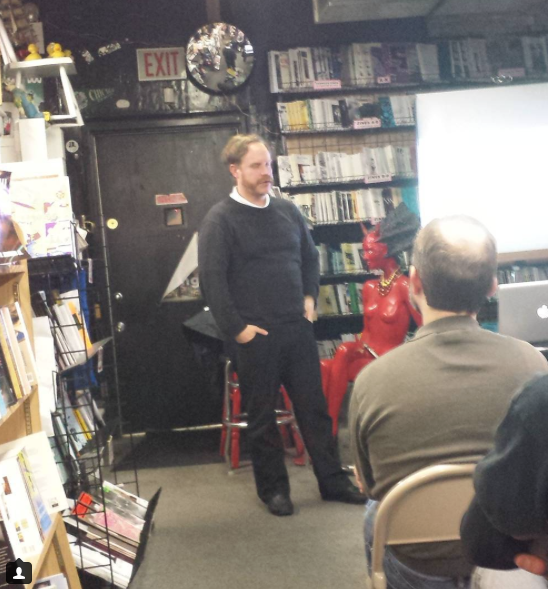 Romantic Story by Heather Benjamin $15.00 – Heather Benjamin's new book Romantic Story is comprised of 24 gorgeous new drawings. Her drawings are detailed, elegant and provocative. Seemingly an homage to vintage romance novel cover art intertwined with her own fantastic imagined world. A must have. -CH. Full color gloss cover and b/w newsprint interior, plastic sleeve with sticker!
iTunes Terms and Conditions Part C & D The Unabridged Graphic Adaptation by R. Sikoryak $10.00
Solarium by Kaitlin Kostus $6.00
Spinadoodles: The Sixth Year (Being Myself Is My Treasure) by Sam Spina (Birdcage Bottom) $6.00
Left Empty Book 1 by Alan King & J Vayda $5.00
Ikebana by Yumi Sakugawa (Retrofit) $5.00
Falling, A Dandelion, Upside Down by Victor Edison (Big Ugly Robot) $5.00
Bangs and Beard Diary by Aaaron Whitaker and Melinda Boyce (Birdcage Bottom) $5.00
Magic Whistle vol 3 #1 Jan 16 by Sam Henderson $5.99
Witch's Wager #1 by Jason Young & Nate McDonough $2.00
Crosshatch 34 Cartoonists A Very Simple Game to Drive You Insane by Nate McDonough $1.00 – Lose your mind fully and match the artist to their respective field of crosshatching in the new half size 16 page mini!
Rejected Hammer Thesis by Eric Myers #1 $4.00 & #2 $2.00
Taddle Creek #36 $5.95
Saltwater Snow by Kurt Ankeny $8.00
Blimpakind comics by Talya Modlin $11.00 each: Circling the Pomeroy Abyss, Drinking Buddies, Isles of Amos
Comics by Alexis Cooke: How to Explain Gender Binary ($3.00) How to Feed Depression ($6.00), Brain Weather #1 ($12.00)
FIGHT CLUB 2 #7 by Chuck Palahnuik and Cameron Stewart (Dark Horse) $3.99
*GRAPHIC NOVELS & TRADE PAPERBACKS*
What's Your Sign: Girl Cartoonists Talk about Their Sun Signs by Robert Kirby & friends (Ninth Art Press) $10.95
Days: Comics 2011-2012 by Simon Moreton (Avery Hill Publishing) $18.00
Irene vol 6 by Dakota McFadzean (Hic & Hoc) $15.00
Unbeatable Squirrel Girl vol 2 Squirrel You Know Its True by Ryan North & Erica Henderson $14.99
Sub by Alexis Cooke $20.00
*MUSIC BOOKS*
White Nationalist Skinhead Movement UK and USA 1979-1993 by Robert Forbes & Eddie Stampton (Feral House) $34.95
*ART BOOKS*
Century of Progress: A Photographic Tour of the 1933-1934 Chicago Worlds Fair (Midway) $24.95
*FICTION*
Expedition: A New Vinyl Audiobook Prequel to Fight Club by Chuck Palahnuik (Rare Bird Books) $30.00
See You In the Morning by Maired Case (Featherproof Books) $13.95
Second Life by Paul Griner (Soft Skull Press) $15.95
Reflections of a Project Girl by Shontay Luna $7.99
*WHAT'S WRONG WITH BEING SEXY?*
Big Book of Kink by Alison Tyler (Cleis Press) $15.95
*MUSIC BOOKS*
Girl In a Band by Kim Gordon $14.99 – Now in soft cover!
Over the Top and Back: The Autobiography by Tom Jones (Blue Rider Press) $26.95
Sound Man: A Life Recording Hits with the Rolling Stones by Glyn Johns $16.00
*ESSAYS & THE LIKE*
Luke Skywalker Can't Read and Other Geeky Truths by Ryan Britt $16.00
Sadie, Wolf, and Friends by Lisa Carver $14.95 – Hilarious conversations between Lisa Carver and her children. Wolf is a very sweet, Christian, mystical, autistic artist who loves rocks and sheep and being faithful. Sadie is a spitfire cheerleader wealth-plotting new teen who loves math because there's only right or wrong and hates social studies because it's an excuse for other students to say their opinions forever pretending it's a question.
*DRUUUUUGS*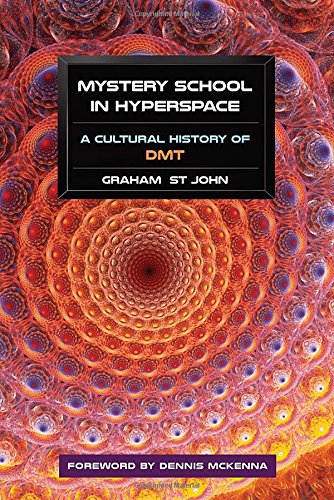 Mystery School In Hyperspace: A Cultural History of DMT by Graham St John, with a foreward by Dennis McKenna (Evolver Editions) $19.95
*DIY*
Cuter Stuff by Aranzi Aronzo $13.95 – How to make 38 new felty funny projects such as Long Torso Mufflers, appliqués & more.
*MAGAZINES*
Kinfolk col 18 The Design Issue $18.00
AdBusters #123 vol 24 #1 Jan Feb 16 Aesthetic Terror $12.95
Mojo #265 Dec 15 Elvis Costello $10.99
Paper Win 15 Fandemonium $10.00
True Crime Nov 15 $9.99
Smith Journal #16 $17.99
Vive Le Rock #30 Damned $10.99
Tapas #6 Fall Winter 15 Yummy Yummy Magazine $19.99
*KIDS BOOKS*
Warren the 13th and the All Seeing Eye vol 1 by Tania Del Rio & Will Staehle $16.95
*OTHER STUFF*
Cards Against Humanity Third Expansion Pack $10.00