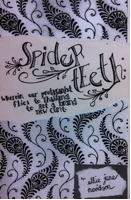 In ellie june navidson's new zine Spider Teeth, she attempts to encompass the complicated emotionality surrounding her recent surgery, "the surgery." It's a messy and gorgeous work that she couldn't be more excited to share. The opening will feature performances by several trans women/goddesses. Face it, she says, we're absolutely everything, come celebrate with us.
ellie june navidson is your everyday subversive tranny faggot. She is a blogger, poet, workshop facilitator, dressmaker, and all around crafty radical. Much of her work explores gender, normativity, radical visibility, and self-awareness. She works to incorporate vulnerability and non-violence into her life while striving for social justice. She's all about empowerment, brave honesty, and growth. She is perparing to release her fabulous new zine, Spider Teeth, that encapsulates all the complicated emotionality surrounding "The Surgery." Some essays and contact information can be found at her personal blog can be found at invisiblyqueer.tumblr.com.
She will be accompanied by AJ Durand and KOKOMO.
For more info: ellie(dot)june(dot)navidson(at)gmail(dot)com

Thursday, October 10th, 7pm – Free Event
Click here to find the Facebook event posting for this event.