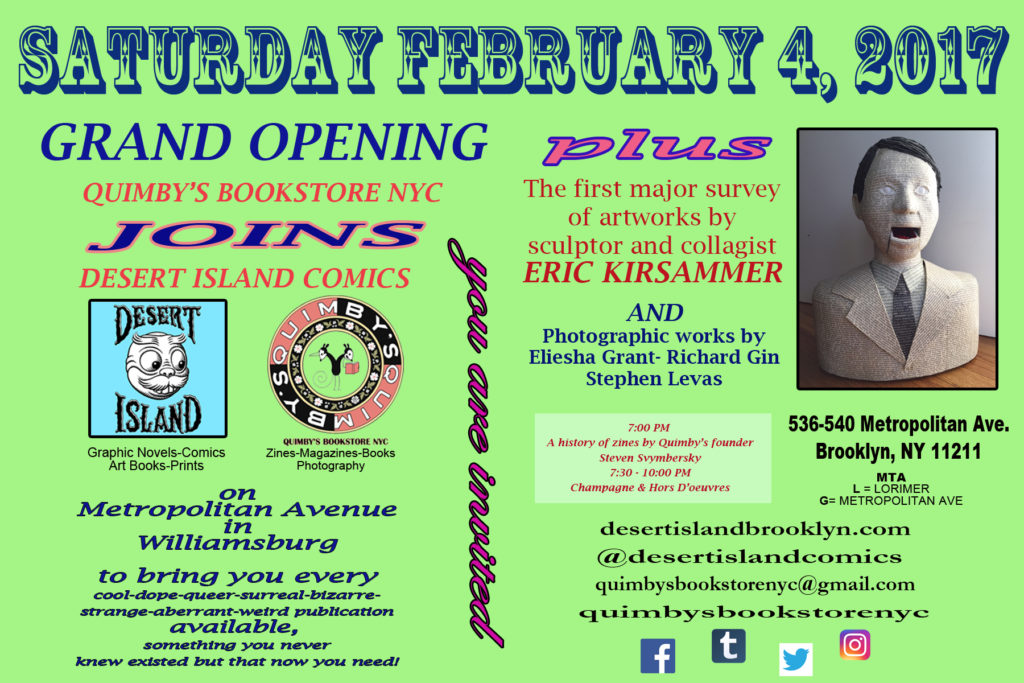 GRAND OPENING
QUIMBY'S BOOKSTORE NYC
SATURDAY FEBRUARY 4th, 2017
7:00 – 10:00
At 7:00 PM, Steven Svymbersky will give a short slide show talk on the history of zines followed by champagne and hors d'oeuvres.
This event is also the opening for the first major survey of works by sculptor and collage artist, Eric Kirsammer.
Quimby's Bookstore NYC
536 Metropolitan Ave
Brooklyn, NY 11211
quimbysbookstorenyc(at)gmail(dot)com
quimbysbookstorenyc can be found on Facebook, Instagram, Twitter & Tumblr
Quimby's Bookstore NYC joins Desert Island Comics on Metropolitan Ave in Williamsburg to bring you every cool, queer, sick, rad, aberrant, dope, weird, impossible publication available, something you never knew existed but that now you need.
Steven Svymbersky originally opened Quimby's Bookstore in Chicago's Wicker Park neighborhood in 1991.  That store recently celebrated their 25th anniversary. Quimby's specializes in zines, alternative magazines and underground books. Subject matter includes LGBTQ, Anarchism, Tattooing, Creative Resistance, Drugs, Minority and Women's Issues, Taxidermy, Occult, Punk Rock, Cycling, Urban Farming, Vegetarianism, Morbid Anatomy, as well as the more outré artists working in fiction and photography. 
In December 2016, Svymbersky opened the second Quimby's location next door to Desert Island Comics (Best Comics Resource, Village Voice 2016). Desert Island has been on Metropolitan Ave over eight years.  Founder, Gabe Fowler is also the publisher of the comics anthology Resist!/Smoke Signals and every year in November organizes New York's largest underground comics convention, Comics Art Brooklyn.