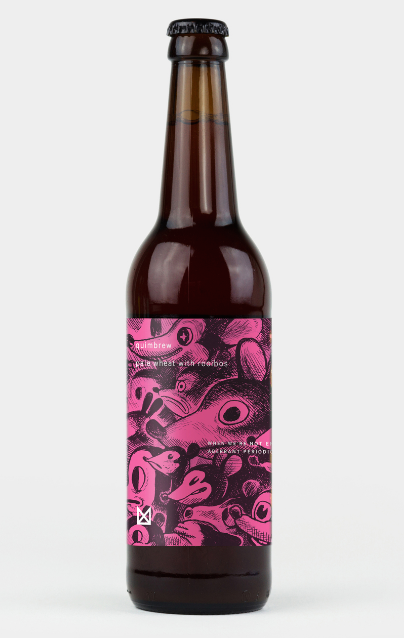 Pre-order QuimBrew by Marz Community Brewing & Quimby's Bookstore with an awesome label by the amazing Chicago artist Laura Park. Order it from The Beer Temple, and your shipment will come with the Quimby's oral history zine!
It's the 25th anniversary of Quimby's Bookstore, and Marz Community Brewing Co made a beer to celebrate this milestone. Quimbrew is a pale wheat ale with rooibos tea packaged in 500 ML bottle with label art work designed by Laura Park.
This special edition beer is available for pre-purchase at The Beer Temple and comes with the 132 page zine: Ever Evolving Bastion of Freakdom: A Quimby's Bookstore History in Words and Pictures.
Ever Evolving…is an oral history of the notorious and glorious Quimby's Bookstore, in the tradition of Gillian McCain and Legs McNeil's Please Kill Me. The story of the early days of Quimby's up through today. Pictures, graphics, juice, from employees, shoppers, consignors and artists that have frequented the store's hallowed doors. This special "ashcan edition" is a limited print run zine to celebrate the store's silver jubilee, and was created to accompany the Marz Community Brewing Quimbrew beer pre-purchase.
Please note! This pre-order needs to be done at the Beer Temple website here, not at Quimby's.