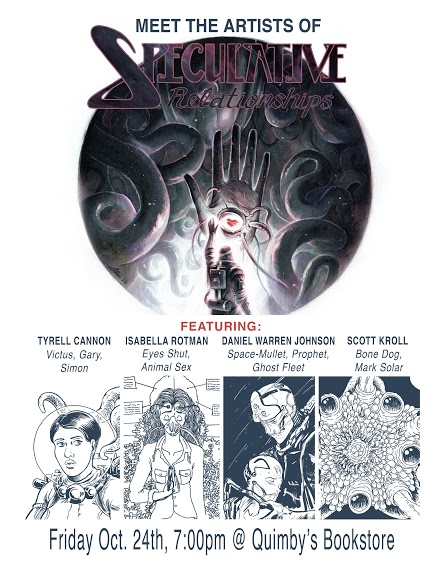 Join the creators behind the recently released sci-fi romance comics anthology Speculative Relationships at Quimby's on Fri, Oct 24th at 7pm.  The event will feature 4 Chicago comics creators featured in the book:
Isabella Rotman (Scarleteen.com, Animal Sex, Dig)
Daniel Warren Johnson (Space-Mullet.com, Ghost Fleet)
Tyrell Cannon (Victus, Gary)
Scott Kroll (Bone Dog, A Cramped Well-Pressurized Space)
There will be a presentation by the artists and copies of Speculative Relationships will be available for purchase and signing.
Speculative Relationships: A Science Fiction Romance Comics Anthology
In the mid-twentieth century, romance was the most popular genre in comics. Comic publishers produced dozens of titles throughout the 1950s and 60s, and many of the medium's top artistic talents such as Jack Kirby, Joe Simon, and Frank Frazetta worked in romance comics. However, by the 1970s, the once-dominant genre of romance comics all but died out.
The artists featured in the new Speculative Relationships anthology are ready to start the revival.  The anthology features up-and-coming artists creating brand-new science fiction romance comics:
The eight stories in the anthology include  a cyborg fighting alien hordes for love, a computer AI in love with a sleeping interstellar voyager, two robots that were literally made for each other, and so much more!
Find out more:
speculativerelationships.tumblr.com
Twitter@scifiromancecom