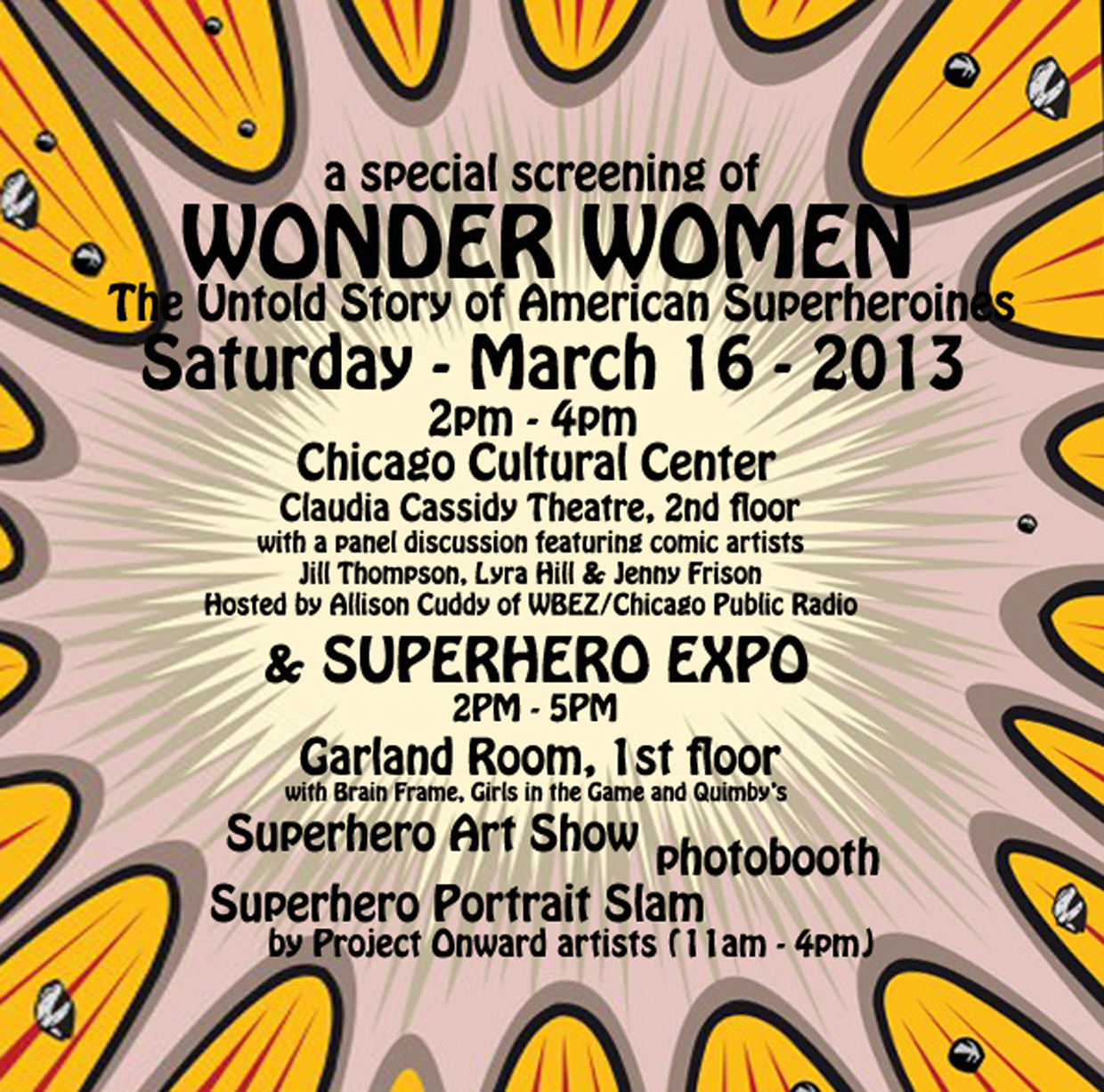 SATURDAY, MARCH 16, 2013
2:00-4:00 PM
CHICAGO CULTURAL CENTER
2nd Floor Claudia Cassidy Theatre
With a discussion featuring comics artists Jill Thompson, Lyra Hill and Jenny Frison.
Host: Allison Cuddy of WBEZ/Chicago Public Radio.
(NOT AT QUIMBY'S; AT THE CHICAGO CULTURAL CENTER, 78 E Washington St  Chicago, IL 60602)
Superhero Expo
2:00 PM – 5:00 PM
in the 1st Floor Garland Room
with Brain Frame, Girls in the Game, Quimby's Bookstore and more.
Featuring the Superhero art show (see details below), Photo Booth (with costumes),
and the Superhero Portrait Slam with Project Onward artists (11am – 4pm)!
Envision Superheroines for the Modern Age!
Renditions will be displayed at the Wonder Women Expo at the Cultural Center on March 16th during and following the screening of the documentary Wonder Women: The Untold Story of American Superheroines. From the birth of the comic book superheroine in the 1940s to the blockbusters of today, this documentary looks at how popular representations of powerful women often reflect society's anxieties about women's liberation.
Bring your drawings/paintings/art to the Expo.  Any format for the art is fine.
To consider:
What is her mission?
What does she look like? What is her costume?
What powers does she possess?
What issues does she tackle? Whom is she going to save?
Does she have an everyday alter-ego/cover?  If so, what is her occupation?
What are her personal challenges?
Does she have a sidekick?
What is her mode of transportation?
Special gadgets she employs in her feats?
What is her "kryptonite"?
Presented by WTTW Channel 11 and the Chicago Department of Cultural Affairs and Special Events in partnership with Chicago Foundation For Women, Eileen Fisher Foundation, Project Onward and Quimby's Bookstore.
Community Cinema is a national civic engagement initiative featuring free monthly screenings of films from the Emmy Award-winning PBS series Independent Lens. Every month in 100+ cities, community members come together to learn, discuss, and get involved in key social issues of our time.