1. Celebrate Peoples History: The Poster Book of Resistance and Revolution, ed. by Josh MacPhee (Feminist Pr) $24.95 – A beautiful and inspiring book collecting the Justseeds Celebrate Peoples History Posters to date, overwhelming and fantastic! -EF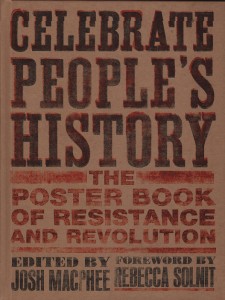 2. Slingshot 2011 Large Organizer (Slingshot Collective) $12.00 – Get your rad self organized! Your daily dose of peoples history, menstrual calendar, tips for dealing with the police, radical contact list and more.
3. 'Za the Pizza Zine by Nikki Yowell $4.00 – Get a Sloppy Slice of this hot pie!
4. Slingshot 2011 Small Organizer (Slingshot Collective) $6.00 – Same as the Large Slingshot radical organizer above but in a perfect-bound pocketsize form.
5. Acme Novelty Library #20: Lint by Chris Ware (D+Q) $23.95 – The newest issue from Chris Ware.
6. X 'ed Out by Charles Burns (Pantheon) $19.95 – Ever wonder what would happen if Charles Burns took over drawing TinTin? Today's your lucky day, punk. You like eggs, don't you?
7. List #14 Fine For Now by Ramsey $4.00 – Reasons to love the new issue of List: The drawings just keep getting better, highly logical, yet intimately personal, good times, good foods, good dogs, stories broken down and organized into compelling, must-read-more formats, dreams, plans and schemes plotted in charming detail, homemade geography and chronology charts all woven gracefully into list-making and more!
8. Best American Comics 2010 ed by Abel/Madden/Gaiman (HM) $23.00
9. Four Squares #2 More Squares by Liz Prince, Maris Wicks, Tim Finn and Joe Quinones $5.00 – July 2008 served four different ways by four comic talents each doing strip-a-days. The weave is really nice here as everyone hops in and out of each other's strips-sandwiches get invented, neighbors get spied on, raspberries get stolen and Boston gets hotttt.-EF
10. Ramble On #1 by Calvin Wong (Sparkplug) $3.00