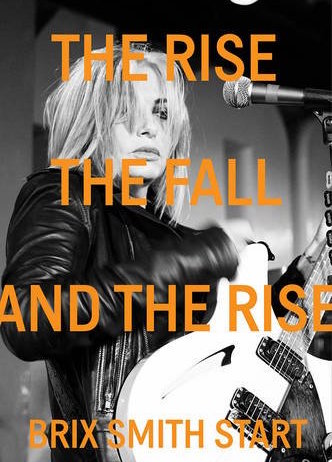 The Rise, The Fall, and The Rise by Brix Smith Start $18.95 – American Brix Smith Start spent ten years in The Fall with Mark E. Smith while being married to him, which ended in a violent disintegration. Growing up in the Hollywood Hills in the '60s in a dilapidated pink mansion her life has taken her from luxury to destitution, from the cover of the NME to waitressing in California, via the industrial wasteland of Manchester in the 1980s.
*ZINES*
The Difference Between #5 How Some Things are Similar Yet Different by Billy McCall, with illustrations by Jaime Tillotson $2.00
Soon Everyone Will Know $15.00
See You at the Buck by Rob Brulinski $10.00
Just Make Pictures Zine #8 Memories of a Dream by Michael Jarecki $4.00
Good Riddance: A Zine About Stuff by Megan Kirby and Rosamund Lannin $3.00
Sub/Verse #6 by Chloe Graham $5.00
zines by George Porteus $7.00 each
Naked Mole Rats Drawings
Mountain Lies
Dreams in Cryogenic Fugue by Chris Johnson $10.00
*COMICS & MINIS*
Stockholme Is Sauceome by Sarah Becan $10.00
Corpus Distorta by Grant Reynolds $7.00
Enter to Exit by George Porteus $7.00
Comics by Amara Leipzig:
Night Blanket $6.00
Fifth Window $7.00
Other Side by Amara Leipzig 2015 $2.00
Dream of Dobermans Sprinting Across the Asphalt by Yewon Kwon $7.00
Succinct Scary Stories by Jonas and Rebecca Peloquin $3.00
*GRAPHIC NOVELS*
Story of My Tits by Jennifer Hayden (Top Shelf) $29.99
Northlanders vol 1 The Anglo Saxon Saga by Brian Wood and friends $29.99
18 Days TPB vol 2 Heroes and Legends by Grant Morrison & friends $14.99
Tiny Splendor zines, comics & graphic novels:
Anime Fan Club by Kenneth Srivijitiakar & Max Stadnik $12.00
Catabunga #2 $4.00
Land Around Us by Bijou Karman, Juliette Toma & Vivian Shih $10.00
Ugly Girl Gang #2 & #3 by Tuesday Bassen(Tiny Splendor) $7.00 each
Die Homer by Tyler J. Hutchison (Tiny Splendor) $10.00
Many Ways of the Potato by Sanaa Khan $2.00
Urge to Regurge by Sanaa Khan $2.00
*ART BOOKS*
Understanding the Sky by Dave Eggers (McSweeneys) $24.00 – Mr. Eggers rode a lightweight plane. Here's a poem-essay-photo book thingy about it.
*MUSIC BOOKS*
A Lover Sings: Selected Lyrics by Billy Bragg $18.95
*FICTION*
Bye Bye Blondie by Virgine Despentes (Feminst Press) $17.95
Unnoticeables by Robert Brockway $14.99
*ESSAYS*
Bukowski in A Sundress: Confessions from A Writing Life by Kim Addonzio $16.00
*SCIENCE!*
Being a Beast: Adventures Across the Species Divide by Charles Foster $28.00
*FOOD BOOKS*
Famous Nathan: A Family Saga of Coney Island, the American Dream, and the Search for the Perfect Hot Dog by Lloyd Handwerker $26.99
*MAGAZINES*
Mojo #272 July 2016 Prince and Bob Dylan $10.99
Hi Fructose #40 New Contemporary Art Magazine $7.95
RFD #166 Sum 16 $9.95
Paper Sum 16 $10.00
*CHAP BOOKS & LIT JOURNALS*
Plastic Pajaros by Melissa Lozada Olivia $7.00
One Day I will be Louder Than all the Bruises on Your Knees by Elaine Hsiang & Tiffany Mallery $5.00
The First Line vol 18 #2 Sum 16 $4.00
*FOR THE KIDDIES*
Anna and Froga Out and About by Anouk Ricard (D&Q) $15.95
various issues of childrens mag Brain Bug $10.00 each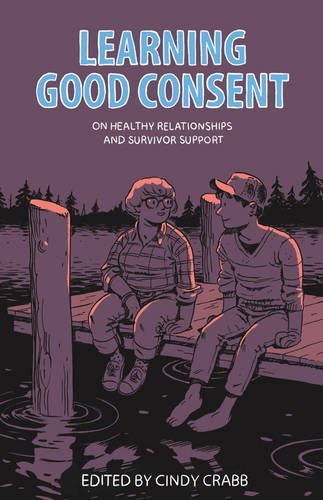 Learning Good Consent: On Healthy Relationships and Survivor Support by Cindy Crabb (AK Press) $13.95 – Used to be a zine, now it's a book! This collection is an indispensable guide to both preventing sexual violence and helping its survivors to heal.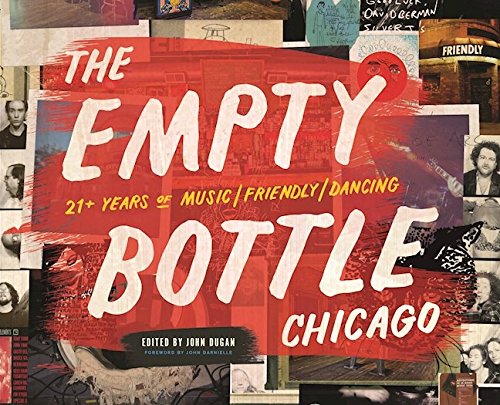 The Empty Bottle Chicago: 21+ Years of Music / Friendly / Dancing by John E. Dugan (Curbside Splendor) $34.95 – Featuring a foreword by John Darnielle of The Mountain Goats and first hand interviews with members of The Flaming Lips, Interpol, Low, OK Go, Vandermark Five, Girl Talk, The Rapture, Red Red Meat, The Sea and Cake, and more, as well as rarely-seen, full-color photographs and reproductions of original silkscreen gig posters and more.
*ZINES*
zines by by Corinne Halbert:
Honey by Corinne Halbert $5.00
Hate Baby #5 $8.00
Printsploitation by Scott R. Miller $3.00
Dreams in Cryogenic Fugue by Chris Johnson $10.00
various issues of Penises Are Confusing by by Polly and Amanda $2.50 each
Free Ass Mag #2 Free Association Magazine Utopia No Mans Land $15.00
Irrational Neographic #1 2014 by Connor Shea $10.00
zines by Adam Wiesner $3.00 each:
Spy Agent issues #1 and #2
Future Trash #2 by Adam Wiesner
Kayfabe Is Fake a WWE Fanzine $3.00
*COMICS & MINIS*
King Cat #76 Comix and Stories by John Porcellino (Spit & a Half) $5.00
SpaceWorld by Brett Manning $5.00
Donut Dreams by Eric Bartholomew $2.00 – First comics from zinester of Junk Drawer fame.
Total Fuck Up by Johnny Sampson $7.00 – A sympathetic portrait of an unsympathetic character surrounded by other unsympathetic characters, taking place at the County Fair.
Doin Mah Thang How My Cat Died and Other Stories by Gil Rhodes $5.00
Absurdly Yours #1 $2.00
comics by Tate Walker:
Waiting Room $5.00
Channel $7.00
Extract $6.00
zines by Laura Lannes
Bad Boyfriends $10.00
Basil Plant $5.00
Hotel Rompo by Talya Modlin (Perfectly Acceptable Press) $20.00
Sirens Calling by John T. Trigonis & Lauren Clemente $3.99
comics by by Sam Szabo:
Naked Lady #2 $7.00
List of Very Scary Things $3.00
Madam Geneva by Tom O'Brien $3.00
Sun Bakery #2 by Corey Lewis $5.99
Comics by Alisha Davidson:
Quiet Way $5.00
Tiny Bums $5.00
Pluo $8.00
Nothing Doing #1 by Connor Shea $5.00
Draw Blood by Ron Hotz $15.00
Fae Archaic #4 A Real Good Pal O Mine $5.00
Coin Op vol 6 The Last Great Time by Maria & Peter Hoey $19.95
Morphis by Marta Chudolinska $5.00
Cat Food by Amy Peltz $5.00
New Comics #7 by Patrick Kyle $8.00
Green Machine #0 by Amber S. and Jon K $5.00
Hand of Misery #1 a Cahmix Book by Peter Faecke $8.00
Shquirat #1-#3 by Kyle J Osborne $4.00 each
Banchan #2 In Two Pages 7 East Korean Recipes by Robin ha $5.00
*GRAPHIC NOVELS*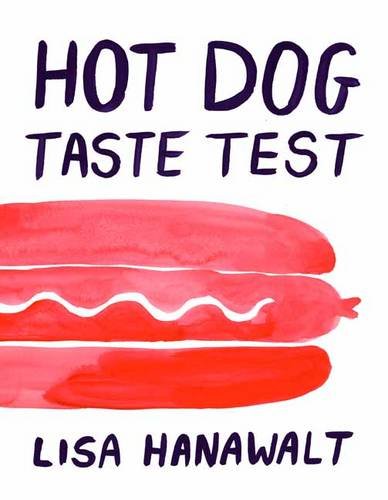 Hot Dog Taste Test by Lisa Hanawalt (D&Q) $22.95 – Pop culture, relationships, and the animal in all of us!
Ulcera by Puiupo and Adonis Pantazopoulos $8.99
Our Lady of Birth Control: A Cartoonist's Encounter with Margaret Sanger by Sabrina Jones (Soft Skull Press) $19.95 – Jones's autobiographical sections of Our Lady of Birth Control show her journey into activist art in response to the anti-feminist backlash of the Reagan era. From street theater and protest graphics to alternative comics, her path similarly follows in Margaret's footsteps, encountering versions of the same adversaries.
Compass South by Hope Larson $17.99 – Twin twelve-year-olds in 1860 NYC go on an epic quest to find their missing father.
Elf Cat in Love by James Kochalka (Retrofit Comics / Big Planet Comics) $15.00
SEX CRIMINALS TPB vol 3 Three the Hard Way by Matt Fraction, Chip Zdarsky & friends $14.99
Fight Club 2 by Chuck Palahniuk & friends (Dark Horse) $29.99
How to Talk to Girls at Parties by Neil Gaiman, Fabio Moon, Gabriel Ba & more $17.99
Wits End by Allison Bannister $15.00
*OUTER LIMITS*
Under Spiritual Siege: How Ghosts and Demons Affect Us and How to Combat Them by William Stillman (Schiffer) $14.99
*FICTION*
Familiar vol 3 Honeysuckle and Pain by Mark Z. Danielewski $25.95
A Cure for Suicide: A Novel by Jesse Ball $16.00 – Now in soft cover.
Hang Ups and Hangovers by Kyle Milligan $14.99
In the Shadow of Frankenstein: Tales of the Modern Prometheus ed. by Stephen Jones (Pegasus Press) $27.95 – Here are collected together for the first time twenty-four electrifying tales of cursed creation that are guaranteed to spark your interest?with classics from the pulp magazines by Robert Bloch and Manly Wade Wellman, modern masterpieces from Ramsey Campbell, Dennis Etchison, Karl Edward Wagner, David J. Schow, and R. Chetwynd-Hayes, and new contributions from Graham Masterson, Basil Copper, John Brunner, Guy N. Smith, Kim Newman, Paul J. McAuley, Roberta Lannes, Michael Marshall Smith, Daniel Fox, Adrian Cole, Nancy Kilpatrick, Brian Mooney and Lisa Morton.
Badfish by Sue Rovens $12.00
The Seed Collectors: A Novel by Scarlett Thomas (Soft Skull Press) $26.00 – Great Aunt Oleander is dead. To each of her nearest and dearest she has left a seed pod. The seed pods might be deadly, but then again they might also contain the secret of enlightenment.
*FILM, TV & MUSIC BOOKS*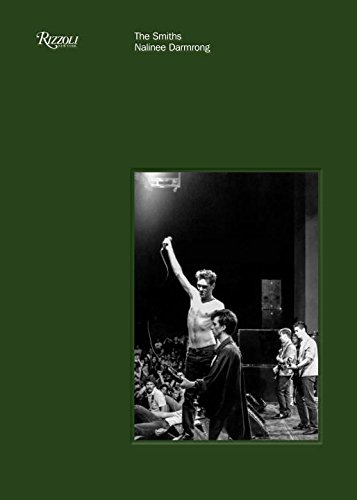 The Smiths by Nalinee Darmrong and Andy Bell $45.00 – A photo book of every sulking teenager's favorite band. Photographer Nalinee Darmrong traveled with and captured the band during its peak years. ALso included: ephemera including original set lists, backstage passes, tickets, and handcrafted promo materials; personal effects such as letters and clothing, and other items.
Stone Male Requiem for the Living Picture by Joe Carducci $29.95
Thatcher Stole My Trousers by Alexei Sayle $26.00 – Americans know him as the landlord on The Young Ones and but Brits know him as a lefty-leaning alternative comic.
How Music Got Free: A Story of Obsession and Invention by Stephen Witt $16.00
*ESSAYS*
How to Ruin Everything: Essays by George Watsky $16.00 – Essays from the absurd (how Watsky became an international ivory smuggler) to the comical (his middle-school rap battle dominance) to the revelatory (his experiences with epilepsy) and more.
The Happiness Industry: How the Government and Big Business Sold Us Well-Being by William Davies (Verso Press) $16.95 – Political economist William Davies shows that the science of happiness is less a science than an extension of hyper-capitalism.
Left of the Left: My Memories of Sam Dolgoff by Anatole Dolgoff (AK Press) $22.00 – Memories of the house painting IWW anarchist rail rider who also translated Mikhail Bakunin's writings in English.
I'm Just a Person by Tig Notaro $26.99
Hustling Hitler: The Jewish Vaudevillian Who Fooled the Führer by Walter Shapiro $28.00
Modern Romance by Aziz Ansari $17.00 – If school were fun! Comedian Ansari collaborated with a sociologist to find how romance happens in our contemporary technology-laden civilization. Now in soft cover.
Empire of Imagination: Gary Gygax and the Birth of Dungeons & Dragons by Michael Witwer $17.00
Last Night, a Superhero Saved My Life: Neil Gaiman!! Jodi Picoult!! Brad Meltzer!! . . . and an All-Star Roster on the Caped Crusaders That Changed Their Lives by Liesa Mignogna $25.99 – Authors share their most hilarious and most heart wrenching experiences with their chosen defender to explain why superheroes matter, what they tell us about who we are, and what they mean for our future.
*MAGAZINES*
High Times Best of #81 16 Top Strains on Earth $6.99
Kilter #11 2016 $5.00
Atlantis Rising #118 Why Is the Martian Sky Blue $6.95
Inked #76 $6.99
Elephant #27 I'm With the Brand $19.99
Cabinet #59 The North $12.00
Little White Lies #65 $12.99
Wire #388 June 16 $9.99
Victory Journal #11 $16.00
Skeptic vol 21 #2 $6.95
Lapham's Quarterly vol 9 #3 Luck $17.00
Dear Dave Magazine #22 $15.00
Man About Town #18 Spr Sum 16 $19.99
Flaunt #147 The Good Times Issue Spr 16 $15.95
Brownbook #56 Snow An Urban Guide to the Middle East $14.99
*LIT JOURNALS*
Chicago Review Sum Fall 2016 Ed Roberson, Chicago Modernists $15.00
Brick #97 Sum 16 $16.00
*SCIENCE!*
Grunt: The Curious Science of Humans at War by Mary Roach $26.95
*KIDS BOOKS*
My Dad Used to Be So Cool by Keith Negley (Nobrow Press) $17.95
*FOOD & DIY*
A Super Upsetting Cookbook about Sandwiches by Tyler Kord $22.99 – A neurotic chef muses on sandwich philosophy, love, self-loathing, pay phones, getting drunk in the shower, Tom Cruise, food ethics, and what it's like having the names of two different women tattooed on your body. With recipes! And illustrations by William Wegman.
Everybody Is Not Made For This by Crysta Wicks $15.00
A Curious History of Vegetables: Aphrodisiacal and Healing Properties, Folk Tales, Garden Tips, and Recipes by Wolf D. St $22.95
*OTHER STUFF*
Social Justice Kittens Postcards by Sean Tejaratchi (LiartownUSA) $1.50 – Made by the artist behind Crap Hound!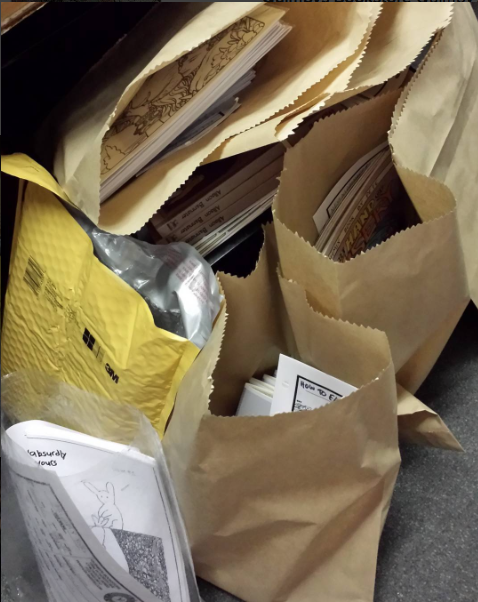 So much new stuff to check in, consigned by so many talented artists and zinesters, many of which are in town for CAKE, going on today and tomorrow. This stuff comes in faster then we can get it out onto the floor!
*ZINES*
Masks of the Batman: An Occult History of the Dark Knight vol 1 Bulls, Bats, Owls and Skulls by Ernest J. Ramon $2.00
zines from Jessie McMains:
Reckless Chants #22 Remember Who You Are $5.00
Major Arcana of the Punk Rock Tarot $3.00 – The Zinester as the Hermit, Rollins as the Chariot (Get In the Van, duh!), the Punk House as the Tower, and so many very clever more, all written by somebody who clearly knows their tarot card shit. This zine is a great opporunity to take to heart the words of The Emperor card's punk rock warlord, Joe Strummer, "Anger can be your power." So sayeth we all. -LM
Queenie by Everette Moore $3.00
Sweet Relief by Janelle Bendycki $9.00
Relief #1 $5.00
KerBloom #120 May June 16 by Artnoose $2.00
Hey Lady #4 Leonor Fini by Regina Schilling & friends $8.00
The Zinester's Guide to Portland: A Low/No Budget Guide to The Rose City (People's Guide) by Shawn Granton (Microcosm) $7.95
*COMICS & MINIS*
Mouth to Mouth by Megan Diddie $10.00
Swamp Mythos issues #1 & #2 by James Stanton $6.00 each
Epoxy #4 Full Comic by John Pham $14.00
Epoxy Cartoon Magazine by John Pham $30.00
High Dive by Jon Marchione $4.00
Secret Voice #3 by Zack Soto $8.00
Blane Throttle by Ben Duncan $12.00
Island #8 by Brandon Graham and friends $7.99
Taddle Creek #37 $5.95
Ball Means by Ben Duncan (Occasional Head Bunts) $22.00
Shostakovich Allegro Non Troppo by Hannah Dykstra $5.00
*GRAPHIC NOVELS*
Threadbare: Clothes, Sex, and Trafficking by Anne Elizabeth Moore and The Ladydrawers (Microcosm) $13.95 – Draws the connections between the international sex and garment trades and human trafficking in a beautifully illustrated comics series.
Manor Threat: Snakepit Comics 2013-2015 by Ben Snakepit (Microcosm) $14.95
Linework #6 Spr 16 $18.00 – Local comics anthology.
Teaching Comics vol 1 by Alex Nall $20.00
Bird in A Cage by Rebecca Roher (Conundrum) $15.00
Poppy and the Lost Lagoon by Matt Kindt and Brian Hurtt $14.99
No Mercy vol 2 by by Alex de Campi and Jenn Manley Lee $14.99
Otto Binder: The Life and Work of a Comic Book and Science Fiction Visionary by Bill Schelly $19.95 – The chronicle of the life of the man who wrote for Supergirl, Captain Marvel, Superman, many of the first "Bizarro" storylines for DC Comics, as well as the first sentient robot in lit.
Ghosts We Know by Sean Karemaker (Conundrum Press) $20.00
Almost Completely Baxter: New and Selected Blurtings by Glen Baxter (New York Review Comics) $22.95
*ART & DESIGN BOOKS*
DAZEWORLD: The Artwork of Chris Daze Ellis $34.99 – 30 year career retrospective, 250 photos of NY subway graff artist.
Classic Flash 3: Japanese Style by Jeromey McCulloch and Justin Sellers $34.99
Emigre Fonts: Type Specimens 1986?2016 by Rudy Vanderlans (Gingko Press) $35.00
Shit: The Big Brother Book by Sean Cliver and Dave Carnie (Gingko Press) $29.95 – A collection of covers and spreads from the notorious skateboard publication.
Stik $30.00 – First collected volume of work by outsider artist Stik, who first came to notoriety as an underground street artist who painted life-size stick figures during the night around London's East End.
*MUSIC & FILM BOOKS*
Anger is an Energy: My Life John Lydon $18.99 – Now in soft cover.
The Good, the Tough & the Deadly: Action Movies & Stars 1960s-Present by David J. Moore $45.00 – In-depth movie reviews that cover every action star who's crossed over from the world of martial arts, sports, professional wrestling, and stunt work. Beautiful images, exclusive interviews, and a thorough action star index. Reviews from folks like Zack Carlson, Vern, Mike McBeardo McPadden & more!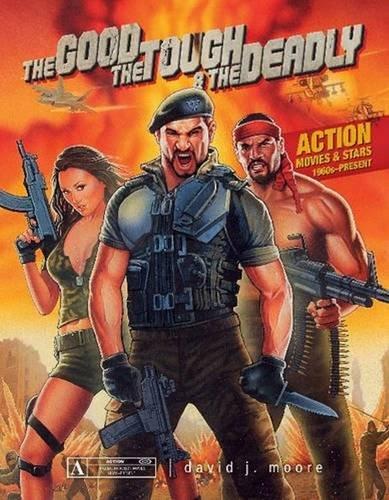 Copendium: An Expedition into the Rock 'n' Roll Underworld by Julian Cope $29.95 – Ex-Teardrop Explodes musician's 10 years of album reviews and themed track samplers he wrote for his own website, on such varied genres as Krautrock, motorik and post-punk, stoner and doom metal, occasionally even jazz, spoken word and hair metal.
Beyond the Beyond: Music From the Films of David Lynch, ed. by Edited by J.C. Gabel & Jessica Hundley (Hat & Beard Press//David Lynch Foundation) $45.00 – Explores the use of music and sound in Lynch's films, as well as his own original music, and draws on the director's personal archives of photographs and ephemera from Eraserhead onward. This volume also features interviews with more than a dozen popular contemporary musicians who performed at the Ace Hotel's April 2015 benefit for the David Lynch Foundation, including The Flaming Lips, Duran Duran, Moby, Sky Ferreira, Lykke Li, Karen O, Donovan, Angelo Badalamenti, Jim James, Chrysta Bell, Tennis, Twin Peaks and Zola Jesus. Comes with a companion CD featuring a live recording of the Ace Hotel concert.
Wake Up You!: The Rise and Fall of Nigerian Rock 1972-1977 – Volume 2 by Eothen Alapatt and Uchenna Ikonne (Now-Again) $24.95
Goodnight and Good Riddance: How Thirty-Five Years of John Peel Helped to Shape Modern Britain by David Cavanagh $25.00
Grunge Seattle (Revised Edition) by Justin Henderson $14.95
The Blue Monday Diaries: In the Studio with New Order by Michael Butterworth (Plexus) $19.95
NOFX: The Hepatitis Bathtub and Other Stories by NOFX and Jeff Alulis (Da Capo) $22.99
*MAYHEM & OUTER LIMITS*
Greetings From Utopia Park: Surviving a Transcendent Childhood by Claire Hoffman $25.99
Railroad Semantics: Train Hopping Across Montana, Wyoming, Utah, Nevada, California, and Oregon by Aaron Dactyl (Microcosm) $7.95
Black Opium: Ecstasy of the Forbidden by Claude Farrere and illustrated by Alexander King (Ronin) $17.95 – Reissue of And/Or Press' 1974 edition of "Fumee d'Opium" which chronicles every aspect of an opium smoker's life in lurid detail.
Real Visitors, Voices from Beyond, and Parallel Dimensions by Brad & Sherry Steiger $19.95
*FICTION*
Three Moments of an Explosion: Stories by by China Miéville $16.00 – Twenty-eight stories!
The Soho Press Book of '80s Short Fiction by Dale Peck $17.95 – Includes work from Dennis Cooper, Eileen Myles, Lynne Tillman, Gary Indiana, Sam D'Allesandro & more.
Making of a Small Town Beauty King by Savy Leiser $10.00
Golden Years: An Iranian-American Beat Novel by Ali Eskandarian $15.95
Movie Stars Stories by Jack Pendarvis (Dzanc) $15.95
Before the Feast by Sasa Stanisic (Tin House) $15.95 – Old stories, myths, and fairy tales are wandering about the streets with the people. They come together in a novel about a long night, a mosaic of village life, in which the long-established and newcomers, the dead and the living, craftsmen, pensioners, and noble robbers in football shirts bump into each other. They all want to bring something to a close, in this night before the feast.
*DIY*
Urban Revolutions: A Woman's Guide to Two-Wheeled Transportation by Emilie Bahr (Microcosm) $14.95
Feminist Activity Book by Gemma Correll (Seal Press) $12.00
*ESSAYS*
But What If We're Wrong?: Thinking About the Present As If It Were the Past by Chuck Klosterman $26.00 – Through interviews with folks like George Saunders, David Byrne, Neil deGrasse Tyson, Brian Greene, Junot Díaz, and Richard Linklater, among others, Klosterman asks such questions as: How certain are we about our understanding of gravity? How certain are we about our understanding of time? What will be the defining memory of rock music, five hundred years from today? How seriously should we view the content of our dreams? How seriously should we view the content of television?
View from the Cheap Seats by Neil Gaiman $26.99
All Tomorrows Parties by Rob Spillman $25.00 – Essays from the editor of Tin House.
*POLITICS & REVOLUTION*
A Short History of the U.S. Working Class: From Colonial Times to the Twenty-First Century (Revolutionary Studies) by Paul Le Blanc (Haymarket Books) $17.00
Brazil's Dance with the Devil (Updated Olympics Edition): The World Cup, the Olympics, and the Struggle for Democracy by Dave Zirin (Haymarket) $17.95
Who Do You Serve, Who Do You Protect?: Police Violence and Resistance in the United States by Maya Schenwar and Truthout (Haymarket) $18.00
*HUMOR*
A Field Guide to Awkward Silences by Alexandra Petri $15.00 – She auditioned for America's Next Top Model. She lost Jeopardy! by answering "Who is that dude?" One time, she let some cult members baptize her, just to be polite. Alexandra Petri is a connoisseur of the kind of awkwardness most people spend lifetimes avoiding. If John Hodgman and Amy Sedaris had a baby. . .they would never let Petri babysit it.
*MAGAZINES*
Bitch #71 Sum 16 $6.95
The Great Discontent #4 Leon Bridges $25.00
Kinfolk vol 20 The Travel Issue $18.00
Gather Journal #9 Sum 16 The 1970s $19.99
Shots #132 $7.25
The Pitchfork Review #9 Spr 16 The Jazz Issue $19.96
Cherry Bombe #7 $20.00
*POETRY*
New York, 1960 by Barry Gifford (Curbside Splendor) $16.95
*SEXXXY*
Randy 2010-2013 $39.95 – Collects issues #1-#4.
Whipping Girl: A Transsexual Woman on Sexism and the Scapegoating of Femininity by Julia Serano (Seal Press) $20.00
The Ultimate Guide to Solo Sex by Jenny Block (Cleis) $16.95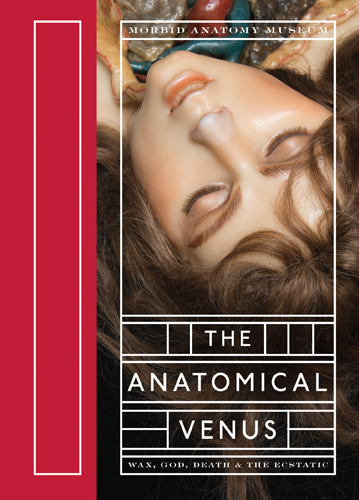 The Anatomical Venus: Wax, God, Death & the Ecstatic by Joanna Ebenstein (D.A.P.) $35.00 – Of all the artifacts from the history of medicine, the Anatomical Venus—with its heady mixture of beauty, eroticism and death—is the most seductive. These life-sized dissectible wax women reclining on moth-eaten velvet cushions—with glass eyes, strings of pearls, and golden tiaras crowning their real human hair—were created in eighteenth-century Florence as the centerpiece of the first truly public science museum. Conceived as a means to teach human anatomy, the Venus also tacitly communicated the relationship between the human body and a divinely created cosmos; between art and science, nature and mankind. Today, she both intrigues and confounds, troubling our neat categorical divides between life and death, body and soul, effigy and pedagogy, entertainment and education, kitsch and art. This book features over 250 images from around the world.
*ZINES*
Do You Like Cake by Morgan Richardson $2.00
Your Secretary #13 by Jami Sailor $1.00
Would Be Saboteurs Take Heed $8.00
Toilet House of Knowledge by Social Ecologies $8.00
Exscind by Adel Souto $5.00
Yak Manifestations by Sharnayla $5.00
Tazewells Favorite Eccentric #14 Unpoppable $1.00
*COMICS & MINIS*
Frontier #12 Kelly Kwang (Youth In Decline) $8.00
Namifezi Queer Feminist Comic Zine $7.00
Brand Noofo #3 by Ben Bertin $5.00
Taxi Graveyard #1 Days We are Born From & #2 The Horizons Visitor by Amber O'Brien $15.00, $10.00
mini-comics by Rachel Bard:
Friendly Catastrophic Space Invader $3.00
Our Sweetest Downfall $7.00
Known Donor #1 by No Ordinary Donor $2.00
Publick Occurances #12 by Danny Martin $5.00
mini-comics by Chris Gooch, $3.00 each:
Wednesdays
Torn
Stream/Myself as Me and You split zine by Ines Estrada & Sarah McNeil $10.00
Frog Book by Sarah McNeil $3.00
Garbage Bags by Clea Chiller $3.00
Babies Mineral by Yasmin Keany $4.00
mini-comics by Rachel Ang:
River $5.00
Magic $6.00
Dot and Line: A Tribute to Gerrit Noordzij $5.00
*GRAPHIC NOVELS*
Birth of Kitaro by Shigeru Mizukis (D&Q) $12.95
Dream Tube by Rebekka Dunlap (Youth In Decline) $13.00
Goodnight Punpun vol 2 by Inio Asano $24.99
Goat Fucker: 5 Years of Satanic Sleaze by Jack Mulkern $6.66
Talk Dirty to Me by Luke Howard (Adhouse) $14.95
Red Virgin and the Vision of Utopia by Mary M and Bryan Talbot (Dark Horse) $19.99
Very Quiet Very Still by Chris Gooch $10.00
Black Dahlia: A Crime Graphic Novel by James Ellroy $29.99
Flashed: Sudden Stories in Comics and Prose by Josh Neufeld & Sari Wilson (Pressgang) $24.95
*ART & DESIGN*
Nietzsche In Shapes and Colors by Dr. Halla Dagdromma, translated by Theresa Vishnevetskaya $12.95
Popular Lies About Graphic Design by Criag Ward (Actar) $16.95
*FICTION*
Only Love Can Break Your Heart by Ed Tarkington $25.95
Some Possible Solutions: Stories by Helen Phillips $26.00
Red Lakes Vol 1 by Joshua Harding $12.00
*FILM & MUSIC BOOKS*
Under the Big Black Sun: A Personal History of LA Punk by John Doe & Tom Desavia (Da Capo) $26.99
I Lost It At the Video Store: A Filmmakers Oral History of a Vanished Era (Critical Press) $25.00
*ESSAYS*
The Geek Feminist Revolution by Kameron Hurley $15.99
*POLITICS & REVOLUTION BOOKS*
Returns of Marxism: Marxist Theory in Time of Crisis (Haymarket) $22.00
Fallout: An American Nuclear Tragedy by Philip L. Fradkin (U of Arizona) $17.50
*SCIENCE*
The Joy of Pain: Schadenfreude and the Dark Side of Human Nature by Richard H. Smith (Oxford U Press) $15.95
*MAGAZINES*
The Baffler #31 $14.00
AdBusters #126 vol 24 #4 Jul Aug 16 Toneshift $14.95
Juxtapoz #186 Jul 16 $6.99
Big Takeover #78 $5.99
Razorcake #92 $4.00
Selfish Magazine #3 Good Girl $20.00
Horror Hound #59 May Jun 16 $6.99
Smith Journal #18 $17.99
Monocle vol 10 #94 Jun 16 $12.00
Pinup #20 Magazine for Architectural Entertainment $20.00
Girls Like Us vol 2 #8 $12.00
Maximumrocknroll #397 Jun 16 $4.99
Shock Cinema #50 $5.00
Cinema Retro vol 12 #35 16 $11.99
*POETRY BOOK*
Cancer as a Social Activity by Michael IX Williams (Southern Roots Publishing) $24.99 – Book of poetry by the singer of Eye Hate God.
*KIDS BOOKS*
Strong as a Bear by Katrin Strangl (Enchanted Lion) $16.95