The Meatcake Bible by Dame Darcy (Fantagraphics) $49.99
*ZINES*
Folrath Part One by Zak Sally (Lamano) $8.00
Hey Lady #5 Sister Rosetta Tharpe by Regina Schilling $10.00
We Are Sometimes Virgin Cocktails But Most of the Time Not by Oorn $8.00
Homocats Fuck the Internet by J. Morrison $5.00
You Have to Deal with Me Breathing #1 by Colette Arrand $5.00
Red and Blue by Thayer Bray $5.00
Red Wedge #2 Sprine 2016 Art Against Global Apartheid by Alexander Billet $12.00
Ghost Pine #13 Boys by Jeff Miller $3.00
Where Have all the Flowers Gone? The Women of Folk Music by Bijou Karman $7.00
Great and Terrible Golden Age Movies of the 1930's by Emily Alden Foster $5.00
Bonk by Rachel Kinbar & friends $5.50
Beeline #1 Reptilian Brain, ed. by Ben Regozin and Kit Fraser $4.00
Dirt Stacks Like Pyramids photo zine $7.77
Under the Skin Fanzine & Midwest Leafletting Tour by Karl Noyes (Roosterhouse Ideas) $2.00 each
They Take Care of Their Own by Stan Theis $2.00
*COMICS & MINIS*
A Guide to Life Compact by Corinne Mucha $4.00
This is How I Roll by Oorn $8.00
Anything that Can Go Wrong Mini: I was a Mexican Child $.25
Tales of the Night Watchman Presents The Mad Mind of Anton Sebaum by Dave Kelly & Lara Antal $5.00
Blown Away #3 by Alyssa Jo Varner $5.00
Harriman a Mini Comic by Kit Fraser $6.00
Wimpy Rambler #1 Hitchhiking Journal by Ben $3.00
*GRAPHIC NOVELS*
Geis: A Matter of Life and Death by Alexis Deacon (Nobrow) $18.95
Wrinkles by Paco Roca (Fantagraphics) $19.99
Watching by Winston Rowntree $19.99
Cousin Joseph by Jules Feiffer $25.95
Len, A Lawyer in History: A Graphic Biography of Radical Attorney Leonard Weinglass by Michael Steven Smith and Paul Buhle, illustrated by Seth Tobocman (AK Press) $19.00 – Biography of the attorney called for the likes of the SDS, the Chicago Seven, Daniel Ellsberg, Abbie Hoffman, and Mumia Abu-Jamal, among many others.
The Unbeatable Squirrel Girl & the Great Lakes Avengers by Steve Ditko and Will Murray $29.99
Plutona by Jeff Lemire & friends $16.99
Miami Vice Remix by Joe Casey & Jim Mahfood $12.99
Complete Chis Sweet Home Part 3 by Konami Kanata $24.95
*ART & DESIGN*
The Inborn Absolute: The Artwork of Robert Ryan by Tim Kinsella and Ben Fasman (Featherproof) $60.00 – Two decades of stunning paintings & tattoos with this celebrated artist, as well as interviews, revealing a deep mastery of the American tattooing tradition while creating a mystical and fantastic world full of unique takes on Eastern religious iconography.
Chris Dyer's Kick-Ass Coloring Book: For Rad 'Adults' and Cool 'Kids' by Chris Dyer (Last Gasp) $12.95 – Most of these graphics were produced for the skateboard industry, clothing designs, event posters and beyond. He hopes that it serves as a gateway to good times, as you make these pieces your own. Enjoy!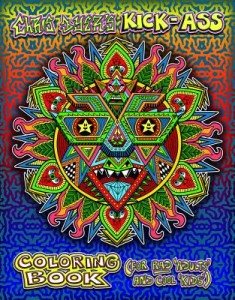 Crites' Coloring Book by Tom Crites (Headpress) $17.95 – Work from the late artist and publisher of Paniscus Review, Malefact, and Jesus Pinata.
Stay At Home, Scarface: A Coloring and Activity Book for Gangster Parents by Kenny Keil (Devastator) $10.00
Conspiracy The Coloring Book, Dumpster Diamond $8.00
*MAYHEM & OUTER LIMITS*
Theatre of Fear & Horror: The Grisly Spectacle of the Grand Guignol of Paris, 1897-1962 by Mel Gordon (Feral House) $24.95 – Here is the expanded edition of classic outré book, The Grand Guignol, first published in 1988 and now long out of print. Like the original anthology, it includes an illustrated introduction to the theater of Paris and abroad, a breakdown of its stage tricks, a summary of one hundred plots, extensive photo documentation, André de Lord's essay, "Fear in Literature," and two originally produced Grand Guignol scripts. The expanded edition also contains additional graphic and textual material including a color insert of Grand Guignol posters; the 1938 autobiographical account of Maxa, the company's leading female performer entitled "I Am the Maddest Woman in the World"; and the controversial playscript Orgy in the Lighthouse.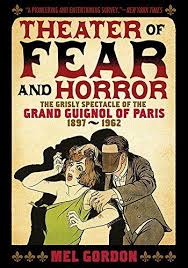 The Omniverse: Transdimensional Intelligence, Time Travel, the Afterlife, and the Secret Colony on Mars by Alfred Lambremont Webre $16.00
Legend Tripping: The Ultimate Adventure by Robert C. Robinson (Adv Unlmtd Press) $14.95
Hidden Finance, Rogue Networks and Secret Sorcery by Joseph P. Farrell (Adv Unlmtd Press) $19.95
The Polka Dot File on the Robert F. Kennedy Killing: The Paris Peace Talks Connection by Fernando Faura (Trine Day) $24.95 – The chase for the mystery woman in the polka-dot dress. The book comments on but does not dwell on the police investigation, and reads like a detective thriller instead of an academic analysis of the investigation.
*SCIENCE!*
Spirals in Time: The Secret Life and Curious Afterlife of Seashells by Helen Scales $17.00
*FICTION*
Mickey by Chelsea Martin (Curbside Splendor) $14.95
The Tennessee Highway Death Chant by Keegan Jennings Goodman (Featherproof) $13.95
Californium: A Novel of Punk Rock, Growing Up, and Other Dangerous Things by R. Dean Johnson $15.00
Multiple Choice by Alejandro Zambra $15.00
*POLITICS & REVOLUTION*
Home from the Dark Side of Utopia: A Journey through American Revolutions by Clifton Ross (AK Press) $17.95
Rebellion In Patagonia by Osvaldo Bayer (AK Press) $21.95 – A moving and nuanced study of strikes led by the powerful anarcho-syndicalist labor union FORA against the despotic landowners and industrialists of Argentina's Patagonia region in 1921– 1922.
*ESSAYS*
Like Night and Day by John M. O'Donnell $14.99
*SEX GUIDES & CULTURE*
Closer: Notes from the Orgasmic Frontier of Female Sexuality by Sarah Barmak $13.95
Glamour Girls Of Paris vol 1 Erotic Photography from Classic French Pin-Up Magazines by Stephen Pentacoste (Deicide Press) $26.95
*MAGAZINES*
Bust #100 Aug Sep 16 $6.99
Tape Op #114 Jul Aug 16 $4.95
True Crime Jul 16 Handyman from Hell $9.99
Harpers Magazine Aug 16 $6.99
Escapist #4 from the Monocle Special Edition 2016 $18.00
Fuel #22 $14.95
Rollacoaster #20 2.0 Utopia Fall Win 16 $20.50
*POETRY*
Rare Air/Aire Raro, Bilingual Poetry Collection by 826 Michigan & friends $12.00 – Bilingual poetry written by fourth grade students at Roberto Clemente Learning Academy in Detroit, MI.
*FOR THE KIDDIES*
Smart About Sharks by Owen Davey (Flying Eye) $19.95
*OTHER STUFF*
Writing Maps from Shaun Levin, $6.99 each:
Description Writing Map: An Inspiration Workout for Writers
How to Turn Food into Words: A Writing Map of Magical Eating