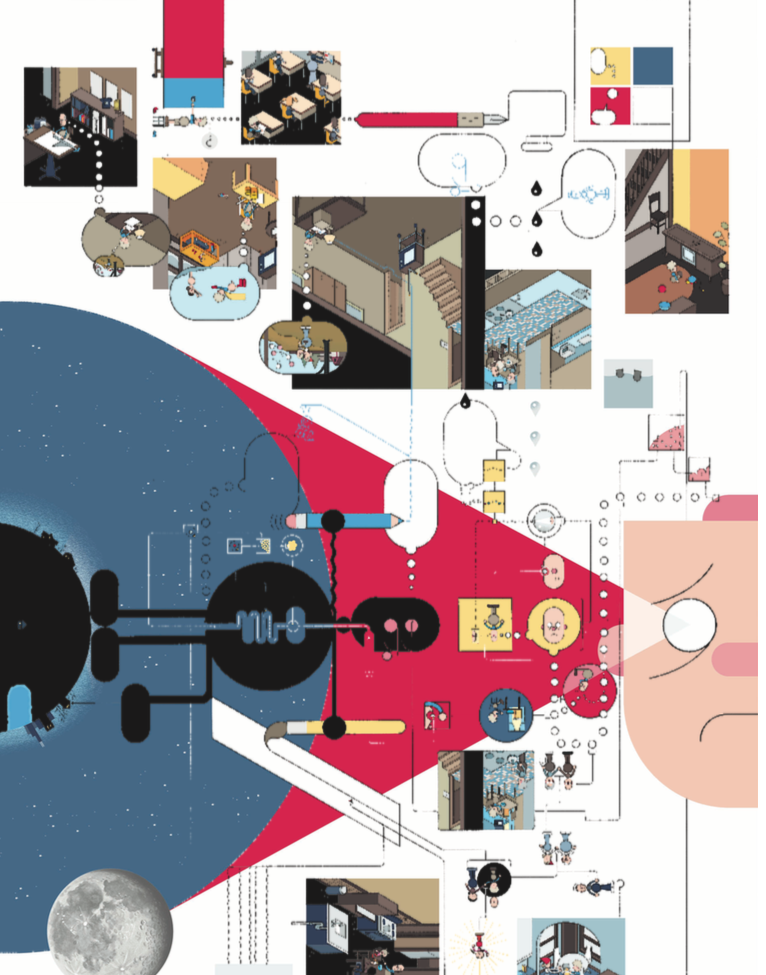 While Chris Ware's singular body of work is often categorized as comics, his writing/drawing defies classification. Whether he's creating graphic novels, making paintings or building sculptures, Ware explores social isolation, emotional pain and human desperation with a fine visual clarity and uncertain mnemonic organization, the end result being intentionally empathetic and complex. Like Charles Schulz, Art Spiegelman and R. Crumb before him, Ware has attempted to elevate cartooning to a fine art form.
MONOGRAPH is a personal, never-before-seen look at how the artist's private and work life intersect, beginning with the influence of his newspaper family to his art school days in Austin and Chicago to his life from the early 1990s to the present day. The book delves into how, as a storyteller and builder, Ware's work in three dimensions feeds into the thinking of his finely textured narrative art, offering a prismatic look at his work, including rarely-seen early attempts, previously unpublished strips and notes, all serving as a window into how artwork made for reproduction is still fundamentally "art."
"There's no writer alive whose work I love more than Chris Ware. The only problem is it takes him ten years to draw these things and then I read them in a day and have to wait another ten years for the next one." –Zadie Smith    
About the Author: Chris Ware is a contributor to the New Yorker, and his "Building Stories" was selected as a best book of the year by both the New York Times and Time magazine. Ira Glass is the creator and producer of the radio program This American Life. Françoise Mouly is the publisher of TOON Books and the art editor of the New Yorker. Art Spiegelman is the Pulitzer-Prize winning author of Maus.
MONOGRAPH
By Chris Ware
Contributions by Ira Glass, Françoise Mouly, and Art Spiegelman
Hardcover, three-piece case / 13" x 18" / 280 pages / 300+ color and b&w photographs
$60.00 U.S., $80.00 Canadian, £45.00 U.K.
ISBN: 978-0-8478-6088-3 / Rizzoli New York / Release date: November 2017
www.rizzoliusa.com
Here's the Facebook invite for this event!