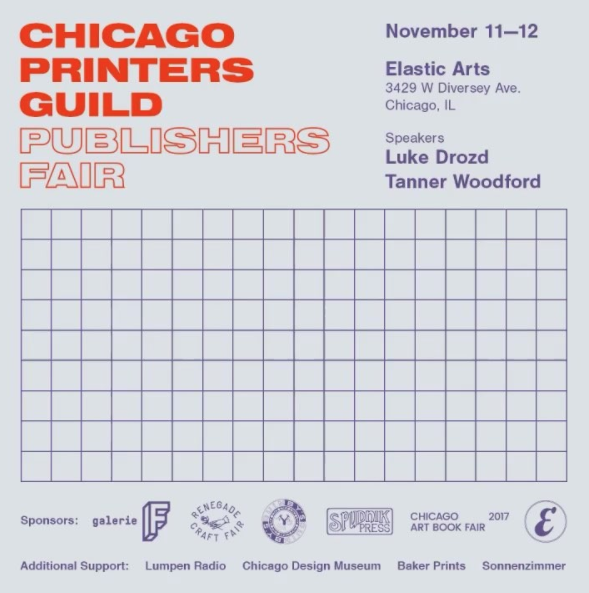 Sat Nov 11th & Sun Nov 12th
at Elastic Arts, 3429 W Diversey Ave. 2nd Floor
Quimby's is proud to help co-sponsor The 2nd Chicago Printers Guild Publishers Fair. The CPG Publisher's Fair is a two-day event that offers a strong platform of exchange for the public to intersect with artists who "make things print".
OPENING NIGHT PARTY
Sat, Nov 11th, 6pm-midnight, $8
Featured Speakers: Luke Drozd (London), Tanner Woodford (Chicago) + Print Trivia + Jolly Jogger Award (Print Practioner of 2017) + DJ Jan Jammerlappen
PUBLISHERS FAIR
Sun, Nov 12th, 10am–6pm, Free
Featured Artists/Publishers: Alexandra Blom, Alison Filley, Anna Hasseltine, Ben Chlapek, Bert Green, Bobby Sims, Caitlin Jayes, Carrie Lingscheit, Colette Lehman, Cristal Tucker, Dan Black, Daniel Luedtke, Dan Grzeca, Deborah Maris Lader, Emma Bilyeu, Farrah Blake, Jay Ryan.
More info at chicagoprintersguild.org/fair
*Please note, both of these events are at Elastic Arts, NOT QUIMBY'S.*