1. Girls To the Front: The True Story of the Riot Grrrl Revolution by Sara Marcus (Harper) $14.99 – The first history of Riot Grrrl tells the story of a group of extraordinary young women coming of age and coming into their own.
2. Xed Out HC by Charles Burns (Pantheon) $19.95 – Ever wonder what would happen if Charles Burns took over drawing TinTin? Today's your lucky day, punk. You like eggs, don't you?
Don't miss Charles Burns at Quimby's on 11/3!
3. Maximumrocknroll #330 Part Two Nov 10 $4.00
4. What Was The Hipster?: A Sociological Investigation, N+1 Small Books Series #3 by the editors of N+1 $10.00 – Chapters including "On Douchebags" and "Williamsburg Year Zero." Yes, for real.
5. Bitch #48 $5.95
6. The Instructions HC by Adam Levin (McSweeneys) $29.00 – Written by a charismatic local writer and a Quimby's frequent shopper, telling the story of a junior high kid who may or may not be the new messiah.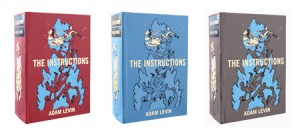 7. Henry and Glenn Forever by Igloo Tornado (Microcosm) $6.00 – The gay love of Henry Rollins and Glenn Danzig? I'd get in that van.-EF
8. Or Let It Sink #4 Halloweened/Dear Jaguar #3 Selected Errors Split Zine by Jim and Vicky $2.00 – A Halloween Special Split. Better than the Great Pumpkin, Charlie Brown.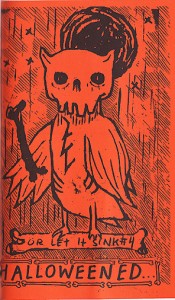 9. Super Maxi Pad Girl #1 by Daniel Olson and AJ Niehaus $4.00
10. All My Friends Are Dead by Avery Monsen and Jory John (Chronicle) $9.95