2011 Slingshot planners are in and a new Charles Burns book! More info below!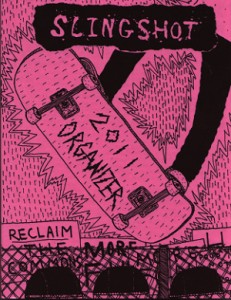 ZINES & ZINE-RELATED BOOKS!
Three Zine by Anand Vedawala $5.00 for #1 and $15.00 for #2
I Just Dont Know What to Do With Myself A Series of Rants by Mia Beatrice $1.00
Stop #2 Start Thinking of the Possibilities $3.00
So Me and You Are Reading This Zine and You're All Like "Whoa This Is Really Great" and I'm All "I Know" #1 by Justin Michael Valmassoi $3.00 – Despite being married to Rosario Dawson in the afterlife and a busy schedule of shopping box stores with Hollywood's A-List, Justin still manages to find time to self-publish his fantastic zines. That's exactly the kind of commitment to the arts we like to see around here. -EF
Brown Bag Lunch Hour #1 by Naomi Martinez $2.00
Or Let It Sink #4: Halloweened split w/ Dear Jaguar #3: Selected Errors Split Zine $2.00 by Jim and Vicky $2.00
Coffee Spoons #1 by Megan Kirby $2.00
Rad Dad #18 by Tomas Moniz #3.00
Without Words and Without Kneeling: A Serialized Zine Novella by Tomas Moniz $3.00 each for first and second installments
COMICS & MINICOMICS!
Seafaring #1 by Tiffanie Bui and Sophie McMahan $7.00 – Weird and wonderful, like what might happen if Phoebe Gloeckner decided to draw an issue of Curio Cabinet.
CBGB #4 (Boom) $3.99
Vertigo Resurrected #1 Shoot (Vertigo) $7.99
Juicy City #1 – Ouicy Hey Man You Want This and Juicy City #2 – Guicy by Cosmo Jones $6.50 each
That Poison Bunnie #1 by Nate Higley $3.00
F #2 by Kevin Huizenga $3.00
Jumbo Army of Lovers Will Be Beaten Book 5 by Bernie McGovern $12.00
Joshua Tree 24 Hour Comic One Trees Search For the Truth by Harrison Rosenberg $3.00
GRAPHIC NOVELS & TRADE PAPERBACKS!
Xed Out by Charles Burns (Pantheon) $19.95 – Don't miss Charles Burns here at Quimby's on  Nov 3rd, reading from this first volume of an epic masterpiece of graphic fiction in brilliant color.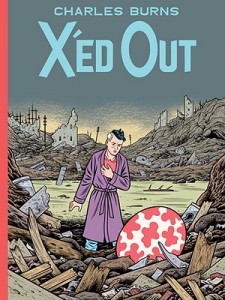 Luthor HC by Brian Azzarello and Lee Bermejo (DC) $19.99
Picture This – The Near Sighted Monkey Book Learn How to Art with the Near Sighted by Lynda Barry (D&Q) $29.95
Wrong Place by Brecht Evens(D&Q) $24.95
Y the Last Man vol 4 Deluxe Edition by Brian K. Vaughan (Vertigo) $29.99
Hellblazer TPB India (Vertigo) $14.99
Saga of Rex TPB by Michel Gagne (Image) $17.99
Comic Torah Rimagining the Very Good Book by Aaron Freeman and Sharon Rosenweig $17.00
STEAMPUNK!
Flaming Zeppelins: The Adventures of Ned the Seal by Joe R. Lansdale (Tachyon) $14.95
ART & DESIGN BOOKS!
Chicks On Speed: Don't Art Fashion Music by Chicks On Speed (DCA) $35.00 – They're a band! No, they're artists! No, they're an activist performance art collective! No, they're Chicks On Speed. And they don't play guitars. -LM
Discrepancies HC by Alex Gross (Gingko) $29.95 – Surreal and beautiful for those who appreciate Mark Ryden.
Juxtapoz Handmade (Gingko) $29.95 – Crafting anthology lowbrow art Juxtapoz style.
Mural Art vol 3: Murals on Huge Public Surfaces All Over the World From Graffiti  to Trompe L'oeil (Publikat) $39.95
DIY & CONSUMPTION
Stich'N'Bitch Superstar Knitting by Debnie Stoller (Workman) $17.95
Revolutionary Women Book of Stencils by Queen of the Neighborhood (PM Press) $12.00
MAGAZINES!
Juxtapoz #118 Nov 10 $5.99
Bizarre #168 Nov 10 $10.50
New Heroes #2 $15.00
Fortean Times #267 Nov 10 $11.99
Make vol 24 $14.99
Ack Ack Ack #2 $3.00
Black Velvet #66 $6.25
Dodgem Logic #4 Jun Jul 10 and Dodgem Logic #5 Aug Sep 10 by Alan Moore $7.00 each
LITERARY JOURNALS & CHAP BOOKS
Rejected Quarterly #21 Win Spr Sum 10 $7.50
MUSIC BOOKS!
Begin Again: A Biography of John Cage by Kenneth Silverman (Knopf) $40.00
POLITICS & REVOLUTION
Don't Mourn: Balkanize Essays After Yugoslavia by Andrej Grubacic (PM Press) $20.00
MUCKRAKING MEMOIRS & MISCELLANY!
Mirror Maze: A Norwegian Mans True Story of Five Years in Mexican Prison During the 1980s by Tom Brungar and Lisa Nicole Walker $12.95
Success Principles by Carol Sankar $11.99
This Is NPR The FIrst Forty Years (Chronicle) $29.95
SEX & SEXY!
Handbook vol 4 #4 2010 $6.00
OTHER STUFF!
Slingshot 2011 Small Organizer $6.00 or Large $12.00
Endeavour 2011 Nikki McClure Calendar $16.00
Ron Rege Jr 2011 Calendar and Poster (Little Otsu) $12.00
Willie Wrinkles Notebook 3 Pack Recycled Sketchbooks $6.00